BMW X6 ActiveHybrid
We've known for a while that among other BMWs for 2010, the company would introduce its X6 ActiveHybrid this fall.
Now Autocar reports that the new version of the large, US-built "sport activity coupe" will be the world's most powerful hybrid-electric vehicle, with its 4.4-liter V8 and electric motor combining to produce 478 horsepower and 575 foot-pounds of torque.
That gives it not only a 0-to-62-mph time of just 5.6 seconds, but gas mileage of 22.8 miles per gallon on the European test cycle. That's a significant improvement on the six-cylinder X6's EPA ratings of 16 mpg city / 20 mpg highway.
BMW claims that the X6 ActiveHybrid, like many "full hybrids", can run in full electric mode at speeds up to 37 miles per hour, for distances up to 1.6 miles--though almost certainly not both at the same time.
Fast but heavy
The penalty comes in weight. The standard 2010 BMW X6 xDrive50i (yes, that's its real name) tips the scales at an already-porky 5,000 pounds, and the hybrid gear adds another 400 pounds.
BMW's hybrid X6 uses a version of the Two-Mode Hybrid system jointly developed by General Motors, Daimler, Chrysler, and BMW. Thus far, that system is sold in the US only on GM's 2010 Chevrolet Silverado Hybrid and GMC Sierra Hybrid pickup trucks, as well as several of GM's full-size sport-utility vehicles.
Visually, you'll be able to distinguish the hybrid X6 by the "powerdome" on its hood. It's a less extreme version of the huge hood-mounted box seen earlier this year in spy shots of the X6 hybrid being tested in Death Valley. (A new metallic blue paint is only available on the hybrid as well.)
7-Series mild hybrid too
At next month's Frankfurt Motor Show, BMW will also introduce a mild-hybrid version of its 7-Series sedan with a lithium-ion battery pack, using a very similar system to the 2010 Mercedes-Benz S400 BlueHybrid sedan already on sale in Europe.
We'll leave it to readers to decide whether hybrid-electric powertrains are better suited to three-ton high-performance sport utilities or ultra-high-mileage hatchbacks like the 2010 Toyota Prius, which gets an EPA combined rating of 50 MPG.
Discuss below.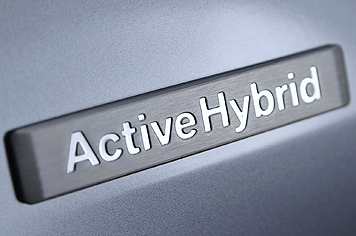 BMW ActiveHybrid logo
2010 BMW X6 Hybrid Spy Shots
Write your own car blog at High Gear Media! Sign up to write and tell car enthusiasts and shoppers what you think about your vehicle or today's car news and get published to High Gear Media sites like AllSmallCars, LexusReports, FamilyCarGuide and more!
[Autocar]