2008 Chevrolet Orlando Concept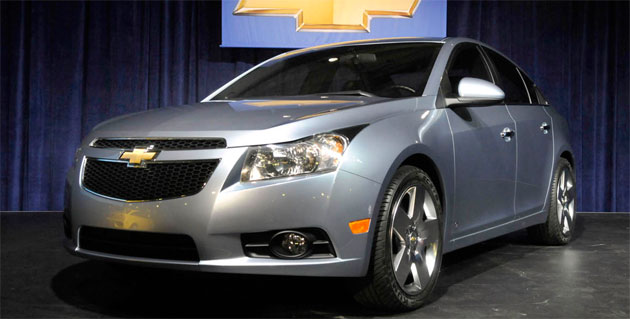 2011 Chevrolet Cruze
Chevrolet Spark Concept
With the 'cash for clunkers' Car Allowance Rebate System (CARS) scheme pushing sales up to near-pre-plunge levels, the scramble is on to take maximum advantage. So far, the early winner is the Ford Focus, nabbing crucial market share with every car traded in.
General Motors is keenly aware of this, and though it too is benefiting from the CARS program, its Board of Directors Chairman Ed Whitacre sees a strong need to act quickly to prevent further market share erosion.
Of course, it's not the CARS-boosted sales alone that are causing the market share issue. GM's bankruptcy, brand cancelations and government bailout have contributed directly to a decline in market share from 20.5% to 18.9% in July.
To help halt the tail spin, Whitacre is pushing to get every upcoming new model out to the public as early as possible, though the company isn't naming the cars it wants moved up.
Possible candidates include the Chevrolet Cruze small sedan, Chevrolet Spark hatchback, Chevrolet Orlando crossover, and even the Chevrolet Volt, though that final model will be largely constrained by availability of the technology that goes into it.
The Cruze could offer GM an important entry into the lower end of the market, right up against the aging but still successful Ford Focus, which is itself due for an update soon. The Spark, on the other hand, would offer a counterstroke to Ford's Fiesta, and finally give GM a solid player with which to take on the Honda Fit and Toyota Yaris - a job the current Chevrolet Aveo has failed to perform.
When the new cars will be coming, or how far ahead of schedule we can expect them, isn't yet clear. If the Cruze is chosen, it could be here as early as the first half of 2010, while the Spark will likely have to wait until late 2010 or early 2011. The Orlando was recently confirmed as on schedule to make a 2011 debut, but even that model could be pushed up. Don't expect the rumored Voltec-powered Orlando to come before the Volt itself, however, meaning the hybrid model, if it does come, will trail the conventional vehicle by up to a year.