2010 Kia Forte
Fuel-sipping sedans are in vogue--and no, we don't mean that glossy magazine with 73 pages of ads for every real article with real words.
Fashionable, sure. And when it comes to compact sedans with a light touch at the gas pumps, a few labels stand out above all the rest. The all-time champion of cheap? The Honda Civic, which has grown from the teensy CVCC-engined hatchback of the 1970s to the adult-sized four-door that dominates other compact sedans on the sales charts. With hybrid and natural-gas-powered versions and a coupe to boot, the Civic is an everyday performer that can even be optioned up to 197-hp Si status.
At the other end of the best-selling spectrum, there's the Ford Focus. Replacing the Escort in 2000, the Focus wowed critics at first, then stumbled as Ford turned its attention to luxury brands and big trucks. The Focus handled well and looked even better, but didn't get a serious rethink until 2008. That reskin of the doddering 8-year-old car turned the swoopy hatchback into a more dowdy sedan and coupe, but still, the Focus has been a solid seller--particularly with the cash-for-clunkers crowd.
Civic, Focus--what about the 2010 Kia Forte, then? It's brand-new, and until now, Kia hasn't exactly carved out a place for itself at the high-rollers table. That's all changed with the new compact four-door and its five-door cousin, the 2010 Kia Soul. With a deft new styling touch, rave-worthy interiors and reasonably inspired handling, the latest Kias are a clear shot at the bow of the likes of the Focus and Civic.
Sound like a Consumer Reports-inspired street fight to you? It sounds like a chance to compare cars to us.
By now you know TheCarConnection.com rates vehicles for styling, performance, safety, comfort and utility, and features. From there, we arrive at an overall score, based on each vehicle's individual merits and on its competitiveness in its class of cars, vans, trucks or SUVs. We also let you compare cars of your choice, side by side, to see how they stack up in our editors' ratings.
We also do our own comparisons based on our experts' hands-on road tests. TCC's editors have driven each of these vehicles in various forms, in locations around the country, to be able to explain the ratings and to help you make your own decision.
Which of these three is best for you? To compare the trio, we've rated the relative vehicle lineups: each of these compact sedans comes with a manual or automatic transmission, offers sedan and coupe body styles, and has a green bent. The Civic comes in Hybrid and natural-gas versions, while both the Forte and Focus top 34 mpg in highway ratings. Ford's set to offer a new Focus with electric power, and we wouldn't be surprised to see a Kia Forte Hybrid in the near future, either.
Compact four-doors inspire diehard loyalty, but among these three contenders, one sedan tops TheCarConnection.com's ratings charts, by a surprisingly slim margin. Of the best-selling compacts and the new arrival, which is the most highly rated by TheCarConnection.com? First, the basics:
2009 Ford Focus
The basics: 2.0-liter four-cylinder, 140 hp (143 hp, coupe)
Price: $15,520 and up
Fuel economy: 24/35 mpg (manual)
Rating: 7.0 out of 10
There's plenty to like in the latest edition of the Ford Focus, so long as you skip the exterior and stumble over the base trims for the more well-equipped versions.
TheCarConnection.com's car experts have driven the latest Focus all across the country. Yes, even in Detroit, where the Focus' comfortable, quiet interior acquits itself well on miserable roads. The Focus' interior is styled well, too, and features like the Bluetooth-enabled SYNC controller let you pair your phone and dial up friends and Amy Winehouse without taking your hands from the wheel. In all versions, the Focus is admirably frugal, getting 24/35 mpg with either manual or automatic transmissions.
Technology aside, the Focus is a pretty dull drive, and both coupe and sedan desperately need the kind of makeover that usually follows Ty Pennington screaming in from stage right. The Focus' sheetmetal looks choppy and dull, with clear signals that it was done hastily and at low cost. The engine's not a bad piece, but the Focus' handling has been softened and numbed considerably over the years. The back seat's far from roomy in the coupe (sedans are pretty cozy, though). The damning factor? Base cars don't have stability control standard--they don't even offer anti-lock brakes as standard equipment. That makes the Focus' appeal for first-time drivers much less obvious--or makes its real sticker price a lot higher. Overall, the Focus scores a 7.0 out of 10 from TCC's editors, hampered most by its looks and lack of some standard safety equipment.
Our Bottom Line? The 2009 Ford Focus is a solid choice if you're looking for a roomy car that rides well, with a base price that starts around $15,000, but optional ABS and stability control are major concerns.
2010 Kia Forte
The basics: 2.0-liter four-cylinder, 156 hp; 173-hp, 2.4-liter four in the sportier SX
Price: $13,695 and up
Fuel economy: 25/34 mpg (manual and automatic) to 22/32 mpg (SX manual) to 23/31 mpg (SX automatic)
Rating: 8.4 out of 10
The ghost of Kia's past has been neatly exorcised with the 2010 Forte, a pleasant sedan with clean lines, a very high-quality interior, and a huge trunk--plus good road manners and fuel economy.
TheCarConnection.com's editors like the new Kia Forte's simple, elegant exterior shape (the Koup version actually loses points for less tidy proportions, and for spelling), but it's truly impressive inside. Like the 2010 Kia Soul that shares its platform, the new Forte has an amazingly detailed cabin that looks suitable for a $20,000 base price. The Forte actually starts almost $1,800 less than its competitors and offers up much more usable space, particularly in the back seat. Then there's safety gear--anti-lock brakes, traction and stability control and six airbags are standard on every Forte, not just the plusher versions. Throw in a massive, wide-mouthed trunk and the Forte is what the tech world would call a "disruptive" entry in the class. The audio system has iPod controls and Bluetooth is standard.
The Forte has a few downsides, less serious than those in the Focus. The manual gearbox has awkward clutch-shifter coordination points, and feels clunky. The steering feel should be great, since it's hydraulic--the kind we're all used to--but it's not as sharp or responsive as it could be, though some upscale tires might help its demeanor. Lastly, the steering column on LX and EX models doesn't telescope. That's pretty nitpicky, even by modern standards. In all, the 2010 Kia Forte scores an 8.4 out of 10 from TheCarConnection.com, with high scores in styling, safety and features.
Our Bottom Line? The 2010 Kia Forte is a strong contender in every way—a surprisingly good-looking, enjoyable-to-drive car that will hold the budget down.
2009 Honda Civic
The basics: 1.8-liter four-cylinder, 140 horsepower
Price: $15,505 and up
Fuel economy: 26/34 mpg to 25/36 mpg (base to EX-L sedans, manual and automatic transmissions)
Rating: 8.6 out of 10
The perennial class leader among compact four-doors, the Honda Civic took some tiny baby steps back in its current edition. With less usable space and a more enthusiast-aimed shape, the Civic nonetheless delivers on all kinds of front, from driving feel to fuel economy and quality.
The Honda Civic's strengths are the stuff of car lore. Even the base DX versions feel energetic, though the 1.8-liter four is slightly smaller than those fours in the Forte and Focus. Power's on par, though, and the Civic's manual transmission is a joyful piece to move around, in perfect concert with the engine. The automatic's sweet too--and actually tops the manual shifter in fuel economy. Honda's reputation for reliability was built on the Civic name and it's still true today, too, according to those powerful names that study and consume reliability reports. Safety gear is almost comprehensive--stability control is an option on base models--but crash test scores are strong. For the greens in the audience, hybrid and natural-gas versions are offered; performance fans will go directly to the Civic Si and will pass go, repeatedly, with its stratospheric redline and six-speed shifter.
If the latest Civic has stepped wrong in any way, it's related to styling. You might not care for the fast, wedgy shape--and you're sure to dislike what it does for rear-seat space. The interior has an unusual design that might remind you of a starship that Grace Jones or Bill Shatner would pilot. The ride isn't plush like the Forte's; it's firm and direct, and can get a little busy.
Our Bottom Line? The Honda Civic lineup rates well for safety, handling, and overall frugality, though those who plan to carry cargo or frequent backseat passengers should look elsewhere.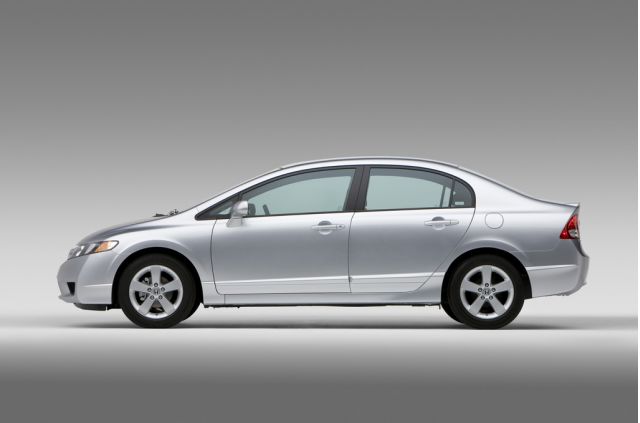 2009 Honda Civic
The Winner: Honda Civic
The Honda Civic tops the Kia Forte by a bare two-tenths of a point on the TCC scale, while outdistancing the Ford Focus by a few laps. The Civic's refined feel is matched by the Forte and its passenger and cargo room is bested by the Forte, but its fuel economy, its reputation for durability and its mechanical sweetness nudge it into first place in this trio.
The Competition
Other compact four-door sedans remain in the hunt with the Civic and Forte. The 2009 Toyota Corolla is especially attractive in its top trim level, though less so in the base trim. The Hyundai Elantra is another one of our top picks in this class, but the Forte strikes a more elegant, simple pose from the outside. The Chevy Cobalt is especially roomy and has a good ride but skimps on the features. Topping all of these also-rans in TCC's favorites list is the Mazda3, but admittedly it's not perfect and in terms of features the Forte has it beat squarely.
You can view this comparison chart at our Compared: 2010 Kia Forte Vs. Honda Civic Vs. Ford Focus page.
Also, you can compare cars of your own choosing at TheCarConnection.com. Just stop at our car comparison page, select your choices for vehicle type, price range, model year, and brands, and then choose up to three to compare on a single page.