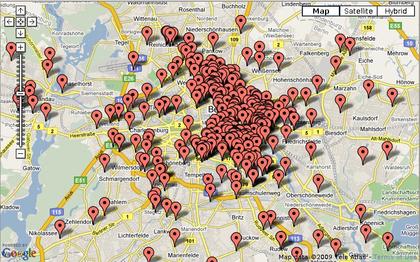 Drive a luxury car in the city of Berlin, and you might just add arson to the options list.
Across the German capital, owners of Porsches, BMWs, Benzes, even more prosaic Volkswagens, are under fire as terrorists torch luxury cars to protest consumerism in, well, a pretty hot and obvious way.
Back in February, Bloomberg reported on the growing incidence of vehicular arson in the German capital. Now a Web site, the Burning Cars of Berlin, has translated the crime wave into our favorite Web widget--an astonishing Google Map of all the places where luxury cars have been burned in the past six months.
They're also hitting police cars, a troubling trend in the restive east of Germany, where anti-Western, anti-democratic, anti-capitalist sentiment still crops up--and gangs up with eco-terrorists, it seems.
Using slow-burning fuses, arsonists are targeting one car a day, on average. Out of the 170 car arson cases reported this year, almost 100 have been attributed to political attacks. Most of them are clustered in nouveau-riche areas of resurgent Berlin, where prosperity's returned for the first time since before World War II.
Owners of cars are stripping badges off their vehicles to protect their cars, but as of yet, the Berlin police have been unable to stamp out the viral crime.
[Burning Cars of Berlin, via TheAge and BoingBoing]