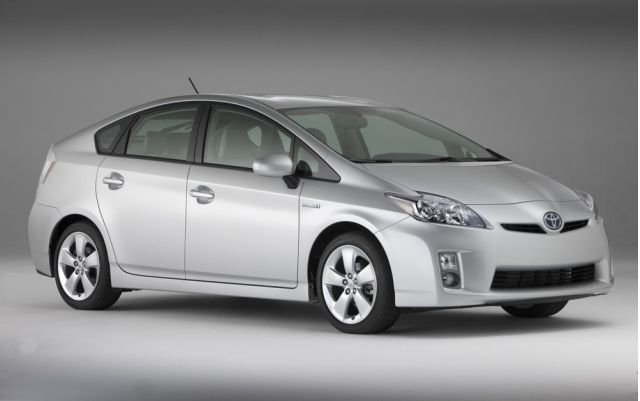 2010 Toyota Prius
Brakes are discs all around and have a better feel than earlier Prius models; they're now easy to modulate and responsive but not touchy—probably the best in any hybrid. But we noticed that if we backed out of a spot right after powering up, the brakes would be ridiculously touchy. Once we went forward, even a foot or two, and switched back to reverse the normal brake feel was back.
As for the rest of the Prius' package, it hasn't changed radically. The roofline has been brought slightly upward, and that helps headroom all around; headroom in the back seat is now adequate for average-sized adults, but taller folks will find their hair (or hat) brushing the headliner.
Our mid-range 2010 Toyota Prius III test car was optioned with the Solar Roof package, which includes the nav system, upgraded JBL audio, and Bluetooth—bringing its total to a still-affordable $27,350. We didn't use the Solar Roof—which helps circulate air from outside when parked in hot sun—enough to know for sure, but it might verge more toward gimmickry; with temps in the 90s we didn't notice a significant difference in temperature compared to an adjacent car without the feature.
Space in front is, surprisingly, barely adequate in the new Prius and feels a slight step backward; blame the swoopy, wide center stack and center-console arrangement, which steals a lot of what could have been usable space. This tall driver's knee grew achy against its hard plastic contours; it will prove bothersome to many owners on long drives. Front seats look more generously apportioned than before, but they lack the support for long drives and there's zero side support to hold you in place in corners.
Just last week we drove the 2010 Honda Insight under almost identical conditions, achieving 45 mpg overall and nearly 58 mpg when feather-footing on the same loop.
With these latest high-mileage impressions in light, stay tuned for an update on how the 2010 Honda Insight stacks up vs the 2010 Toyota Prius.