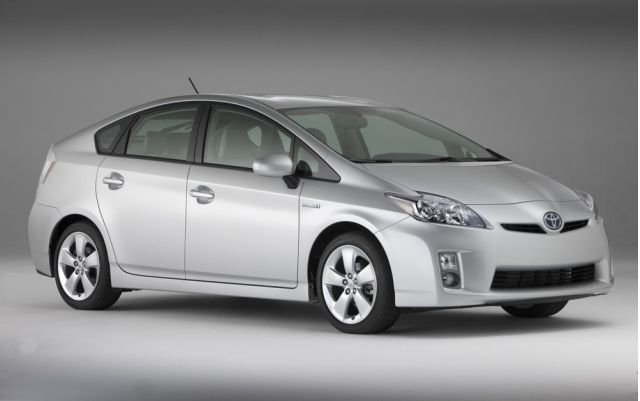 2010 Toyota Prius
2010 Toyota Prius
2010 Toyota Prius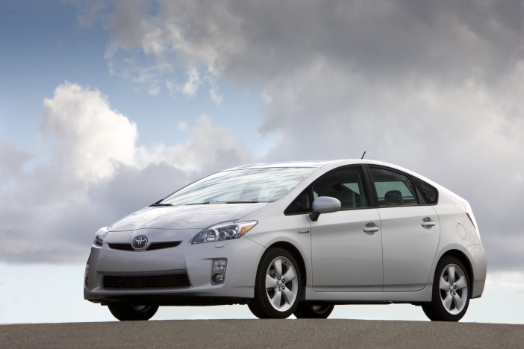 2010 Toyota Prius
2010 Toyota Prius combination meter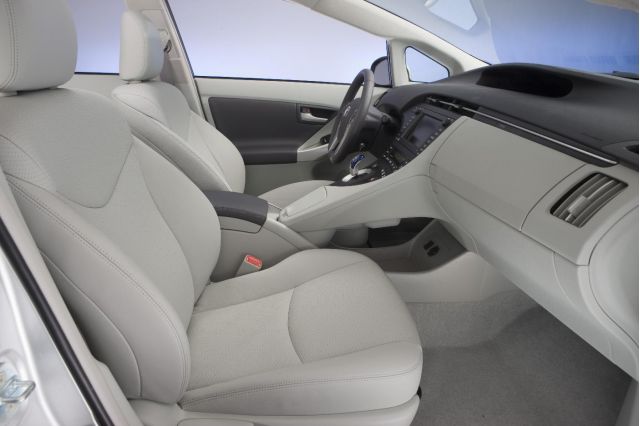 2010 Toyota Prius two-tone leather interior
Early this year TheCarConnection.com brought you first driving impressions for the redesigned 2010 Toyota Prius, and in the months following the Prius has been covered in exhaustive detail by companion High Gear Media site AllAboutPrius.com.
In his first drive report of the 2010 Prius, editor Marty Padgett reported getting nearly 70 mpg "without even really trying—just coasting to stops, accelerating very gradually and using the Prius' EV mode to coast into our host hotel."
Sure enough, I did even better in a follow-up on familiar roads—albeit with some sacrifices. In unseasonable 100-degree heat, we turned the A/C off altogether and then engaged the Prius' Eco mode, which essentially smoothes out powertrain response, keeps electric-only power on a little longer, and adds a rubber-band-like "Are you sure?" to every downward push of the throttle pedal. Taking the 2010 Prius on a 40-mile fuel-economy loop—including suburban stop-and-go, a highway stint, and some low-speed urban driving—we averaged 77.2 mpg simply by taking off very slowly, keeping a light throttle foot, "pulsing and gliding" a bit, and coasting whenever possible, but otherwise keeping up with traffic. If we had driven strictly by the instant bar-graph display, crept up to lights, and blocked traffic going up hills, we would have easily cracked 80.
Before anyone cries foul, I should add that the battery indicator was at about the same one-third level when we started and finished.
That high-mileage loop aside, for the remainder of the week TheCarConnection.com averaged about 53 miles per gallon in nearly 140 miles of mixed driving, split between short trips around town and a longer highway run that would be equivalent to what many commuters do. Making the number all the more impressive was that we ran most of it with the A/C on, in normal mode, and we even ran in Power mode for a while, with some full-throttle takeoffs included.
The new 2010 Toyota Prius is rated at 51 mpg city, 48 highway—up from 48/45 for the outgoing 2009 model. Its host of powertrain improvements include a larger, 1.8-liter four-cylinder engine, numerous weight-saving measures, and broadened use of the powertrain's electric-only mode.
The last-generation Prius set a new standard for powertrain smoothness, with almost imperceptible transitions between power sources. At first we didn't think the Prius made gains in refinement, but this broken-in production test car felt much smoother than the brand-spanking new prototypes we drove a few months ago.
The most significant downside to the driving experience in the 2010 Toyota Prius remains that it just doesn't handle particularly well; although slight improvements have been made in terms of how it steers and maneuvers; first-time Prius drivers will still feel like the steering is controlled remotely, and there are times when a Logitech gaming wheel gives more realistic feedback. At cruising speeds we kept having to make small adjustments to keep our path straight on the highway, and the artificial weight that the steering would gather off-center seemed to have little relation to the tightness of the corner or the g-forces the car was experiencing. With the powertrain integration as smooth and unobtrusive as it is, the odd steering feel is honestly what most drivers will have issue with.
Brakes are discs all around and have a better feel than earlier Prius models; they're now easy to modulate and responsive but not touchy—probably the best in any hybrid. But we noticed that if we backed out of a spot right after powering up, the brakes would be ridiculously touchy. Once we went forward, even a foot or two, and switched back to reverse the normal brake feel was back.
As for the rest of the Prius' package, it hasn't changed radically. The roofline has been brought slightly upward, and that helps headroom all around; headroom in the back seat is now adequate for average-sized adults, but taller folks will find their hair (or hat) brushing the headliner.
Our mid-range 2010 Toyota Prius III test car was optioned with the Solar Roof package, which includes the nav system, upgraded JBL audio, and Bluetooth—bringing its total to a still-affordable $27,350. We didn't use the Solar Roof—which helps circulate air from outside when parked in hot sun—enough to know for sure, but it might verge more toward gimmickry; with temps in the 90s we didn't notice a significant difference in temperature compared to an adjacent car without the feature.
Space in front is, surprisingly, barely adequate in the new Prius and feels a slight step backward; blame the swoopy, wide center stack and center-console arrangement, which steals a lot of what could have been usable space. This tall driver's knee grew achy against its hard plastic contours; it will prove bothersome to many owners on long drives. Front seats look more generously apportioned than before, but they lack the support for long drives and there's zero side support to hold you in place in corners.
Just last week we drove the 2010 Honda Insight under almost identical conditions, achieving 45 mpg overall and nearly 58 mpg when feather-footing on the same loop.
With these latest high-mileage impressions in light, stay tuned for an update on how the 2010 Honda Insight stacks up vs the 2010 Toyota Prius.