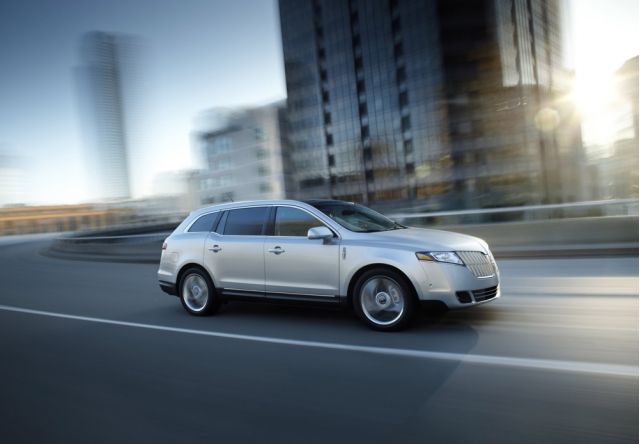 2010 Lincoln MKT
"Ford's total focus on quality and customer satisfaction throughout the design and manufacturing process is paying off, and customers are noticing," said Mark Fields, Ford's president, The Americas.
"This is a major milestone, but we are not satisfied," he added.  "For Ford, our plan is continuous improvement year after year."
The GQRS study is conducted for Ford on a quarterly basis by Bloomfield Hills, Mich.,-based RDA Group.  New vehicle owners are asked to report defects or issues as well as rate satisfaction with vehicle quality on a scale of 1 to 10 across an array of vehicle systems and features.
Strong new products attracting new customers
Internal and external studies show a positive trend in the percentage of consumers with favorable opinions about Ford and growing numbers of consumers who are willing to consider purchasing a Ford product, thanks to improved fuel economy, smart technology and higher residual values.
Among Ford's recent accomplishments in the marketplace:
Ford's retail market share has improved in the U.S. for eight of the past nine months.  Meanwhile, Ford of Canada became the No. 1-selling brand in June, achieving its eighth straight month of market share gains.
The Ford brand just posted all-time highs in favorable opinion and purchase consideration, based on customer tracking.  Favorable opinion of the Ford brand, for example, has risen 17 percent this year alone, with consideration up 13 percent – driven by customer response to new products.
In the second quarter, Ford average vehicle transaction prices increased at a rate more than double the industry average, reflecting greater customer investments in higher vehicle series and optional features.
Ford's vehicle residual values are projected to be higher than domestic competitors' and are closing the gap on the imports, according to Automotive Leasing Guide.  The improvements mean Ford customers will see greater values at trade-in time.
Vehicles such as the 2010 Fusion Hybrid are bringing new customers to Ford at unprecedented rates.  Approximately 54 percent of Fusion Hybrid buyers did not previously own Fords, and 66 percent of Fusion Hybrid owners are coming out of foreign vehicles.  Similarly, Ford Flex is drawing nearly 50 percent new buyers to the Blue Oval, more than one-fifth of them from imports.
The Ford, Lincoln and Mercury brands all showed significant improvement in the 2009 J.D. Power APEAL study, which measures customer satisfaction in design, content and vehicle performance.  The Ford F-150 and Flex were singled out for awards in their segments.
Merrill Lynch's closely watched "Car Wars" study concluded that Ford is expected to have the highest vehicle replacement rate among full-line manufacturers between the 2010 and 2013 model years.  Ford's average product freshness is expected to improve substantially – particularly compared to rivals – positioning the company to win even more new customers.
"Customers are recognizing that Ford is delivering exceptional quality, fuel efficiency, smart technology and better value," said Fields.  "We're delighted to see more and more new customers putting their trust in Ford and encouraging others to do the same."
###
About Ford Motor Company
Ford Motor Company, a global automotive industry leader based in Dearborn, Mich., manufactures or distributes automobiles across six continents. With about 205,000 employees and about 90 plants worldwide, the company's automotive brands include Ford, Lincoln, Mercury and Volvo. The company provides financial services through Ford Motor Credit Company. For more information regarding Ford's products, please visit www.ford.com.