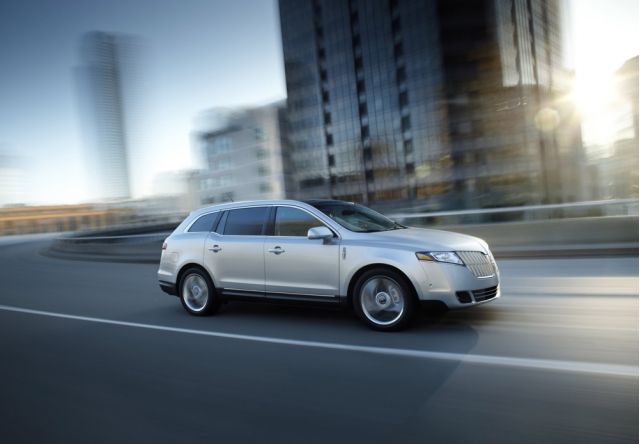 2010 Lincoln MKT
The unprecedented number of new vehicle introductions for the 2010 model year includes:
2010 Ford Taurus and Taurus SHO
2010 Ford Fusion and Fusion Hybrid
2010 Ford Mustang and Shelby GT500
2010 Ford Flex with EcoBoost
2010 Ford F-150 SVT Raptor
2010 Ford Transit Connect
2010 Lincoln MKT and MKT with EcoBoost
2010 Lincoln MKZ
2010 Lincoln MKS with EcoBoost
2010 Mercury Milan and Milan Hybrid
Plus, Ford is delivering vehicles with even greater levels of interior comfort as well as more new convenience and safety technologies than competitors offer – even in premium sedans.  These new technologies include:
New SYNC® applications with Traffic, Directions & Information delivered through customers' Bluetooth-capable mobile phones
Blind Spot Information System (BLIS®), which alerts drivers when obstacles are in their blind spot
Automatic Park Assist, which guides vehicles into parallel parking spaces, hands-free
Fuel efficiency improves with more new powertrains
Ford also is making an unprecedented investment in new engine, transmission and driveline components, helping the company improve its average U.S. vehicle fuel economy by approximately 20 percent fleet-wide through the end of 2010 versus 2005 – with plans to increase car and truck fuel economy by more than 35 percent by 2015, thanks to powertrain advancements.
Additional improvements include:
A new 2.0-liter, 4-cylinder EcoBoost engine will go on sale in the 2010 calendar year. It is the first EcoBoost engine to include Twin-Independent Variable Cam Timing (Ti-VCT) and will deliver a 10 to 20 percent fuel economy improvement versus larger-displacement V-6 engines, without compromising performance
A 6.2-liter V-8 – producing approximately 400 horsepower – first appears in the 2010 F-150 SVT Raptor on sale later this year
A 3.7-liter V-6 iVCT, producing 274-horsepower, and helping the Lincoln MKT achieve best-in-class fuel economy
A 3.5-liter EcoBoost V-6 – Ford's first EcoBoost engine, featuring better fuel economy than V-8 competitors – is offered in the Taurus SHO this model year with 365 horsepower and 350 ft.-lb. of torque; EcoBoost engines in Flex, Lincoln MKS and MKT deliver 355 horsepower and 350 ft.-lb. of torque
A 3.0-liter V-6 iVCT – featuring an industry-first Cam Torque-Actuated Variable Intake Cam Timing system that improves low-end torque and delivers better fuel economy – is available on the Fusion, Milan, Escape and Mariner later this model year
"We are absolutely committed to delivering new products with the best fuel economy in every segment in which we compete – driven in large part by substantial advancements in powertrain technology," said Barb Samardzich, vice president, Ford Global Powertrain Engineering.
In addition to an aggressive electrification strategy – which will result in at least four electrified vehicles on the road in the U.S. by 2012, including full battery electric vehicles, new hybrids and a plug-in hybrid – Ford is improving gasoline engines across all products in high volumes.
The foundation for Ford's plan is its new EcoBoost engine.  EcoBoost is a new high-volume, affordable engine technology slated for a range of global vehicles – from small cars to large trucks. It uses gasoline turbocharged direct-injection technology for up to 20 percent better fuel economy, 15 percent fewer CO2 emissions and superior performance versus larger-displacement engines.
EcoBoost is arriving for the 2010 model year on the Ford Flex, Taurus SHO, Lincoln MKS and MKT.  By 2012, the company plans to produce 750,000 EcoBoost units annually in the U.S. and 1.3 million globally.  By 2013, Ford will offer EcoBoost engines in 90 percent of its product lineup.
For the 2010 model year, Ford also is offering two new hybrids.  The Ford Fusion and Mercury Milan Hybrids deliver 41 mpg in the city – 8 mpg better than Toyota Camry Hybrid – making them the most fuel-efficient midsize sedans in America.
Ford quality and customer satisfaction now #1
Customers and third-party experts alike are noticing Ford's product, fuel economy and quality.
For the first time in the 28-year history of the Global Quality Research System (GQRS) study, customer satisfaction with Ford, Lincoln and Mercury vehicles has reached its highest level in North America – and now equals Toyota.
In addition, Ford, Lincoln and Mercury vehicles had the lowest number of "things gone wrong" among all automakers – putting Ford in a statistical tie with Toyota for initial quality and ahead of Honda.