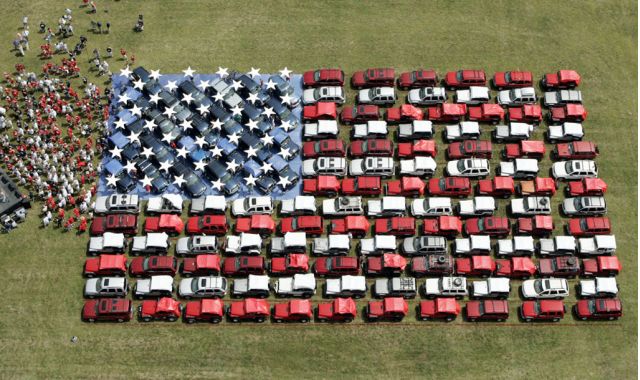 Jeep American Flag
You may recall that there's a mammoth bill on energy policy in the works, and that in addition to the fairly contentious regulations put forward in the American Clean Energy and Security Act, there's also a cash-for-clunkers amendment wrapped up in its tailpipe. Now, things have become slightly more byzantine with the insertion of a new "Buy American" provision for automakers.
According to reports, the provision was added by a group of lawmakers, including Representative John Dingell (D-MI). If left in place, it would offer financial support to any automaker that develops and produces plug-in electric vehicles on U.S. soil. That sounds well and good to many Americans, of course, but it's enough to make trading partners in Canada, Japan, and elsewhere cry foul.
On the upside, there is some precedent for such provisions--including the recently passed federal stimulus package. And the provision doesn't limit  financial assistance to American automakers: any manufacturer that develops and builds such cars in the U.S. is eligible. On the downside, while many foreign automakers have assembly plants in the states, few have American research and development facilities. Offended countries could file a complaint with the World Trade Organization and initiate retaliations on the trade front.
The bill and this new provision are still in committee, and of course, everything's up for debate. House Speaker Nancy Pelosi hopes to bring the legislation to a vote by July at the latest, which sounds like plenty of time for our level-headed elected officials to work out a friendly compromise.
[source: BusinessInsider]