2010 Toyota Prius
In the race to dominate the hybrid market, there really are only two players--Toyota and Honda. While Ford and General Motors ramp up to speed with gas-electric vehicles, it's the Japanese duo that's been selling hybrids in the U.S. for more than ten years and has captured the most buyers.
This year, both Toyota and Honda are sending out new five-door hybrids to battle for more market share while they emit fewer carbon emissions and consume fewer gallons of gas in the process. They're similar in concept--but very different in execution. And one of them figures more highly in TheCarConnection.com's numeric ratings and, no surprise, in the monthly sales derby.
2010 Honda Insight
Which hybrid rates better at TCC, and why? We studied the numeric ratings and conclusions of generated in our hands-on Bottom Line road test and also studied the opinions of other respected Web review sources in our full review of the pair. Each of TheCarConnection.com's editors has driven both of the vehicles in separate locations, under different circumstances, to come to our consensus opinion.
The results follow here -- but if you're eager to see a shortcut, you can also click into our new vehicle comparison tool to generate your own head-to-head competitions. In the battle of the $21,450 2010 Honda Insight versus the $24,635 2010 Toyota Prius, it comes down to comfort and features:
Prius vs. Insight Style
2008 Paris auto show
Which of these two vehicles gets a higher rating from our experts? The 2010 Honda Insight has nice detailing and a smooth silhouette, but not everyone loves the two-tiered instrument panel. It rates a 7 from our editors.
2010 Toyota Prius
The 2010 Toyota Prius, though slightly edgier and more attractive, still looks like a Prius--and that earns it a 6 overall from TCC's test drivers.
The winner here? The Insight, for its faster hatchback shape and more appealing interior.
Prius vs. Insight On the Road
2008 Paris auto show
Both the Prius and the Insight specialize in fuel economy, and both perform admirably in that respect. Different hybrid philosophies and Honda's superior suspension tuning are balanced out by the Prius' much higher EPA fuel economy ratings--51/48 mpg for the Prius, 40/43 mpg for the Insight. With sportier driving feel separates the 2010 Honda Insight from its rivals, and fuel economy is stellar. It rates a 9 for performance from TCC's experts.
2010 Toyota Prius
However, with better fuel economy, better handling, and a smoother ride, there are now even fewer reasons not to look into a 2010 Toyota Prius. TheCarConnection.com's testers give it a 9 as well, putting the hybrid pair in a tie for speed, handling and fuel economy--though not for identical reasons.
Prius vs. Insight Utility
How comfortable are passengers in the Prius and in the Insight? And how well do their interiors carry cargo, while maintaining an impression of quality?
2008 Paris auto show
For both vehicles, there are important compromises to note when shopping. With the 2010 Insight, seating is good in front, but limited rear headroom hinders overall comfort and usefulness. The rear storage area is notably shallow for cars of this kind, a result of the batteries used to assist the gas engine. It ranks a 7 out of 10 in the eyes of TheCarConnection.com's writers.
2010 Toyota Prius
With the 2010 Toyota Prius it's a slightly different story. There's more room, but the interior finish and fit still aren't up to the quality levels found on Toyota's Lexus brand. The newest generation of Prius is certainly a step in the right direction, though, and adults will ride comfortably even in back. TCC's editors score its comfort and utility at 7 out of 10. Another tie--and depending on your needs for cargo and people, possibly a clear tiebreaker.
Prius vs. Insight Passenger Protection
2008 Paris auto show
Safety is a prime consideration with any new car, and today's hybrids offer all the choices of safety equipment and options as many luxury cars. With the Insight and Prius, the Toyota package of standard gear sets it a notch above the Honda. With the 2010 Insight, electronic stability control isn't offered on the base model of the 2010 Honda Insight; otherwise its credentials look promising, though it hasn't yet been crash-tested. TheCarConnection.com rates its safety at 8 out of 10.
2010 Toyota Prius rolls onto the Detroit stage at its global debut in January 2009
The 2010 Toyota Prius is a safe bet for drivers and their families, thanks to improved safety features and better overall visibility in the new generation, and the prior car's excellent crash-test history. It's rated at 9 out of 10 by TCC's team of car experts.
Prius vs. Insight Equipment
When it comes to features, Toyota does a better job of bundling standard features and high-tech options into the 2010 Prius, while Honda puts together packages that undercut its superior pricing.
With the 2010 Insight, Honda forces buyers to spend a lot more for, say, the top 2010 Insight EX in order to then opt for features, like Bluetooth, that are standard on other tech-savvy vehicles. TCC's editors rate the features philosophy--rather than the features themselves--at 6 out of 10.
Meanwhile, with the 2010 Prius, Toyota sets out even the base car with a fairly lengthy list of standard gear. The high-tech 2010 Toyota Prius offers something for everyone--stability control and Bluetooth are standard, as is an MP3 player input--and adds to its already impeccable green credentials with a new solar-panel option. It scores a perfect 10 from TheCarConnection.com's editors.
Prius Vs. Insight: The Bottom Line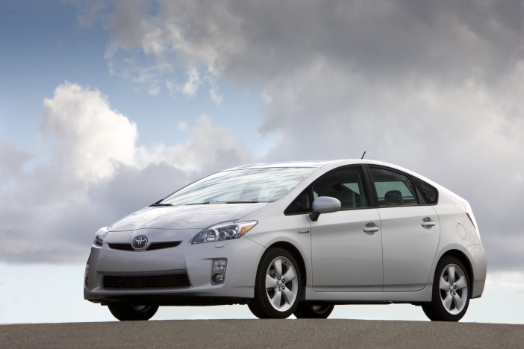 2010 Toyota Prius
The 2010 Honda Insight offers up great real-world fuel economy; a responsive powertrain; decent handling and maneuverability; and some of the design details of a more expensive vehicle. However, rear headroom is tight, the cargo area is shallow and stability control isn't even offered on the base version. For those who want to be seen in a smart, high-mileage hybrid but want to pinch pennies at the dealership, the 2010 Honda Insight is the way to go, with an overall rating of 7.4 from TheCarConnection.com
The 2010 Toyota Prius gets exceptional fuel economy; a tall, airy cabin; hatchback utility; an improved driving feel; and a more upscale feel in general--though it's also more expensive, still feels like a hybrid and not a "car," and has a room-robbing console up front. The 2010 Toyota Prius ups the ante in the hybrid world with 51-mpg city fuel economy and a finer style, and tops the Insight with an overall rating of 8.2 from the editors at TheCarConnection.com.
You can compare more cars at TheCarConnection.com--including the Prius vs. Insight--by clicking over to TCC's Car Compare page, where you'll be able to choose from body styles, price points, model years and by brand.