2010 Lexus IS 350C with F Sport wheels and brakes
With the launch of its new 2010 IS C Convertibles, Lexus is expanding its relatively new line of F Sport dealer-installed accessories to the IS C and to the larger GS. So far, the F Sport upgrades have only been offered on the IS sedans, but the IS and GS are built on the same platform and do share some common parts.
The list of F Sport accessories is extensive, including a high-performance clutch kit, a short-shifter, a TRD free-flow exhaust, a cold-air intake kit, sport-tuned springs, shocks, and stabilizer bars, lightweight forged-alloy 19-inch wheels, and a high-performance 'track day' brake kit.
The brake upgrades is very pricey, at $5,575 for all four wheels, but not all of the accessories require a heap of green. The short-shifter kit we sampled only cost $185, and a performance clutch costs $599. We sampled both of those, but what stood out most to us was the brake upgrade. It was developed by brake experts StopTech and requires the 19-inch wheel upgrade, and stickier Michelin Pilot Sport Z-rated tires, bringing big, showy drilled rotors and blue calipers. In execution, they have notably more grab at high speed and were absolutely confident and fade-free.
Just as in the standard version of the 2010 Lexus IS C, however, we would have liked a firmer pedal feel, but we were told by Paul Williamsen, of the Lexus College, the company's dealership-education arm, that StopTech worked within the parameters of the IS 350C's VDIM stability control system and anti-lock brake controller to get the best improvement in performance while still keeping those modern electronics within the original parameters—and compatible with the brake booster, brake controller, and the rest of the system. The VDIM might intervene a little earlier with the stronger brakes and grippier tires, but it's calibrated that way so that you'll still have full operation of those important safety systems, says Williamsen.
Not many are going to take their IS 350C out to the track. But many will appreciate having a track-capable car without any hitches or any of the usual sacrifices that might accompany aftermarket upgrades.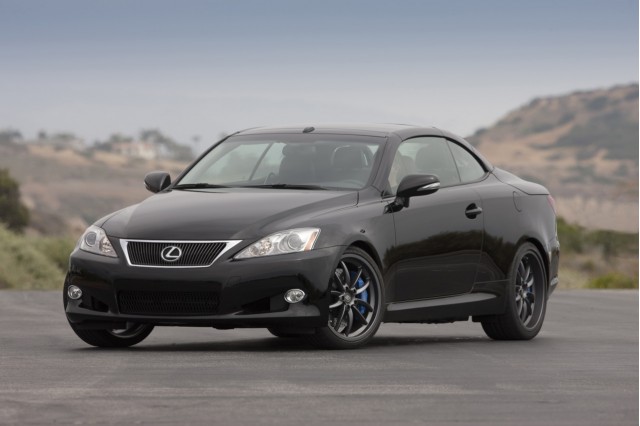 2010 Lexus IS C F Sport accessories
2010 Lexus IS C F Sport accessories
2010 Lexus IS C F Sport accessories
2010 Lexus IS C F Sport accessories
2010 Lexus IS C F Sport accessories