While we wait for Chrysler to emerge, hopefully leaner but not that much lighter, from its bankruptcy—perhaps with some fashionable Italian loafers and a rejuvenated Dolce & Gabbana wardrobe—TheCarConnection.com started thinking about the company's product missteps in recent years. No, not the Dodge St. Regis or the TC by Maserati (shhhhh!), but the very recent past.
What's gone wrong—this time—from a product perspective? Here are five of them:
2009 Chrysler Sebring
Chrysler Sebring: No contest here. The Sebring sedan, along with its Dodge Avenger sibling and its Sebring Convertible variant, were somehow a step behind the instant they arrived, beginning for 2007. These models have been almost universally panned by reviewers—mostly for being behind the curve in performance and lacking in interior quality—and they have a lackluster repair record to boot, with Consumer Reports rating the Sebring the worst in reliability, of all the models surveyed, in 2008, with lots of recalls affecting its rollout as well. This is a huge, bread-and-butter, money-making segment that hosts the Honda Accord, Toyota Camry, Nissan Altima, Ford Fusion, and Chevrolet Malibu; Chrysler clearly cut corners on the Sebring and placed its wagers on some admittedly innovative features for the options list but skimped on interior materials and cabin quality, with noise and vibration, to some, a step backward. The name change for the Dodge sedan, from the benign Stratus to the renaissance-fair-worthy Avenger, probably didn't help either.
2007 Dodge Nitro
Dodge Nitro: Nowhere does the term half-baked apply so well as with Jeep's Nitro. Closely related to the Jeep Liberty, an off-road capable vehicle with niche appeal, the smallish Nitro is a truck-based SUV that's not intended for off-roading. The Nitro was brought to market at the same time as GM, among other companies, was admitting that there wasn't a future for mid-size truck-based SUVs, gobbling up product development and marketing money that could have been used for more fully realized vehicles. Factor in the 15-mpg city rating, 3,500-pound tow rating (the same as many car-based crossovers), and the unimpressive performance that TheCarConnection.com has noted firsthand, and you have to wonder where the Nitro is coming from.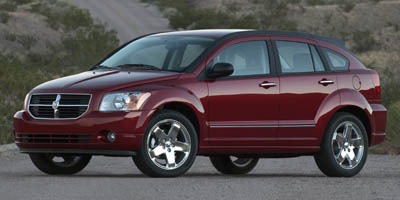 2008 Dodge Caliber SE
Dodge Caliber: When gas hit $4 a gallon last summer and shoppers—still flush with jobs, real-estate money, and credit to spare—went to the dealership, many were disappointed to find that Dodge dealerships didn't have any vehicles that topped 30 mpg. The Dodge Caliber, which gets ratings in the low- to mid-20s in its most popular variants—despite a roomy interior and some trick features like tailgate speakers and a cooler box—just doesn't have the fuel economy or even the refinement of rival models. Dealerships were caught like deer in headlights, lacking fuel-efficient small cars at a critical time when shoppers were flocking to more fuel-efficient cars like the Honda Fit, Toyota Yaris, and Ford Focus—and GM had even rolled out a 37-mpg (highway) version of its Chevy Cobalt, the XFE. The Caliber just wasn't frugal enough for most shoppers and Chrysler lost out at a critical time.
2008 Chrysler Pacifica Touring
Chrysler Pacifica: The Pacifica was a likable, well-designed family vehicle, its success ruined by ill-conceived marketing and a glitchy product rollout. With a roomy, attractive interior that combined Chrysler's minivan seating expertise with a welcome upscale ambiance from then-parent company DaimlerChrysler, the Pacifica was a large, comfortable, and luxurious crossover vehicle that was even a little ahead of its time in 2003; it might still even today match up reasonably well versus GM's full-sizers like the Buick Enclave. But everything else went wrong. Initially the Pacifica suffered from quality flaws, and it was at first priced too high, forcing Chrysler later to drop prices (and send resale values into freefall). In the end, Pacificas were benchwarming on dealer lots, some sold at a $10,000 discount.
Dodge Challenger: Okay, this one's going to be controversial, we know—even within TheCarConnection.com. But this editor feels that the Challenger just sends out the wrong message for a company with a very checkered past. The Challenger might fire up all the right nostalgia cues for some of the older Boomers looking to put on some deep-tinted sunglasses and relive that special window of opportunity in the '60s or early '70s—or for a younger set perhaps a Dukes of Hazzard episode—but those times are long, long past, and the number of those people with 401Ks and pension money to spare has dwindled. By making the Challenger so retro, as opposed to the more modern feel of the revived Chevy Camaro, the end product somehow feels like an aging geezer who's trying desperately to keep his high-school haircut—and shunning the very engineering mindset that set Chrysler apart from the rest of Detroit leading up to the original muscle cars.