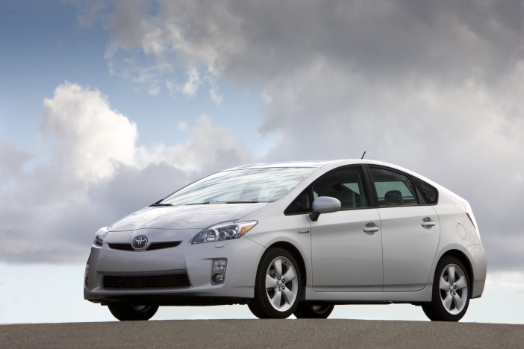 2010 Toyota Prius
What happens when you unleash a pack of automotive journalists on the newest hybrid on the block--and challenge them to beat the chief engineer's best fuel economy?
If you plan it right--set a low bogey--you'll let journalists write the best story on the 2010 Toyota Prius from behind the wheel. The fuel economy story. That's exactly what Toyota did at the Napa unveiling of the new Prius, where car writers far and wide topped the engineer's 62.9 mpg by as much as 12 mpg.
On a total loop of 33.2 miles, I logged in at 69.5 miles per gallon, without even really trying--just coasting to stops, accelerating very gradually and using the Prius' EV mode to coast into our host hotel. It's 70-mpg performance, if you're only counting two sig figs--and even that was strictly mid-pack. One pair of drivers hit 75.3 miles per gallon under vaguely real-world driving conditions.
Fuel economy is what the 2010 Toyota Prius is all about. Even today, with gas back under $2 a gallon and hybrids selling way more slowly than in 2008, the Prius is still the sales champ of the gas-electric category. No other car even comes close, and no other car is so closely identified with greener driving. The news of the 51-mpg city rating for the Prius, and our mind-blowing economy ratings, simultaneously takes some air out of the lower-mileage 2010 Honda Insight and 2010 Ford Fusion Hybrid, while also also making us wonder why anyone would really need a plug-in Prius.
The 2010 Prius is significantly improved over the prior car (confession: I'm an owner of a 2004 model) in dozens of small ways. Along with exceptional fuel economy, it benefits from a taller, more airy cabin and improved driving feel. It's also a more upscale effort in general, likely because of its close family relationship to the new 2010 Lexus HS 250h.
At the same time, the new Prius is still a hybrid, in driving feel and in appearance. Some of the upgrades have cut down on utility, like the nicer center stack between driver and front passenger that reduces knee room. The biggest concern right now is price: exactly how much will the new Prius cost, and will top versions break the $30,000 barrier?
Pricing comes later, as the Prius goes on sale in a few weeks. Until then, our Bottom Line on the 2010 Toyota Prius is that it ups the ante in the hybrid world with 51-mpg city fuel economy and a finer style.
Get our hands-on road test on our 2010 Toyota Prius page, along with dozens of high-resolution photos.