2009 Tokyo Motor Show
The 2009 Tokyo Motor Show opens to the press this week--and if you think the Detroit auto show plays to the home crowd, consider the lineup of world debuts for Tokyo this year.
They're all from Japan's car companies. Not a single mass-market brand outside the home market is staging an important introduction in Tokyo this year. In part, it's due to the worldwide financial mess--but maybe more troubling to the show's organizers, it's a status update on the Tokyo show's declining influence and on Japan's shrinking home market. Toyota's most important new 2010 model--the Prius--was in fact launched earlier this year in Detroit.
Still, the Tokyo Motor Show's an open invitation for the world's automakers to study each other's latest moves. Particularly for green-car enthusiasts, the Tokyo show's always a fertile ground for hybrid and electric-car concepts. And from the looks of it, the usual dose of truly strange machinery will show up at the Makuhari Messe as well--witness the Nissan Land Glider below.
High Gear Media is tuning in to the Tokyo Show all week long, with reports on the new cars and new concepts unveiled for the press. What's the news from the floor before the show even starts? Here's a preview of what we'll show you later this week:
NEW CARS
2009 Honda CR-Z concept car
Ready for a global introduction at last, the CR-Z takes the original 2007 concept from Honda and adapts it for production as the company's next hybrid vehicle. No details have been released but from the images it appears the interior and minor details such as the lights and bumpers resemble production items more closely than the pieces on the original 2007 CR-Z concept car. As for the actual production version due next year, it's currently being designed and engineered in Europe, its expected key market, and is rumored to feature a 140-horsepower peak power rating from its hybrid drivetrain.

Nissan LEAF
Designed specifically for a lithium-ion battery-powered chassis, the LEAF is a mid-size hatchback that comfortably seats five adults and has a range of more than 100 miles to satisfy real-world consumer requirements. Key characteristics include a zero-emission powertrain and platform, an "affordable" price tag and a connected mobility intelligent transportation (IT) system. Power will come from laminated compact lithium-ion batteries, which generate an output of over 120 hp, while the electric motor itself delivers 107 hp of output and 206 lb-ft of torque. And with the ability to regain up to 80 percent of its full charge in just 30 minutes, it can get back on the road again in a hurry. A full charge takes about 8 hours, a typical overnight duration.
2010 Toyota Prius Plug-in Hybrid Concept
The plans for this first factory-built plug-in Prius are very modest. Only about 500 vehicles will be built, so Toyota can gather real-world data on how drivers actually use plug-in hybrids. The first users will be selected commercial fleets; 150 will go to Europe, and the same number to the U.S. market, with first deliveries starting by the end of this year. Toyota hasn't committed to a date when retail customers will be able to get their hands on a factory plug-in Prius, although 2012 would fit the rough timeline it has discussed in the past.
2008 Lexus LF-A Roadster Concept
Lexus LF-A 
It's been making the auto show circuit for a long time, but the Lexus LF-A supercar may finally see its debut in Tokyo. We're hearing word of a 4.8-liter V-10 engine and aerodynamics that have been tweaked to pass the 500-horsepower and 200-mph barrier. The engine now puts out 550 horsepower, while the top speed has reached a lofty 218 mph--in the same territory as supercars like the Lamborghini Murcielago LP640 and the 2009 Nissan GT-R. A version of the engine may also power the upcoming 2012 Lotus Esprit. Stay tuned this week for full photos, information and video as soon as the usual embargo walls break.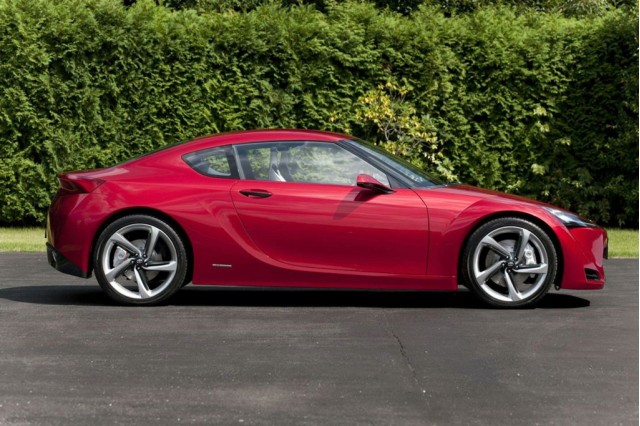 2009 Toyota FT-86 Concept
Toyota FT-86 and Subaru sports coupe

There are two love children coming, borne of the bed-sharing between Toyota and Subaru. The Toyota FT-86 is the first: spawned from a Subaru Impreza chassis, minus its all-wheel-drive system, and a Toyota body, the FT-86 is a 2+2 coupe with handsome proportions and clear styling links to Toyota's FT-HS concept coupe from the 2007 Tokyo show. For power, Toyota's chosen a 2.0-liter flat four-cylinder from Subaru, too. The naturally aspirated version of Subaru's turbo four puts its estimated 200 hp to the rear wheels, via a six-speed manual transmission. Toyota says they chose the naturally aspirated version of this 2.0-liter boxer engine to keep weight and costs down---while maintaining a low and balanced center of gravity. Rumor suggests the FT-86 will go on sale as a 2011 model in Japan, with U.S. plans uncertain. A base price of $25,000 has been suggested, putting the coupe squarely in the niche left behind by the long-gone Toyota MR2, Celica and the older versions of the Supra. A Subaru version will be introduced, but it's not a lock for the 2009 Tokyo show.
CONCEPTS
2009 Subaru Hybrid Tourer Concept
Combining a symmetrical all-wheel drive system and horizontally opposed boxer engine in a wagon body with gullwing doors, the new 2009 Hybrid Tourer Concept gives us an indication as to what future Subarus may look like. In addition to the chiseled wagon body, the concept also adopts a flat rear floor to maximize passenger space, special windscreen shielding to reduce driver eyestrain and new, breathable leather trim for improved comfort and texture. Power comes from a 2.0-liter horizontally opposed gasoline four-cylinder engine with direct injection and turbocharging technologies. This is matched to a CVT and twin electric motors, one at each axle. The rear motor is used to drive the Tourer at low speeds and aid the gasoline engine during acceleration. The front electric motor is used primarily to charge the vehicle's lithium-ion batteries and also kicks during high load situations, such as accelerating uphill.
2009 Honda Skydeck Concept
Hybrids are becoming increasingly common in compact and mid-size sedans, and even in some SUVs, but so far, hybrid minivans haven't caught on. Honda may be hoping to change that with a new concept called the Skydeck. Though it's still just a design study according to Honda, it does show that the company's IMA hybrid system is easily adapted to a wide variety of vehicles. It could also point the way to the future in other hybrid design elements. For example, rather than raising the height of the vehicle or impinging directly on cabin space, Honda houses the hybrid's batteries and other components inside the center tunnel. Honda says this allows for more space in the cabin and a lower center of gravity.
2009 Nissan Land Glider leaning EV concept
Weirdness will strike the Nissan stand in the form of the Land Glider EV, a four-wheeled, narrow city car that leans into the turns like a barrel racer to offer what Nissan calls "a new, exciting sense of driving and powerful, crisp ride." It's certainly an intriguing design, and looks like it would be a hoot to drive. The body itself is also interesting, shaped to maximize parking space in cramped urban areas while still offering enough space for daily duties.
MORE TO COME:
Mazda Sky-G engine
Mitsubishi PX-MiEV crossover EV
Toyota electric vehicle
NEWS
Stay tuned with High Gear Media's coverage of the 2009 Tokyo Motor Show:
Bookmark this page
Follow us on Twitter: @highgearmedia @carconnection @therealma @greencarreports 
Join our Facebook fan page