Mercedes is reviving the spirit of its hugely famous 300SL ("Gullwing") roadster of five decades ago in a new roadster set to debut in the fall at the Frankfurt Motor Show and go on sale mid-2010. This new car, the SLS, replaces the former McLaren joint-venture, the SLR, of which Mercedes will be halting production.
A convertible version, dubbed SLC, is expected to follow shortly after the SLS' dubut. Both will hew closely to the 300SL's classic formula; a long hood, upright windshield, door design, and tapered rear are "all present and updated in a modern interpretation of the original" according to AMG head Volker Mornhinweg. He calls the new design "totally faithful to the 300SL."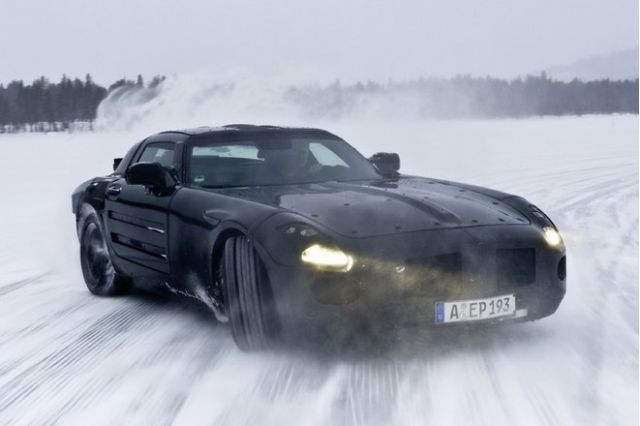 2010 Mercedes-Benz SLS Spy Shot
Enlarge Photo
Even the gullwing design, wherein the doors are hinged at the roof and flip upwards, will be retained from the past. Substantial use of aluminum and carbon fiber help keep the SLS' weight down to roughly 3,571 lbs., some 286 less than than the SLR.
Powering the SLS will be a tuned version of AMG's 6.2-liter V-8. Features included a new aluminum crankcase that lowers engine weight by nine lbs. Power ratings are 563 hp and 479 lb-ft torque; power is sent rearward by Mercedes' first DSG gearbox, a 7-speed in this case that appears to be mounted at the rear axle. Mercedes claim performance figures of 3.8 seconds to 62 mph and a top speed, electronically-limited, of 196 mph. Fuel consumption is said to be 18 mpg.
2010 Mercedes-Benz SLS Spy Shot
Enlarge Photo
The SLS name is jarringly identical to a front-wheel drive Cadillac sedan from years' past (Seville Luxury Sedan). Thankfully, only gearheads and the old ladies still driving them will remember that mediocre cruiser.
[source: AutoWeek]