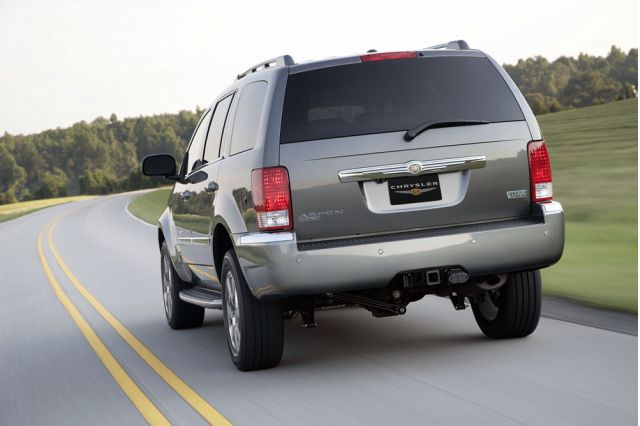 2009 Chrysler Aspen Hybrid
Chrysler announced today that it will be closing its Newark, N.J., assembly plant that builds the slow-selling
2009 Dodge Durango
and
2009 Chrysler Aspen
large SUVs. Originally set to close at the end of 2009 as part of cost-cutting moves announced in early '07, market woes, a credit crunch, and the housing downturn have forced Chrysler's hand, according to
Automotive News
.
Chrysler joins the growing number of auto manufacturers being forced to act quick and shed costs. And, understandably, the biggest, lowest-tech, thirstiest models are the first to be axed. The Durango and Aspen have been criticized by many as bulbuously styled, thirsty full-frame SUVs that have little relevance in a marketplace becoming saturated with lighter, leaner crossovers like GM's Lambdas (Chevrolet Traverse, Buick Enclave, GMC Acadia, Saturn Outlook). Even with the HEMI V-8's cylinder deactivation and fitment of the codeveloped TwoMode Hybrid system (also seen on the Chevy Tahoe, Cadillac Escalade, and upcoming European vehicles), the 2.5-ton SUVs don't come close to the efficiency now demanded by the market. Dodge has its own crossover, the Journey, but it lacks the size and quality feel of its competition.
GM is also facing a slew of plant closings such as its Moraine, Ohio, plant set to be phased out on December 23. And even lighter, leaner foreign makes such as the Nissan Altima are stinging from the market downturn (with workers facing mandatory, unpaid days off), if perhaps not as painfully as plants that manufacture domestic SUVs.
Anyway you look at it, this is bleak news for the American auto worker and the U.S. economy. Be it plant closings, huge domestic acquisitions or mergers that could eliminate 30,000-40,000 American jobs, or even heads of household who find themselves working (and being paid for) only three or four days of work per week through the remainder of 2008, it seems nearly everyone, everywhere in the United States is feeling the strain.
Will we have to re-enact the Depression-era Works Progress Administration sometime in '09? Somewhere, the next John Steinbeck is spinning a novel out of this whole big mess.--Colin Mathews
Creative Commons/flickr.com - http://www.flickr.com/photos/[email protected]/2193037513/