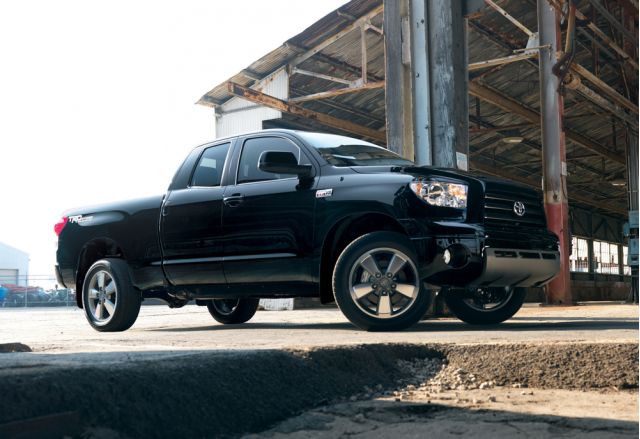 2009 Toyota Tundra Sport Edition
Toyota Motor Sales' president, Jim Lentz, announced the company will not be battling truck giants Chevy, Ford, and Dodge for full-size supremacy.
Automotive News
presented this information in line with Toyota's recently announced 0 percent financing, designed to move slow sellers like its new
Tundra pickup
. With Tundra sales down 60.7 percent compared to
Chevy Silverado
sales off only 3.9 percent, it is refreshing that Toyota is setting realistic goals for itself and its dealers.
Lentz blamed Texas and Indiana plant shutdowns as part of the reason for an abbreviated 2008 model year that saw abysmal Tundra sales. In addition, many past Tundra buyers are commuters who purchase based on image and are not necessarily truck devotees. This factor, in addition to economic realities and gas prices, makes it easier for Tundra buyers to walk away from a segment they were never wedded to in the first place.
Falling short of saying it has been canceled, Lentz did say that development of a diesel engine for the Tundra has been shelved for the time being. Said Automotive News, "that's a big step back from Toyota telling dealers...that a diesel would arrive by 2010 or 2011."--Colin Mathews