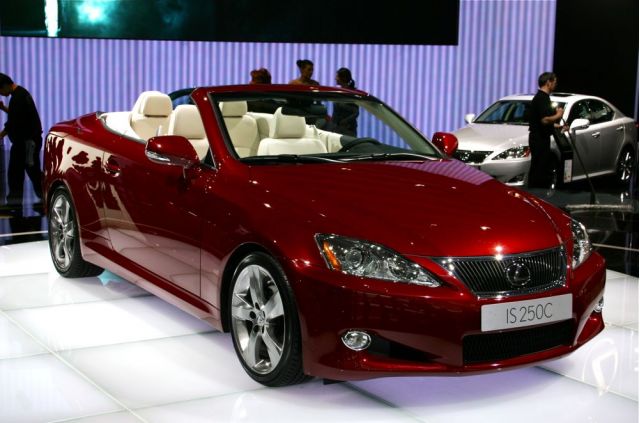 2010 Lexus IS 250 C
When it arrives in U.S. showrooms in spring 2009, the new Lexus IS Convertible will do two things for the Toyota luxury brand: give it a reason to dump the slow-selling, bathtub-shaped SC convertible, and simultaneously give it a much less expensive hardtop convertible with which to fight the onslaught of folders like the new BMW 335i Convertible.
The Lexus IS Convertible will come in two flavors: 250 and 350, based on the displacement of its engines. The IS 250C sports a 204-hp, 2.5-liter V-6 and a choice of automatic or manual six-speed gearboxes. The IS 350C, meanwhile, offers up 306 horsepower and a six-speed automatic.
The hardtop convertible part of the equation is straightforward; it opens or closes in 21 seconds and gives the appearance of a hardtop coupe when closed--although, like nearly all of its kind, it's a far better-looking beast with the top down. The aluminum three-piece roof folds in a compact way and preserves good luggage space, Lexus says. The conversion to a two-door makes the Convertible's doors nearly a foot longer than the front pair in the sedan; hence, Lexus applies a one-touch seat mechanism for easier access to the two small rear seats.
Lots of tweaks lend the IS Convertibles more aero flair, and acoustic glass and additional sealing around the glass give it coupe-like noise levels when the roof is raised. Elsewhere inside, the gauges have been revamped for better visibility, and the climate control's been tweaked for top-down use--as is the sound system. Outside, LED lighting and a spoiler are standard.
Nothing on pricing in today's announcements; stay tuned as we bring you more on the IS Convertible later this year.
2010 Lexus IS Convertible
2010 Lexus IS Convertible
2010 Lexus IS Convertible
2010 Lexus IS Convertible