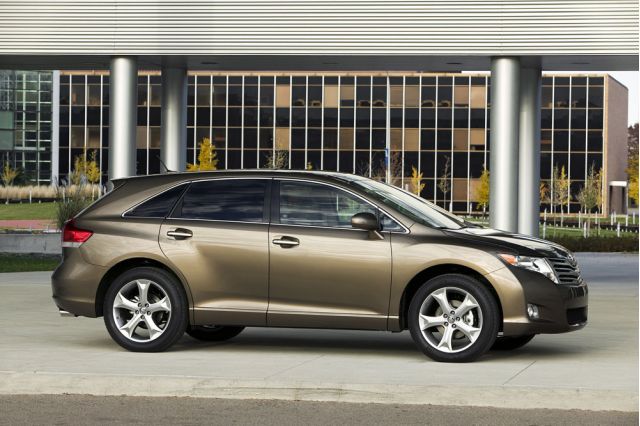 2009 Toyota Venza
Remember when Buick hired
DUB magazine
to pimp out a Lucerne, pushing that blue-hair-mobile about 40 ounces away from true street cred? It was like "The Little Old Lady from Pasadena" remixed with some extra bass and the Buick tri-shield. Don't laugh,
Lil Scrappy
was sportin' one a few years back.
Now it's time for the maker of the Buick Toyota Avalon to join the fray and start wearing some bling, ya feel me? Toyota and its posse of Venzas will be representin' the brand in November at the annual SEMA (Specialty Equipment Market Association) show in Vegas, baby, to "help illustrate the Venza's versatility." Word. Check Flickr if you'd like to see the wheels yourself.
One edition, called the Venza AS V (Active-Sports Versatility), is purportedly all about stowing and toting winter sports gear, with its "Integrated Car Carrier," which slides in and out of the rear bumper area to transport items like skis and bicycles (bicycles and icicles?). It was developed along with Five Axis. The aggressive over-fenders filled by 20-by-10.5-inch rims had better be equipped with some pretty knobby tires if they expect to conquer serious winter conditions.
The second edition pimps the vanilla Venza to cartoonish proportions for Vegas display, proving you can put really, really huge wheels on the new Venza. Developed by Street Image, the Venza SportLux incorporates a body kit, black/burgundy leather interior, and a snazzy nav/infotainment system (do it thump?), and it packs a fortified engine and suspension.
High-po versions of vehicles that will actually be driven hard (BMWs, Corvettes, FJ Cruisers, and Nissan XTerras) stretch the imagination in exciting ways, but pimped-out Buick sedans and Toyota wagons crossovers make us feel like we're heading for 'Toon Town, which is always good for a smile and a giggle.--Colin Mathews