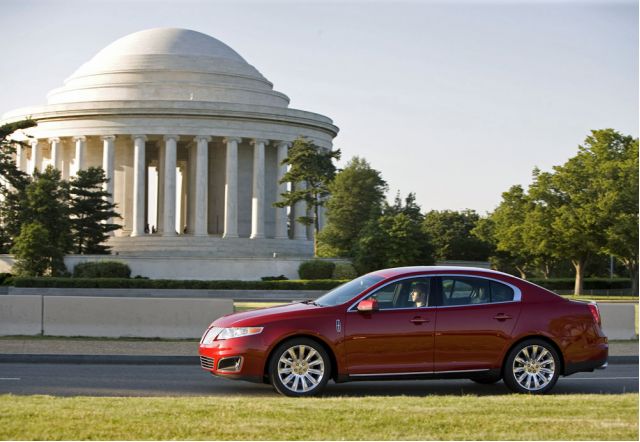 2009 Lincoln MKS
Ford will pair its new EcoBoost engines with an ethanol-injection system that will increase fuel economy by another 5 to 10 percent, PickupTruck.com reports.
In the Bobcat scenario, the EcoBoost engines will get a blast of ethanol to their already efficient direct-injection, turbocharged setup. Instead of injecting gas right into the cylinders, the new "Bobcat" engines will use tradition fuel injectors and will use the direct-injection ports to spray ethanol into the cylinder, which will cool the mixture for better efficiency and to prevent the pre-detonation (pinging) inherent in an efficient high-compression gasoline engine.
Ford's EcoBoost engines will make their debut soon in a range of Ford vehicles like the 2009 Lincoln MKS and trucks like the Ford F-150. The EcoBoost series is a direct response to the need for greater power from smaller, more efficient engines.
The Bobcat's additional efficiency could put the engines within striking range of the ultra-efficient diesel. Additionally, so little ethanol is used, it's claimed, that the separate ethanol tank would only require refilling every few months depending upon usage.
Why not stick with gasoline direct injection as in its own EcoBoost engines, in VW/Audi 2.0T and 3.2 V-6 engines, in the new GM high-feature V-6 (CTS, Enclave, Outlook, Acadia, Traverse), and now also in Porsche's 911? This allows just one injector to do two jobs, both cylinder cooling and the injection of the fuel for combustion. Might extra complexity equal extra repair costs down the road? But if Ford really can achieve unheard-of diesel efficiency with a gasoline engine, they'd make headlines and potentially give the diesel engine mortal injuries.
Regardless, we strongly suggest FoMoCo consider a different name for their new high-tech gas miser; you don't want this new tech to share its name with the Mercury clone of the Ford Pinto.--Colin Mathews
Source: PickupTrucks.com