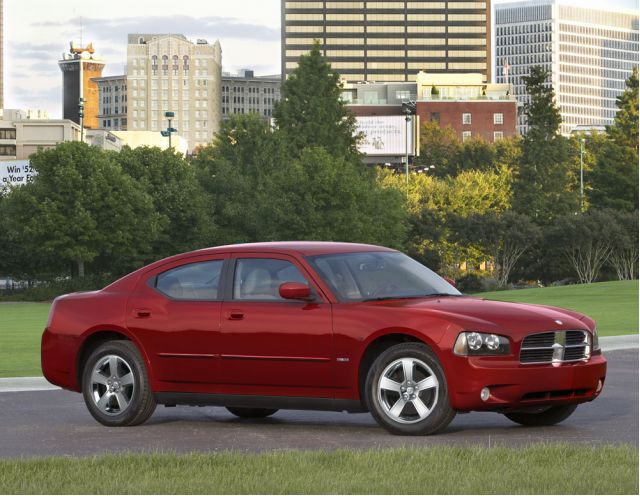 2009 Dodge Charger
Wait, wait, wait...sorry, we got sucked into press release lingo land. That's how Dodge describes the 2009
Charger
, just like the similar "four-door coupe" nonsense applied to the
Benz CLS
and
VW Passat CC
.
The Charger returns for 2009 with some moderate changes to a vehicle our own experts found to be a sharp-looking sedan. The capable, coupe-like full size performer-cum-cruiser sports some new cosmetics: to the Charger's mean, hunkered-down profile (replete with huge vision-obscuring C-pillars), tail lens cutouts are added to expose retro-style twin rear bulbs.
The bigger story is underhood, where Dodge's upgraded HEMI 5.7-liter V-8 resides. Boasting significant power upgrades, now at 368 horsepower, and 395 lb-ft torque, it manages increased performance with greater economy thanks to the fitment of variable-valve timing and the continued use of Chrysler's MDS (Multiple Displacement System) that shuts down up to four cylinders when not needed. There's now also a dashboard light indicating the engagement of MDS, which allows the driver to adjust driving habits to maximize the system's intervention.
Rounding out the major changes are an active transfer case and the fuel-saving Front Axle Disconnect on all-wheel-drive Chargers, which Dodge claims no other major manufacturer offers together in one car. While the active transfer case seamlessly transfers power to the front wheels when extra traction is needed, the front axle is both disconnected and the transfer case opened to reduce friction within the drivetrain and therefore reduce gas consumption.
It's a good day when we get more power and greater economy. Is that the silver lining to high gas prices?--Colin Mathews

2009 Dodge Charger
2009 Dodge Charger