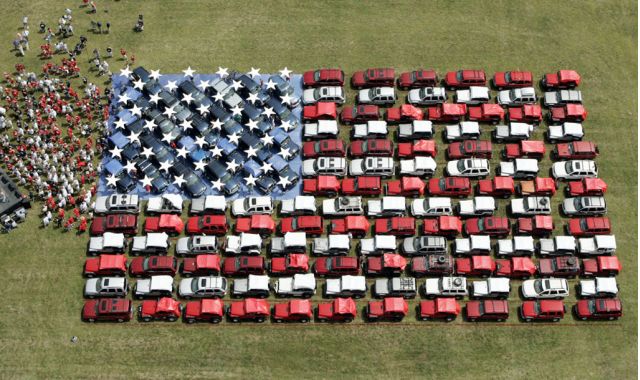 Jeep American Flag
The domestic auto industry, personified, might look like a cash-strapped American facing a mortgage foreclosure. Does that mean the U.S. government should step in ease the pain?
The industry, mainly Ford and GM (Chrysler LLC has been privately held since last year), claims it does not want a handout as it tries to stay afloat--instead, it's said to be lobbying hard for low-interest loans to spur growth and development of fuel-efficient hybrids like the Chevy Volt, plant retooling, and new technologies that will make it competitive again and, therefore, drive sales upward.
Fitting right in with election season politics, the industry leaders cite the stakes and fortunes of the American worker, insinuating that a lack of help is tantamount to the government turning its back on its own families and industry.
Currently, Ford and GM hybrids are skewed toward SUVs like the Ford Escape Hybrid, Chevy Tahoe/Cadillac Escalade two-mode hybrids, Dodge Durango/Chrysler Aspen two-mode hybrids, and mild hybrid sedans such as the Chevy Malibu hybrid. Of note, none of these models can boast the frugality of Toyota's Prius or even Camry Hybrid, though the Escape Hybrid comes close.
Specifically, the domestic industry is asking for $50 billion in loans at a low 4 to 5 percent interest rate over a three-year period. Because their credit ratings have fallen "below investment grade," according to The Detroit News, neither Ford nor GM can borrow money at affordable rates. Rep. Joe Knollenberg, R-Mich, says, "Something has to happen pretty quickly because they can't compete paying 15 to 20 percent."
Is Detroit playing the victim--or is this a chance for Americans to put their tax dollars where it will make some good? Let us know how you feel in a comment below.