2010 Chevrolet Equinox Spy Shot
Although a
single semi-official image
has been released of the 2010 Chevy Equinox, GM test teams have continued to run heavily camouflaged prototypes on public roads and even within GM test tracks.  That changed today, when a fully uncovered prototype hit one of General Motors' internal test loops--allowing us to get the first spy shots of an unclad Equinox from multiple angles.
We can now confirm the accuracy of the original low-res "release" photo, along with our first uncovered look at the crossover's rear-3/4 view.  We can now get a much better feel for the interplay of the C- and D-pillars, and the pleasing chiseled nature of the rear hatch.  The taillights have some interesting surface development, although from the the side they look a bit like the rear lamps on the Dodge Durango.
On the rear bumper, the dual exhaust tips flank what appears to be a chrome inset to match the similar bit of brightwork visible on the front air-dam of the Equinox in the leaked image.
Chevrolet continues to experiment with fuel-cell versions of the old Equinox, but we expect the new version to come with a standard V-6 engine from the GM parts bin. A similar vehicle will be marketed as the GMC Terrain.--KGP Photography
2010 Chevrolet Equinox Spy Shot
2010 Chevrolet Equinox Spy Shot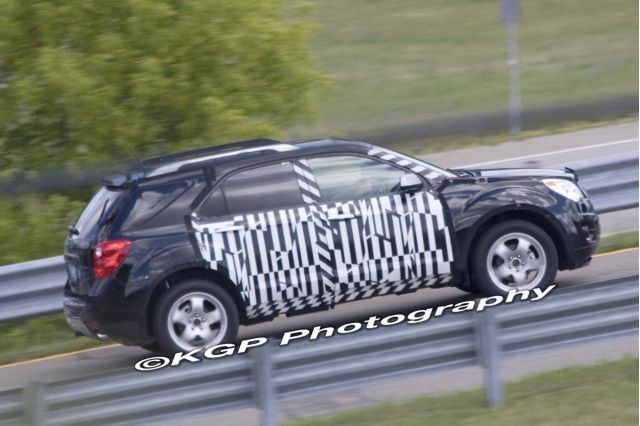 2010 Chevrolet Equinox Spy Shot
2010 Chevrolet Equinox Spy Shot
2010 Chevrolet Equinox Spy Shot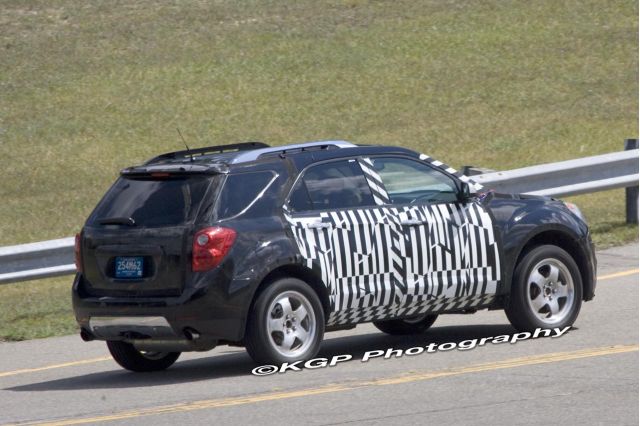 2010 Chevrolet Equinox Spy Shot