2002 Detroit Auto Show by TCC Team (1/6/2002)
Toyota show sponsor


sponsored by Toyota
click on pictures for larger views
SCHEELE OUTLINES SHAKEUP TO COME AT FORD
While some plant closings and layoffs seem likely to come when Ford announces its long-awaited turnaround plan later this week, "This is likely to be (just) Phase One," the architect of that project says. "There will be other phases down the road," says Ford COO Nick Scheele, who is focusing on moves that will have a more long-lasting impact on his company's products and production efficiency. In a special interview, TheCarConnection learned that he will push Ford to become a leaner, more flexible company. Borrowing a page from Japanese automakers like Honda, Ford will switch from fixed to flexible factory automation. In cases where market demand slows for one product, it would be able to quickly switch a plant so it could produce something more popular, rather than have to shut down. Among other things, Scheele said he would try to consolidate parts use. In Europe, for example, he had the company switch from 100 separate gasoline filler caps to just two. The turnaround plan is aimed at the long-term, rather than just a quick boost in profits, Scheele cautioned, acknowledging that as a result, industry analysts "aren't going to like everything they're going to get" during the first phase.
Scheele Hints at Turnaround Plan by TCC Team (1/6/2002)
Detroit's Dark Before Dawn by Jerry Flint (12/24/2001)
2002 Nissan Altima
2002 Chevrolet TrailBlazer
ALTIMA, TRAILBLAZER GET COTYS
The Nissan Altima proved something of a dark-horse winner as it was named top choice in the annual North American Car of the Year voting Sunday. The Altima bested the retro-styled Ford Thunderbird and Cadillac's new and edgy CTS sedan. The Chevrolet TrailBlazer, meanwhile, took top honors as the North American Truck of the Year, outpolling Jeep's new Liberty and another Chevy product, the multi-purpose Avalanche. The Altima, declared Nissan Senior Vice President Jed Connelly, "is the first big step" in the automaker's turnaround program. Meanwhile, Gary Cowger, president of GM North America, said the award for TrailBlazer is especially well-received, since it was the result of voting by 49 of North America's top automotive journalists, including TheCarConnection.com Publisher TCC Team.
GM ROLLS OUT QUARTET OF "PRODUCEABLE CONCEPTS"
General Motors used Sunday's opening of the North American International Auto Show as a backdrop for the introduction of four new concept vehicles — one of which wound up on the GM stand purely by accident:
2002 Cadillac Cien concept
Impossibly low, sleek and sexy, the Cadillac Cien is a 750-horsepower supercar inspired by the F-22 Raptor fighter jet, and intended to help celebrate the luxury division's 100th anniversary. (
Cien
means 100 in Spanish.) A high-tech showpiece of Caddy's knife-edged Art & Science design theme, the mid-engine two-seater is meant to go up against such competitors as Lamborghini and Ferrari. Its prototype V-12 is likely to see use in future Cadillac products, though putting Cien into low-volume production would require "a different way of thinking about our business," cautioned GM CEO Rick Wagoner.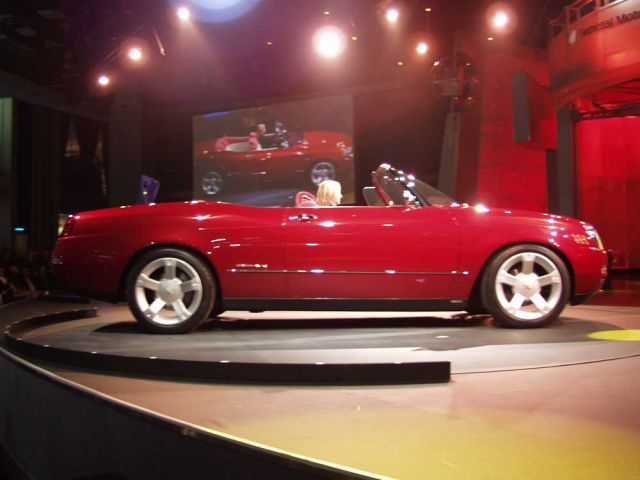 2002 Chevrolet Bel Air concept
The Chevrolet Bel Air would revive a once classic nameplate and have many potential buyers rethinking what Chevy stands for. The eagerly-awaited two-door convertible is not retro, GM officials insist, though it clearly borrows from the division's heritage. Surprisingly, the ragtop concept car was built in truck-like body-and-frame format, rather than in unibody construction. GM hasn't used that approach in a decade.
2002 Pontiac Solstice concept
GM had originally intended to bring just one version of the Pontiac Solstice to Detroit this year, a running convertible. But when top executives, including "product czar" Bob Lutz, returned from the L.A. Auto Show last week, they unexpectedly spotted a foam, full-sized model of the Solstice coupe at the GM corporate hangar. They couldn't wait, and sent both versions to Detroit's Cobo Hall. The Solstice, said Lutz, is meant to follow in the tire tracks of great, low-cost sports cars of the past, such as those from Triumph and MG. The two feature a supercharged version of the 2.0-liter GM Ecotec four-cylinder engine producing 230 hp.
2002 Pontiac Solstice concept
Will they build any of these? The four concepts were shown alongside the Caddy XLR and Hummer H2, both of which debuted in concept form and were later put into production. With a good reception from the public, one or more of the new concepts could follow down that path.
Preview: GM's '02 Concepts
by TCC Team (8/20/2001)
PACIFICA IS CHRYSLER'S "NEW TYPE"

2002 Chrysler Pacifica concept
Chrysler's long-anticipated crossover wagon came to Detroit in the form of the Pacifica, a six-passenger "sports tourer" that's nearly identical to a production vehicle planned for 2004. The Pacifica has three rows of seating, in-car DVD entertainment and a 3.5-liter V-6 engine mated to an all-wheel-drive system and a four-speed automatic transmission. Side curtain airbags and a power tailgate round out the package. Although no pricing was announced, Chrysler Group CEO Dieter Zetsche says the Pacifica will compete in the premium segment and that it signifies a new approach from the company to traditional market segments: "We're not going to copy other successful cars…but come up with new solutions," he said.
Preview: '03 Chrysler Crossfire
by TCC Team (1/6/2002)
NO KNIFE AT CHRYSLER
Chrysler's top executives "clearly failed" to hit the ambitious market share goals outlined in their turnaround plan early last year, acknowledged CEO Dieter Zetsche during an exclusive interview with TheCarConnection.com. Chrysler ended 2002 with a U.S. share of barely 13 percent, while the forecast was closer to 14.5 percent. On the other hand, Zetsche stressed, "the cost side compensated for that," with Chrysler exceeding the savings it had originally intended. It will be necessary to "tune" the plan," the German executive conceded, though he stressed that, "I don't intend to manage by use of the knife," suggesting that big layoffs and further demands for supplier concessions are not in the works. Zetsche noted that Chrysler has cut its five-year spending program from an original $42 billion to just $30 billion, but emphasized that they have actually added five new products to their plans. To do that, Chrysler is making more use of the technology and know-how of its sibling divisions, Mercedes-Benz and Mitsubishi.
BENZ GST AN M-CLASS-ALIKE?
This morning on the Cobo floor, Mercedes-Benz will be showing the GST, a sport wagon thematically similar to the Chrysler Pacifica. Though it's being proffered as a concept, Benz sources tell TCC that the production version of the GST is imminent — and that it shares its body-on-frame design and Alabama assembly site with the M-Class sport-ute. A production date is anticipated for the 2005 model year.
Spy Shots: '05 Benz GST by Brenda Priddy (9/3/2001)
FORD GT40: RETRO ROCKET

2002 Ford GT40 Concept
Unabashedly retro, Ford rolled out a modern-day version of its legendary GT40 race car on Monday, and company sources say the automaker is giving it serious thought for limited production. The original GT40 pulled a come-from-behind 1-2-3 finish at the 1966 24 Hours at Le Mans, and remained a dominant force for the rest of the decade. The low, sleek two-seat concept vehicle unveiled on Sunday "shares not a single dimension" with the original, revealed Ford design chief J Mays, yet it is striking in its similarity. A 500-horsepower supercharged V-8 powers the rear-engine racer, which would be made of aluminum or some more exotic material if put into production. And that seems a strong possibility. Numerous Ford officials, including Mays and COO Nick Scheele, favor the idea of producing a limit run, most likely at a price of around $150,000. But they caution they will first wait to see how the public reacts at Detroit and other auto shows later this year.
Ford Concept Revives GT40
by TCC Team (1/6/2002)
FORD TONKA GETS HYDRAULIC BOOST

2002 Ford Mighty F-350 Tonka concept
There's been plenty of attention paid to hybrid-electric vehicles lately, including the upcoming Civic version, which will recapture and re-use energy normally lost through braking. Ford's Mighty F-350 Tonka concept truck hints at an entirely new way of achieving similar results. Unlike other hybrids, the F-350 prototype stores recaptured energy hydraulically. A fluid compresses the gas in special tanks hidden within the Ford pickup's frame. When a burst of power is needed, such as when starting up at a light, the process is reversed. The hydraulic pressure helps turn the driveshaft. There's "potential for a significant increase" in fuel economy, said Ford Product Development Chief Richard Perry-Jones. "The number 20 percent to 25 percent is in our minds."
THREE'S NO CROWD FOR LEXUS SUV LINEUP

2003 Lexus GX470
Toyota's top-line Lexus brand will soon have more upmarket SUVs than any other automaker. It unveiled the new GX470 on Sunday, and the new truck will slot in-between the big LX470 and the lower-priced RX300 crossover vehicle. The new GX shares a variety of details with the LX, including its 4.7-liter V-8. Both are body-on-frame trucks. Among the notable new features found only on the new sport-ute are a rear door that swings open, rather than lifting, and a Downhill Assist Control. That appears to be very similar in concept to Land Rover's Hill Descent Control, which uses a variation of ABS braking to slow the vehicle on a sharp downhill run. Look for a price around $45,000 to $50,000, a debut for 2003, and annual sales of 20,000. Will there be a market? Lexus officials forecast the luxury SUV market will grow by 45 percent between 2001 and 2003, reaching 440,000 vehicles annually.
PILOT BUILD FOR HONDA

2003 Honda Pilot
Honda's Pilot offers a clean-looking combination of an all-wheel-drive sport-ute and a minivan. The Pilot will replace the Passport, which is built by Isuzu on the Rodeo platform. It uses the same platform as the Acura MDX and will be built alongside the MDX and Odyssey in Canada; production of the Odyssey for the U.S. market will be moved to Honda's plant in Alabama. The new Honda will be equipped with the 3.5-liter VTEC V-6 with a five-speed electronically controlled transmission mated to Honda's VTM-4 Variable Torque Management full-time 4WD. The second and third rows of seats are split 60/40 and fold to create a flat load floor, perfect for carrying the ubiquitous 4x8 sheet of plywood. Five-star safety is anticipated for the new ute; pricing has not been announced.
– Henny Hemmes
CIVIC HYBRID DUE IN MARCH

2002 Honda Civic hybrid
Thanks to the addition of the hybrid-powered Civic four-door, Honda says that 10 to 15 percent of its Civic sedans will be hybrids. The new version is equipped with the second-generation hybrid technology from the Insight, of which nearly 5000 were sold last year, though it will be built on the same platform and will share the bodywork of the normal Civic. The interior is different and will have an instrument panel similar to that of the Insight, though. The hybrid version offers 50 mpg fuel-economy ratings and unlike the Insight, room for two extra passengers and luggage. Honda will be building 2000 Civic hybrids per month, and will price them at around $20,000. –
Henny Hemmes
MORE HONDA HYBRIDS TO FOLLOW
Honda will announce yet another hybrid-electric vehicle Monday, a battery-boosted concept version of its hot-selling MDX sport-utility vehicle. Dubbed the RD-X, it will be a "little more performance-oriented" than the automaker's original HEV, the teardrop-shaped Insight. Hybrids recapture energy normally lost during coasting or braking, then store it in batteries, such as Insight's nickel-metal hydride cells. When a burst of extra power is needed, such as when starting up at a light, the energy is fed to a motor that assists the vehicle's gasoline engine.
DETROIT SEES SAAB DOUBLES

2002 Saab 9-3X concet
Not long after the Saab 9X concept car made its debut at the Frankfurt Auto Show, Saab showed it and the 9-3X concept in Detroit. The 9-3X combines sporty styling with all-wheel drive, and is the first Saab with off-road capabilities; we expect the Swedes will step into the SUV market soon as a result. The interior of the 9-3X gives an impression of what we may expect in the new 9-3, coming next year. Under the hood of the concept car is a new 280-hp turbocharged V-6 tamed with a five-speed semi-automatic transmission.
SUZUKI AIRS AERIO FOR PRODUCTION
With sales expected to climb by eight percent next year, Suzuki is betting the Aerio sedan and five-door compact will be a big draw into its small showrooms. The Aerio twins are set to go on sale in March, and could help the company hit a sales target of 70,000 vehicles in 2002.
GM LOOKS ABROAD
General Motors is apparently trying to figure out ways to pair Daewoo with its Italian partner, Fiat. Pressed by Italian journalists attending the North American International Auto Show about rumors of possible marketing partnership between Daewoo and Fiat, Wagoner said didn't deny the reports but said nothing had been decided yet and noted the situation around Daewoo is still fluid.  GM is pressing to complete a deal that would give it control of the South Korean automaker but the final agreement still isn't in place yet. Pressed by journalists from South America about GM's response to the economic crisis in Argentina, Wagoner said GM has been forced to cut production as the crisis as worsened but he said GM will ride out.  "We're not going to make the same mistake we did 25 years ago when we pulled out of Argentina,"  Wagoner added. One positive development in South America, so far at least, is the crisis in Argentina hasn't spread to Brazil, Wagoner
TOYOTA ADMITS THIRD CHANNEL
Rumors that Toyota Motor Sales USA was prepared to reveal a third brand aimed at younger consumers in Detroit are just that -- rumors, says Irv Miller, an executive with TMS. But Miller said Toyota will go ahead with the third brand but the official announcement is being pushed back into the spring because it has to address several issues. For one thing, Toyota still hasn't chosen a name for the new brand, In addition, the Japanese automaker also wants to discuss the final plans with dealers. Miller also said the new brand won't take over any existing products. It will have its own portfolio, which should appeal to buyers of all ages, he said.