2002 Detroit Auto Show by TCC Team (1/6/2002)
Toyota show sponsor


sponsored by Toyota
click on pictures for larger views
SCHEELE OUTLINES SHAKEUP TO COME AT FORD
While some plant closings and layoffs seem likely to come when Ford announces its long-awaited turnaround plan later this week, "This is likely to be (just) Phase One," the architect of that project says. "There will be other phases down the road," says Ford COO Nick Scheele, who is focusing on moves that will have a more long-lasting impact on his company's products and production efficiency. In a special interview, TheCarConnection learned that he will push Ford to become a leaner, more flexible company. Borrowing a page from Japanese automakers like Honda, Ford will switch from fixed to flexible factory automation. In cases where market demand slows for one product, it would be able to quickly switch a plant so it could produce something more popular, rather than have to shut down. Among other things, Scheele said he would try to consolidate parts use. In Europe, for example, he had the company switch from 100 separate gasoline filler caps to just two. The turnaround plan is aimed at the long-term, rather than just a quick boost in profits, Scheele cautioned, acknowledging that as a result, industry analysts "aren't going to like everything they're going to get" during the first phase.
Scheele Hints at Turnaround Plan by TCC Team (1/6/2002)
Detroit's Dark Before Dawn by Jerry Flint (12/24/2001)
2002 Nissan Altima
2002 Chevrolet TrailBlazer
ALTIMA, TRAILBLAZER GET COTYS
The Nissan Altima proved something of a dark-horse winner as it was named top choice in the annual North American Car of the Year voting Sunday. The Altima bested the retro-styled Ford Thunderbird and Cadillac's new and edgy CTS sedan. The Chevrolet TrailBlazer, meanwhile, took top honors as the North American Truck of the Year, outpolling Jeep's new Liberty and another Chevy product, the multi-purpose Avalanche. The Altima, declared Nissan Senior Vice President Jed Connelly, "is the first big step" in the automaker's turnaround program. Meanwhile, Gary Cowger, president of GM North America, said the award for TrailBlazer is especially well-received, since it was the result of voting by 49 of North America's top automotive journalists, including TheCarConnection.com Publisher TCC Team.
GM ROLLS OUT QUARTET OF "PRODUCEABLE CONCEPTS"
General Motors used Sunday's opening of the North American International Auto Show as a backdrop for the introduction of four new concept vehicles — one of which wound up on the GM stand purely by accident:
2002 Cadillac Cien concept
Impossibly low, sleek and sexy, the Cadillac Cien is a 750-horsepower supercar inspired by the F-22 Raptor fighter jet, and intended to help celebrate the luxury division's 100th anniversary. (
Cien
means 100 in Spanish.) A high-tech showpiece of Caddy's knife-edged Art & Science design theme, the mid-engine two-seater is meant to go up against such competitors as Lamborghini and Ferrari. Its prototype V-12 is likely to see use in future Cadillac products, though putting Cien into low-volume production would require "a different way of thinking about our business," cautioned GM CEO Rick Wagoner.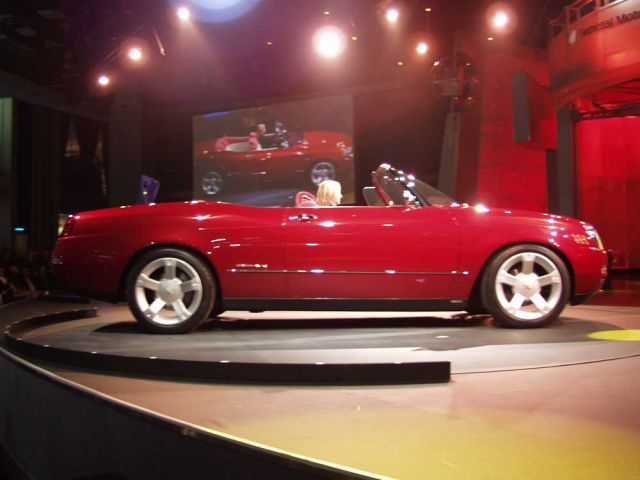 2002 Chevrolet Bel Air concept
The Chevrolet Bel Air would revive a once classic nameplate and have many potential buyers rethinking what Chevy stands for. The eagerly-awaited two-door convertible is not retro, GM officials insist, though it clearly borrows from the division's heritage. Surprisingly, the ragtop concept car was built in truck-like body-and-frame format, rather than in unibody construction. GM hasn't used that approach in a decade.
2002 Pontiac Solstice concept
GM had originally intended to bring just one version of the Pontiac Solstice to Detroit this year, a running convertible. But when top executives, including "product czar" Bob Lutz, returned from the L.A. Auto Show last week, they unexpectedly spotted a foam, full-sized model of the Solstice coupe at the GM corporate hangar. They couldn't wait, and sent both versions to Detroit's Cobo Hall. The Solstice, said Lutz, is meant to follow in the tire tracks of great, low-cost sports cars of the past, such as those from Triumph and MG. The two feature a supercharged version of the 2.0-liter GM Ecotec four-cylinder engine producing 230 hp.
2002 Pontiac Solstice concept
Will they build any of these? The four concepts were shown alongside the Caddy XLR and Hummer H2, both of which debuted in concept form and were later put into production. With a good reception from the public, one or more of the new concepts could follow down that path.
Preview: GM's '02 Concepts
by TCC Team (8/20/2001)
PACIFICA IS CHRYSLER'S "NEW TYPE"

2002 Chrysler Pacifica concept
Chrysler's long-anticipated crossover wagon came to Detroit in the form of the Pacifica, a six-passenger "sports tourer" that's nearly identical to a production vehicle planned for 2004. The Pacifica has three rows of seating, in-car DVD entertainment and a 3.5-liter V-6 engine mated to an all-wheel-drive system and a four-speed automatic transmission. Side curtain airbags and a power tailgate round out the package. Although no pricing was announced, Chrysler Group CEO Dieter Zetsche says the Pacifica will compete in the premium segment and that it signifies a new approach from the company to traditional market segments: "We're not going to copy other successful cars…but come up with new solutions," he said.
Preview: '03 Chrysler Crossfire
by TCC Team (1/6/2002)