FUNKY, BY DESIGN — Jay Bernard, in a Madonna-blond shag haircut and tight black jeans, is directing the future of Pontiac. If you doubt it, you haven't seen the gutsy, luminously golden-orange son of GTO that evolved from Bernard's computer mouse and is now on display at Detroit's auto show.
As one of countless Gen-X vehicle designers popping up in corporate studios these days, Bernard got free reign to interpret a revision of that world-class muscle car of the '60s. It took a crash course in "GTO 101" to absorb the legend in order to reinvent it again in today's Pontiac mold, Bernard admitted. "I'm young. I was not born at the time of the old GTO."
This new version is so overpowering in front it might even shoo delinquents off a street by intimidation. From the side, it retains the "Coke bottle" waistline that curves into hefty rear fenders, like the haunches of a cat ready to spring. Front fender scoops vent heat from the front brakes. Triangular-shaped quad tailpipes that mark the rear fascia corners guarantee a banshee-level rumble of exhaust.
The GTO was one of two concepts Pontiac is using to lure reaction from younger shoppers who don't want anything remotely stodgy. The other vehicle — dubbed Aztek — is a sassy, multipurpose sport-utility hybrid that begs to be loaded with skis, surfing gear, a computer for a job…or enough friends to overload an old-fashioned telephone booth. Pontiac has been a traditional winner in the youth segment, notes newly named marketing general manager Lynn Myers. "We own it, and we will continue to own it," she boasted.
**by Martha Hindes
1999 Pontiac concept GTO
"Pontiac GTO Concept Muscle Car"***
BACK FROM THE BRINK — It's been a tumultuous year for Kia, with the loss of its chief U.S. executive followed by the collapse of the Asian economy and turmoil back home in Korea. Teetering near bankruptcy, the company became the centerpiece in an on-again/off-again auction that attracted a number of the world's leading automakers, including Ford Motor Co. But in October, Kia found itself falling into the hands of its Korean rival, Hyundai. The North American International Auto Show in Detroit was the first chance for Kia to answer questions about its future. And according to Dick Macedo, a former youth rodeo champ who's now Kia's vice president of U.S. marketing and sales, the company will remain an independent presence.
Kia sales topped 83,000 last year, a number comparable to several established brands, and a level only recently exceeded by stalwarts such as BMW and Mercedes. But Macedo has growth on his mind, noting Kia plans to roll out three new models in the next 18 months, including an economy class passenger car, to be followed by a stretched Sportage with a V-6, and finally the minivan shown last year at the New York show, now named Sedona. All will be on the market by June 2000.
Hyundai and Kia will maintain separate operations, promised Kia's new U.S. president, B. M. Ahn. "Why throw away half of your sales volume?" he observed. But he admitted his company is not out of trouble. It still has to address problems with quality and its low scores in satisfying customer expectations.
**by Ted Grozier
1999 Hyundai concept Santa Fe SUV
"Hyundai Santa Fe Concept SUV"***
SANTA FE…SOUTH KOREA? The name suggests rugged fun, and with its new Santa Fe SUV, Hyundai seems to have done a good job shaping the vehicle to match the name, with a coppery sunset hue to the paint, and gravel shedding rubberized plastic lower panels. The automaker's U.S. president, Finnbar O'Neill, indicated that the Santa Fe was conceived as a RAV4 competitor, but one designed to provide buyers with more room, power and features. Still, Hyundai wanted to avoid the crowded midsize market, and is trying to position the Santa Fe a notch below the industry-leading Ford Explorer-type competitors.
Stylists have done a good job incorporating the pinch side depressions in the doors and styling eyebrows over the wheels, features that identify other Hyundai products. Especially appealing are the grab-type exterior door handles, and even more so is a similar handle on the rear lift-up door. These can be gripped from any angle with either hand, even when wearing mittens.
The 2.4-liter four-cylinder engine that will be the standard powerplant is larger than usual, but the 2.7-liter optional dual-overhead-cam V-6 is somewhat small for the segment. The decision not to use larger versions of the same engine was likely due to Korean manufacturing constraints, shaped by the fuel-conscious markets in Europe and Asia. To most American buyers, there is never too much power, and like previous Asian offerings, look for displacement creep after the Santa Fe comes to market.
Unlike most SUVs, the base version is front-wheel drive, fine and even preferable for suburban applications, but not the preference of real off-roaders. Few Santa Fes are likely to see more than mud and snow, and this is a wise decision.
A wide stance and tall 17-inch wheels give a purposeful look to the Santa Fe, and should attract a lot of buyers. It has the obligatory cup holders and power outlets, but includes folding rear seats that will quickly accommodate oversize cargo, and copies Honda's idea of a standard lift-out picnic table.
Look for Santa Fe to be priced around the base Cherokee, which it most resembles in size, and less than the Rodeo, the RAV4 or CR-V.
**by Bob Storck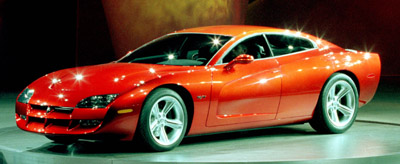 1999 Dodge concept Charger
"A memory of the past reborn, the Dodge Charger R/T, a concept muscle car."***
DODGE-ING THE PAST — This is the company that pulls no punches. Its press previews have been famed for their outrageous nature, with flying minivans, exploding buildings, and trucks dropping from the ceiling — all orchestrated by top executives, looking slightly sheepish but reveling in the fun. And Dodge maintained the tradition as hidden TV cameras panned the audience and inserted captions suggesting strange habits and activities.
But the event evoked past success when, amidst the obligatory stage smoke and fog, the complete Dodge lineup rolled out, with new and future versions bearing the legendary R/T treatment...even the Caravan minivan. The R/T moniker was first applied in the '60s, and Dodge management suggests that in future models, it will blend performance with social responsibility and ecological efficiency. Along with the image-leading Viper, and the race-winning Neon models, there are new R/T versions of the Dakota pickup and Intrepid sedan equipped with a 3.5-liter engine and auto stick transmission.
But the pièce de résistance was the Charger concept muscle car, the revival of a once-vaunted name. This potent critter has incredible horsepower, yet is energy efficient as it uses clean Compressed Natural Gas, not only clean but also high octane. For all out
hot rodders, this may become the fuel of the next century. Dodge promises more R/T projects in the future, and they will not be available in gray!
**by Bob Storck
MAD MAX — Mitsubishi's SSU, or Super Sport Utility, made a slightly less than auspicious debut, stalling partway down the ramp during the Mitsubishi news conference. But it only seemed par for the course for this year's event. A blinding snowstorm meant a number of company officials couldn't get to Detroit in time for the debut.
Originally dubbed "Mad Max," the name was changed because of a copyright issue. Whatever you call it, the SSU is built on a modified version of Mitsubishi's Galant platform. It's wider than a Chevrolet Suburban, rides on 20-inch wheels, and is propelled by a 310-horsepower twin-turbocharged V-6. Mitsubishi claims the SSU provides the fun-to-drive attributes of an exotic sports car with the room of a sport-utility vehicle.
Styling for the SSU comes from the same California studio that brought us the SST sports car concept last year. By continuing on the "geo-mechanical" theme, the stylists mean to create a strong, intense shape that looks powerful and agile. The design also contains "suicide" style rear doors, an element that is becoming increasingly popular on concept cars, even though it would be impossible to build and certify for sale in the U.S. While the SSU won't be coming to a dealer near you anytime soon, the design philosophy will be applied to the next-generation Eclipse sports coupe due in a little over a year from now.
**by Todd Turner
2000 Audi TT
"The sleek, stylish Audi TT"***
AUDI'S ALL RIGHT — Not too many years ago Audi would have had trouble drawing much of a crowd at the North American International Auto Show. Now with double-digit sales growth for four years in a row, Audi is a presence not to be missed. And the German automaker hopes to further expand its image and grow its market share with the addition of the new Audi TT. Freeman Thomas, an American designer who also was involved with the design of the Volkswagen New Beetle, originally penned the shaped for the sweeping sports coupe, its styling reminiscent of the Auto Union race cars of yesteryear.
A 180-horsepower 1.8-liter turbocharged front-wheel-drive version of the
TT will go on sale in late spring of this year. In late summer expect an all-wheel-drive version using Audi's famous and market-leading Quattro all-wheel-drive technology. In the spring of the year 2000, an even more powerful 225-horsepower version will arrive with either front- or all-wheel drive. Later next year, an exciting convertible version of the TT will debut.
Not to rest with just one new car, this relatively small company will be bringing to our shores an incredibly powerful S4. Motivated by a twin-turbo V-6, this new entry would bring a smile to any Porsche owner's face. Also arriving this year is a 4.2-liter V8-powered version of the sleek A6 sedan. All these new products should make Audi's goal of increasing sales another 20 percent this year a piece of cake. In fact, if Audi can truly deliver on its continuing promises of making the buying and ownership experience equal to its luxury image expectation, we think Audi could easily top its high-water mark of 74,000 vehicles sold in one year in the year 2000.
**by Todd Turner
LEAVING A LEGACY — After finding its place in the world, Subaru is finally finding success in the American automotive scene again. The Asian automaker chose this year's Detroit show as the place to debut its "all-new" Legacy Outback Sport Sedan and Wagon. We use quotation marks because while the company claims this is a new vehicle from the ground up, the change seems minimal. While the new Legacy sedan is much sleeker and more luxurious-appearing than the last generation, the Outback wagon looks almost exactly like the one it's replacing.
Fear of isolating loyal buyers is often the reason for not changing a model's appearance much, but in Subaru's case, it would seem that taking more of a gamble would have been a calculated risk. The new cars are powered by essentially the same four-cylinder 2.5-liter engine as before. Refinements to its power delivery and smoothness have been made, but the basic stats remain the same. So even with the other refinements found in the car, calling it "all-new" seems a bit of a stretch.
**by Todd Turner
1999 Lincoln concept Blackwood
"Lincoln calls it a concept truck, but insiders expect to see this SUV/pickup hybrid soon go into production.***
CALIFORNIA DREAMIN' — It's been a busy time for Lincoln-Mercury, the Ford division that relocated from Detroit to Irvine, California, last summer. L-M rolled out two new concepts with production potential at the 10th annual North American International Auto Show (NAIAS) in Detroit — the Lincoln Blackwood and the Mercury (My).
The Lincoln Blackwood is a four-door, four-passenger pickup truck concept based on the front two-thirds of the popular Lincoln Navigator sport-utility. It uses a two-wheel-drive drivetrain and has been lowered 3 inches from normal Navigator ride height. It rides on P285R60-19 tires and polished cast aluminum alloy wheels. Instead of a third seat, the Blackwood concept has a fully enclosed 4-foot-8-inch pickup bed. The bed is covered by more than 20 square feet of African Wenge wood sealed with clear epoxy to protect it from the weather, and instead of a conventional tailgate, it uses a pair of swing-out Dutch doors. The Wenge wood bed cover is operated hydraulically by the key fob and the doors are manual.
Mercury's 1999 concept vehicle is called (My) Mercury, and it's a small go-anywhere, do-anything vehicle with five doors and five seats, amber windows, an amber glass roof panel, and a hatchback assembly integrated into what is otherwise a sedan body. Mercury says it is a cross between a car, a truck, and a sport-utility vehicle. Front doors of the (My) open conventionally, but the rear doors are rear-hinged allowing full unobstructed access to the interior. The top of the hatch section opens upward and the lower section opens outward to maximum useable interior space. The rear bucket seats fold down to yield a flat, 6-foot-long rear load space for outdoor adventure gear.
Though Lincoln-Mercury executives said they had no firm plans to produce either vehicle, it appears highly likely that the Blackwood will reach showrooms in the next year or so, but in relatively small numbers, perhaps between 3,000 and 6,000 units a year.
**by Jim McCraw
WHAT'S IN A NAME? — BMW has finally unveiled its unconventional X5. Don't call it a Sport-Utility Vehicle, though. BMW has invented a new segment for the X5 and calls the car an SAV, Sport Activity Vehicle. Activity is a very good word for the new X5, with its unitized body and independent suspension. With that construction it will have the qualities of a luxurious passenger car and be capable in off-road conditions.
The SAV is completely new from head to toe and thus does not use any major part or platform from an existing BMW. X is the automaker's way of indicating four-wheel drive and 5 is an indication that this SAV is a midsize car. Along with AWD, All-Season Traction Control, the X5 promises a fair amount of acceleration and stopping power on loose ground. And its hill descent control system should ensure stability when heading downhill on steep inclines.
You may expect that the new BMW offers good safety with its strong body and up to 10 inflatable restraints: frontal and side airbags and inflatable head protection at both front and rear positions. There will be two engines available for the X5: the existing inline-six and the V-8 with 32 valves and a maximum power output of 286 hp, that's been available since the beginning of 1996 in the 5-, 7- and 8-series.
The Sport Activity Vehicle will be built in Spartenburg, South Carolina, and be available in the fall of this year. From the end of 1999, the X5 will be exported to European and other markets. Expect a price tag of under $40,000 for the six-cylinder model, and $50,000 for the V-8.
**by Henny Hemmes
2000 BMW X5
"The X5, a BMW for all seasons."***
BEYOND THE BEETLE— Not to rest on the good graces of the New Beetle, Volkswagen introduced four new models in Detroit. The new Golf, Jetta and face-lifted Cabrio joined the New Beetle 1.8 T to continue VW's momentum-building in the U.S. market. These new products inspired Dr. Jens Neumann, board member VW AG, to establish a "stretch" goal of 300,000 units for the 1999 calendar year. Since sales for 1998 totaled 218,000 vehicles, representing a 60 percent increase over 1997, the goal doesn't seem unreachable.
The new Golf, Jetta and Cabrio have already been covered by The Car Connection. But the 1.8 T version of the New Beetle is all-new. This eagerly anticipated powertrain addition to the extremely popular New Beetle should further boost the car's sales and prevent the Beetle from getting caught in an image rut as a "girl's car." The New Beetle 1.8 T will be available in two trim levels: the GLS entry level, priced at about $19,000, will be the minimum investment required to get the extra power and performance. The GLX version will cost more, but it will come with standard 16-inch aluminum alloy wheels, a speed-activated retractable rear spoiler (like the one from the discontinued VW Corrado), leather seating with heated front seats, and a power glass sunroof.
**by Bob Storck
FORD GOES GREEN — While heads-up displays, DVD, and "Internet whatever" may be more exciting, Ford Motor Co. is putting its technical dollars and expertise into considerably more important areas: safety and the environment. With a new computer-managed restraint system and a number of alternative fuel vehicle concepts, Ford is trying to position itself as a leader in high-volume safety and technology.
On the safety front, the Advanced Restraints System assesses collision speed, seat belt use, and seating position to compute an appropriate airbag response. If the passenger seat is not occupied, the passenger airbag will not inflate. The new system includes seat belt pre-tensioners and force limiters — previously available only on high-end vehicles — and will debut on new and "freshened" vehicles throughout the Ford Motor Co. product range. Side airbags will also be made standard across the board.
Addressing growing concern for the environment is Ford's suite of concept and production low- or zero-emission vehicles. The advanced P2000 family includes a fuel cell-powered Taurus-size sedan, an SUV, and a hybrid-electric vehicle that uses a high-efficiency direct-injection gasoline engine. A fuel cell combines hydrogen and oxygen in an electrochemical reaction to produce electricity and harmless water vapor. High cost and the lack of a refueling infrastructure remain large hurdles to overcome.
**by Ted Grozier