FUNKY, BY DESIGN — Jay Bernard, in a Madonna-blond shag haircut and tight black jeans, is directing the future of Pontiac. If you doubt it, you haven't seen the gutsy, luminously golden-orange son of GTO that evolved from Bernard's computer mouse and is now on display at Detroit's auto show.
As one of countless Gen-X vehicle designers popping up in corporate studios these days, Bernard got free reign to interpret a revision of that world-class muscle car of the '60s. It took a crash course in "GTO 101" to absorb the legend in order to reinvent it again in today's Pontiac mold, Bernard admitted. "I'm young. I was not born at the time of the old GTO."
This new version is so overpowering in front it might even shoo delinquents off a street by intimidation. From the side, it retains the "Coke bottle" waistline that curves into hefty rear fenders, like the haunches of a cat ready to spring. Front fender scoops vent heat from the front brakes. Triangular-shaped quad tailpipes that mark the rear fascia corners guarantee a banshee-level rumble of exhaust.
The GTO was one of two concepts Pontiac is using to lure reaction from younger shoppers who don't want anything remotely stodgy. The other vehicle — dubbed Aztek — is a sassy, multipurpose sport-utility hybrid that begs to be loaded with skis, surfing gear, a computer for a job…or enough friends to overload an old-fashioned telephone booth. Pontiac has been a traditional winner in the youth segment, notes newly named marketing general manager Lynn Myers. "We own it, and we will continue to own it," she boasted.
**by Martha Hindes
1999 Pontiac concept GTO
Enlarge Photo
"Pontiac GTO Concept Muscle Car"***
BACK FROM THE BRINK — It's been a tumultuous year for Kia, with the loss of its chief U.S. executive followed by the collapse of the Asian economy and turmoil back home in Korea. Teetering near bankruptcy, the company became the centerpiece in an on-again/off-again auction that attracted a number of the world's leading automakers, including Ford Motor Co. But in October, Kia found itself falling into the hands of its Korean rival, Hyundai. The North American International Auto Show in Detroit was the first chance for Kia to answer questions about its future. And according to Dick Macedo, a former youth rodeo champ who's now Kia's vice president of U.S. marketing and sales, the company will remain an independent presence.
Kia sales topped 83,000 last year, a number comparable to several established brands, and a level only recently exceeded by stalwarts such as BMW and Mercedes. But Macedo has growth on his mind, noting Kia plans to roll out three new models in the next 18 months, including an economy class passenger car, to be followed by a stretched Sportage with a V-6, and finally the minivan shown last year at the New York show, now named Sedona. All will be on the market by June 2000.
Hyundai and Kia will maintain separate operations, promised Kia's new U.S. president, B. M. Ahn. "Why throw away half of your sales volume?" he observed. But he admitted his company is not out of trouble. It still has to address problems with quality and its low scores in satisfying customer expectations.
**by Ted Grozier
1999 Hyundai concept Santa Fe SUV
Enlarge Photo
"Hyundai Santa Fe Concept SUV"***
SANTA FE…SOUTH KOREA? The name suggests rugged fun, and with its new Santa Fe SUV, Hyundai seems to have done a good job shaping the vehicle to match the name, with a coppery sunset hue to the paint, and gravel shedding rubberized plastic lower panels. The automaker's U.S. president, Finnbar O'Neill, indicated that the Santa Fe was conceived as a RAV4 competitor, but one designed to provide buyers with more room, power and features. Still, Hyundai wanted to avoid the crowded midsize market, and is trying to position the Santa Fe a notch below the industry-leading Ford Explorer-type competitors.
Stylists have done a good job incorporating the pinch side depressions in the doors and styling eyebrows over the wheels, features that identify other Hyundai products. Especially appealing are the grab-type exterior door handles, and even more so is a similar handle on the rear lift-up door. These can be gripped from any angle with either hand, even when wearing mittens.
The 2.4-liter four-cylinder engine that will be the standard powerplant is larger than usual, but the 2.7-liter optional dual-overhead-cam V-6 is somewhat small for the segment. The decision not to use larger versions of the same engine was likely due to Korean manufacturing constraints, shaped by the fuel-conscious markets in Europe and Asia. To most American buyers, there is never too much power, and like previous Asian offerings, look for displacement creep after the Santa Fe comes to market.
Unlike most SUVs, the base version is front-wheel drive, fine and even preferable for suburban applications, but not the preference of real off-roaders. Few Santa Fes are likely to see more than mud and snow, and this is a wise decision.
A wide stance and tall 17-inch wheels give a purposeful look to the Santa Fe, and should attract a lot of buyers. It has the obligatory cup holders and power outlets, but includes folding rear seats that will quickly accommodate oversize cargo, and copies Honda's idea of a standard lift-out picnic table.
Look for Santa Fe to be priced around the base Cherokee, which it most resembles in size, and less than the Rodeo, the RAV4 or CR-V.
**by Bob Storck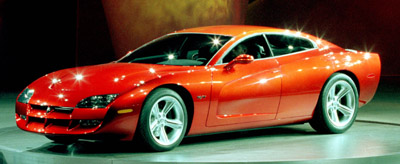 1999 Dodge concept Charger
Enlarge Photo
"A memory of the past reborn, the Dodge Charger R/T, a concept muscle car."***
DODGE-ING THE PAST — This is the company that pulls no punches. Its press previews have been famed for their outrageous nature, with flying minivans, exploding buildings, and trucks dropping from the ceiling — all orchestrated by top executives, looking slightly sheepish but reveling in the fun. And Dodge maintained the tradition as hidden TV cameras panned the audience and inserted captions suggesting strange habits and activities.