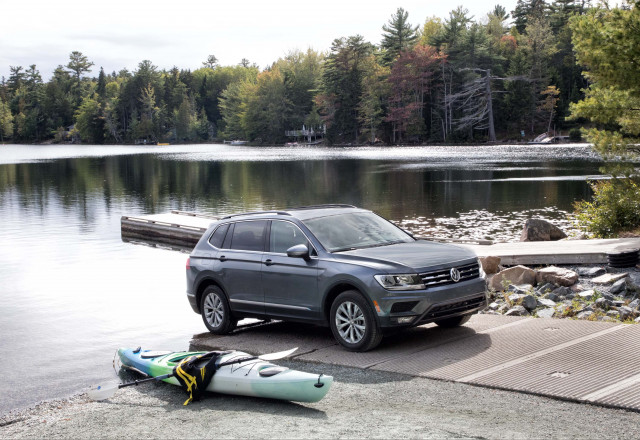 Just about every car dealer in America has a direct rival for the VW Tiguan, so plan your shopping accordingly.
The Honda CR-V and Toyota RAV4 are the most popular choices with consumers, and for good reason.
The CR-V's interior is exceptionally spacious with pockets and cubbies for everything life throws at its drivers and passengers.
A redesigned RAV4 arrives this year with mini-SUV styling and a thrifty hybrid option.
The new Subaru Forester may look like last year's model, but it rides on a new platform and has an even more spacious interior.
We like the smooth-riding Chevy Equinox, but its active safety tech is a costly option.
And if you're going off-road, the Jeep Cherokee is worth a look for its impressive capabilities.
2019 Volkswagen TiguanBrowse Used Listings
2019 Chevrolet EquinoxBrowse Used Listings
2019 Honda CR-VBrowse Used Listings
2019 Jeep CherokeeBrowse Used Listings
2019 Subaru ForesterBrowse Used Listings
2019 Toyota RAV4Browse Used Listings
Quick Specs

The 2019 VW Tiguan has a spacious interior and a comfortable ride, but its price climbs quickly.

There's a lot to like about the 2019 Chevrolet Equinox, even if the best configuration requires a careful hand on the order sheet.

The 2019 Honda CR-V rewards owners with fantastic utility and great safety scores.

The 2019 Jeep Cherokee appeals for its adventurous side, but it isn't as roomy as rivals.

The 2019 Subaru Forester is a well thought-out crossover SUV with exceptional space, a great ride, and standard AWD without a fuel-economy penalty.

With a dollop of refinement, the 2019 Toyota RAV4 would be a solid home run.

MSRP From
$24,295
$23,800
$24,450
$25,045
$24,295
$25,650
Gas Mileage
21 MPG City / 29 MPG Hwy
22 MPG City / 39 MPG Hwy
25 MPG City / 34 MPG Hwy
18 MPG City / 31 MPG Hwy
26 MPG City / 33 MPG Hwy
25 MPG City / 38 MPG Hwy
Engine
Intercooled Turbo Regular Unleaded I-4
Turbocharged Gas I4
Regular Unleaded I-4
Regular Unleaded I-4
Regular Unleaded H-4
Regular Unleaded I-4
EPA Class
Small SUV 2WD
2WD Sport Utility Vehicle
Small SUV 2WD
Small SUV 2WD
Small SUV 4WD
Small SUV 2WD
Style Name
2.0T S FWD
FWD 4-Door L w/1SM
LX 2WD
Latitude FWD
2.5i
LE FWD (Natl)
Drivetrain
Front Wheel Drive
Front Wheel Drive
Front Wheel Drive
Front Wheel Drive
All Wheel Drive
Front Wheel Drive
Passenger Capacity
7
5
5
5
5
5
Passenger Doors
N/A
N/A
N/A
N/A
N/A
N/A
Body Style
Sport Utility
Sport Utility Vehicle
Sport Utility
Sport Utility
Sport Utility
Sport Utility
Transmission
Automatic w/OD
Automatic
CVT w/OD
Automatic w/OD
CVT w/OD
Automatic w/OD
Detailed Spec Comparison
2019 Volkswagen Tiguan vs. 2019 Chevrolet Equinox
2019 Volkswagen Tiguan vs. 2019 Honda CR-V
2019 Volkswagen Tiguan vs. 2019 Jeep Cherokee
2019 Volkswagen Tiguan vs. 2019 Subaru Forester
2019 Volkswagen Tiguan vs. 2019 Toyota RAV4