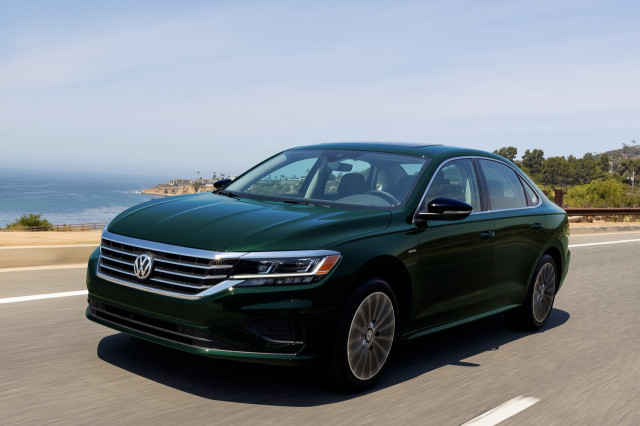 There are still plenty of great mid-size sedan choices.
The Honda Accord is our favorite for the way it suavely blends performance, style, and refinement—and frugality.
Toyota's Camry isn't quite as polished, though it is spacious and stylish.
The Mazda 6 doesn't offer a hybrid like some rivals, though its road manners are top notch and it boasts a luxurious interior.
The Nissan Altima is one of just a few choices with all-wheel drive, making it a great sedan for those in wintry locales.
And the svelte Kia K5 may not be a household name, but you'll want to make sure it's on your shopping list.
2022 Volkswagen PassatGet Your Price
2021 Honda Accord
2021 Kia K5
2021 Mazda MAZDA6
2021 Nissan Altima
2021 Toyota Camry
Quick Specs

The 2022 Volkswagen Passat is light on personality, but offers solid sedan motoring.

More tech this year makes the 2021 Honda Accord a compelling buy, but the options can rack up.

The 2021 Kia K5 gives the automaker a new look and a new family-sedan identity.

The 2021 Mazda 6 drives the point home: not every family needs a crossover SUV.

The 2021 Nissan Altima has a plain-spoken appeal, not to mention high safety scores and a great low price.

The 2021 Toyota Camry elevates its family-sedan game with grabby looks and hybrid power.

MSRP From
$27,575
$24,970
$23,590
$24,475
$24,550
$25,045
Gas Mileage
24 MPG City / 36 MPG Hwy
22 MPG City / 48 MPG Hwy
24 MPG City / 38 MPG Hwy
23 MPG City / 35 MPG Hwy
25 MPG City / 39 MPG Hwy
22 MPG City / 53 MPG Hwy
Engine
Intercooled Turbo Regular Unleaded I-4
Intercooled Turbo Regular Unleaded I-4
Intercooled Turbo Regular Unleaded I-4
Regular Unleaded I-4
Regular Unleaded I-4
Regular Unleaded I-4
EPA Class
Midsize Cars
Large Cars
Large Cars
Midsize Cars
Midsize Cars
Midsize Cars
Style Name
2.0T SE Automatic
LX 1.5T CVT
LX Automatic FWD
Sport Automatic
2.5 S Sedan
LE Automatic (Natl)
Drivetrain
Front Wheel Drive
Front Wheel Drive
Front Wheel Drive
Front Wheel Drive
Front Wheel Drive
Front Wheel Drive
Passenger Capacity
5
5
5
5
5
5
Passenger Doors
N/A
N/A
N/A
N/A
N/A
N/A
Body Style
Sedan
Sedan
Sedan
Sedan
Sedan
Sedan
Transmission
Automatic w/OD
CVT w/OD
Automatic w/OD
Automatic w/OD
CVT w/OD
Automatic w/OD
Detailed Spec Comparison
2022 Volkswagen Passat vs. 2021 Honda Accord
2022 Volkswagen Passat vs. 2021 Kia K5
2022 Volkswagen Passat vs. 2021 Mazda MAZDA6
2022 Volkswagen Passat vs. 2021 Nissan Altima
2022 Volkswagen Passat vs. 2021 Toyota Camry