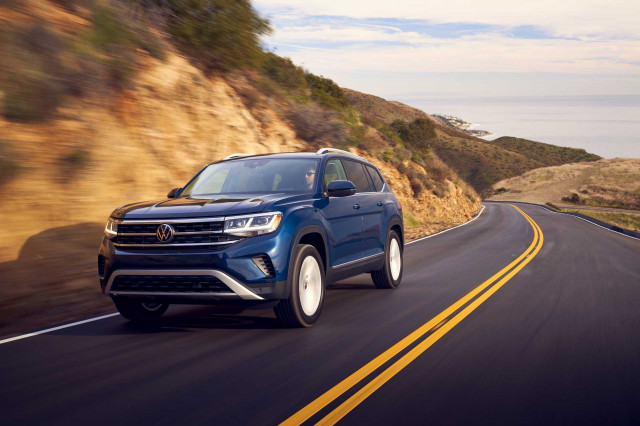 The Atlas and Atlas Cross Sport cover broad swaths of crossover shoppers by offering two- and three-row mid-size versions.
Nearly every automaker has one.
The Pilot is a popular three-row that's long in the tooth; it's competent and spacious, but aged.
The same goes for the Traverse, although base versions are very cheap.
The Grand Cherokee is a two-row crossover but offers V-8 power for frequent towers.
The Subaru Ascent blends a frisky turbo-4 with all-wheel drive in every model, but its interior isn't as big.
The Ford Explorer is new and big but also has a big price tag.
2021 Volkswagen Atlas
2021 Chevrolet TraverseGet Your Price
2021 Ford ExplorerGet Your Price
2021 Honda Pilot
2021 Jeep Grand CherokeeGet Your Price
2021 Subaru AscentGet Your Price
Quick Specs

The 2021 VW Atlas is a competent family hauler that assimilates into the daily routine without fuss.

The 2021 Chevrolet Traverse is a big family mover with an update on the way next year.

The 2021 Ford Explorer is recognizable, but new. It should be on every family SUV shopper's list.

The 2021 Honda Pilot does a solid impression of a minivan, minus the cultural baggage.

The 2021 Jeep Grand Cherokee L performs on road and off, has lots of space, and competes with luxury brands in its top models.

The 2021 Subaru Ascent scales the mountain of family needs for a three-row crossover.

MSRP From
$31,545
$29,800
$32,925
$32,550
$33,885
$32,295
Gas Mileage
16 MPG City / 24 MPG Hwy
17 MPG City / 27 MPG Hwy
18 MPG City / 28 MPG Hwy
19 MPG City / 27 MPG Hwy
11 MPG City / 26 MPG Hwy
20 MPG City / 27 MPG Hwy
Engine
Intercooled Turbo Premium Unleaded I-4
Gas V6
Intercooled Turbo Premium Unleaded I-4
Regular Unleaded V-6
Regular Unleaded V-6
Intercooled Turbo Regular Unleaded H-4
EPA Class
Small SUV 2WD
Sport Utility Vehicles
Standard SUV 2WD
Small SUV 2WD
Standard SUV 2WD
Standard SUV 4WD
Style Name
2.0T S FWD
FWD 4-Door L
Base RWD
LX 2WD
Laredo X 4x2
8-Passenger
Drivetrain
Front Wheel Drive
Front Wheel Drive
Rear Wheel Drive
Front Wheel Drive
Rear Wheel Drive
All Wheel Drive
Passenger Capacity
5
8
7
8
5
8
Passenger Doors
N/A
N/A
N/A
N/A
N/A
N/A
Body Style
Sport Utility
Sport Utility
Sport Utility
Sport Utility
Sport Utility
Sport Utility
Transmission
Automatic w/OD
Automatic
Automatic w/OD
Automatic w/OD
Automatic w/OD
CVT w/OD
Detailed Spec Comparison
2021 Volkswagen Atlas vs. 2021 Chevrolet Traverse
2021 Volkswagen Atlas vs. 2021 Ford Explorer
2021 Volkswagen Atlas vs. 2021 Honda Pilot
2021 Volkswagen Atlas vs. 2021 Jeep Grand Cherokee
2021 Volkswagen Atlas vs. 2021 Subaru Ascent