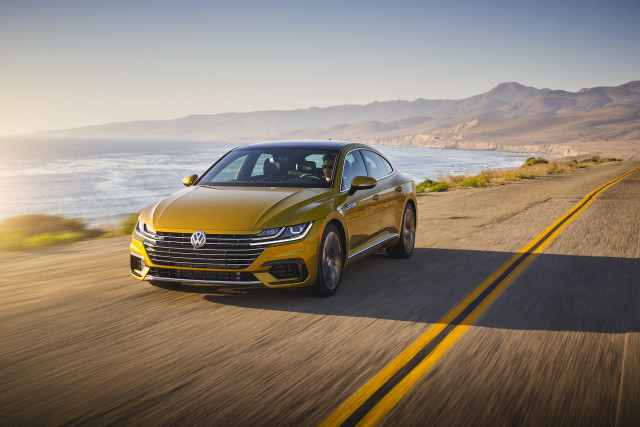 Only the Kia Stinger matches the Arteon for utility, though the rear-drive Kia is more overtly sporty.
The well-priced Mazda 6 offers a snappy turbo-4 and has a classy interior, but its infotainment system is cumbersome.
We like the Acura TLX's luxurious feel even if it can be expensive with options.
The Volvo S60 does an even better luxury car impression, and it can be had in a useful wagon guise.
Nissan pitches its Maxima as a sporty choice, and while it's powerful, we're not thoroughly convinced.
2020 Volkswagen ArteonBrowse Used Listings
2020 Acura TLXBrowse Used Listings
2020 Kia StingerBrowse Used Listings
2020 Mazda MAZDA6Browse Used Listings
2020 Nissan MaximaBrowse Used Listings
2020 Volvo S60Browse Used Listings
Quick Specs

The 2020 Volkswagen Arteon is a spacious, stylish choice, though its price is high.

Athletic and well-appointed, the 2020 Acura TLX is an appealing mid-size luxury sedan, although the competition is fierce.

The 2020 Kia Stinger delivers a rare ride-and-handling balance and ample acceleration in a crisp, practical body.

The 2020 Mazda 6 gives drivers a last great shot to stay crossover-free.

The 2020 Nissan Maxima is a handsome, relatively sporty sedan in an era when fewer people than ever are interested in one.

The 2020 Volvo S60 luxury sport sedan balances power and grace.

MSRP From
$35,995
$33,000
$33,090
$24,100
$34,450
$36,050
Gas Mileage
20 MPG City / 29 MPG Hwy
20 MPG City / 33 MPG Hwy
17 MPG City / 29 MPG Hwy
23 MPG City / 35 MPG Hwy
20 MPG City / 30 MPG Hwy
21 MPG City / 34 MPG Hwy
Engine
Intercooled Turbo Premium Unleaded I-4
Premium Unleaded I-4
Intercooled Turbo Premium Unleaded I-4
Regular Unleaded I-4
Premium Unleaded V-6
Intercooled Turbo Premium Unleaded I-4
EPA Class
Large Cars
Compact Cars
Midsize Cars
Midsize Cars
Midsize Cars
Compact Cars
Style Name
SE FWD
2.4L FWD
GT-Line RWD
Sport Automatic
S 3.5L
T5 FWD Momentum
Drivetrain
Front Wheel Drive
Front Wheel Drive
Rear Wheel Drive
Front Wheel Drive
Front Wheel Drive
Front Wheel Drive
Passenger Capacity
5
5
5
5
5
5
Passenger Doors
N/A
N/A
N/A
N/A
N/A
N/A
Body Style
Sedan
Sedan
Sedan
Sedan
Sedan
Sedan
Transmission
Automatic w/OD
Auto-Shift Manual w/OD
Automatic w/OD
Automatic w/OD
CVT w/OD
Automatic w/OD
Detailed Spec Comparison
2020 Volkswagen Arteon vs. 2020 Acura TLX
2020 Volkswagen Arteon vs. 2020 Kia Stinger
2020 Volkswagen Arteon vs. 2020 Mazda MAZDA6
2020 Volkswagen Arteon vs. 2020 Nissan Maxima
2020 Volkswagen Arteon vs. 2020 Volvo S60