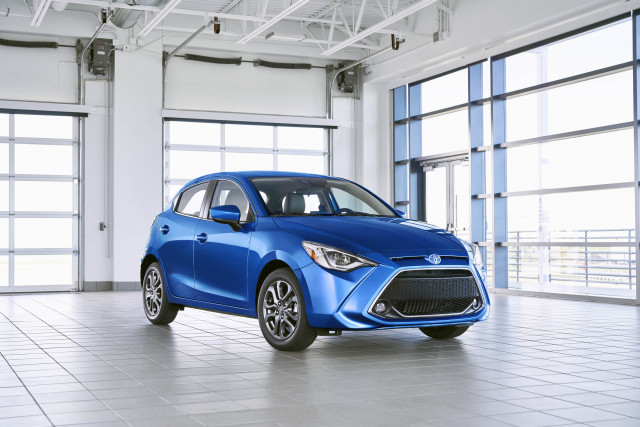 Subcompact cars are dropping like flies.
Those that have stuck around have plenty of merits, however.
The Kia Rio is a pleasant runabout with a spacious interior.
Don't like its styling? The Hyundai Accent delivers the same goods, more or less, in a package some drivers might find more attractive.
The Chevy Sonic vanishes after 2019, but it is a good choice that should be subject to big discounts.
The Nissan Versa is primed for a redesign, and it'd take a hefty discount for us to consider a leftover 2019.
The redesigned Toyota Corolla might not cost much more than the Yaris once you've negotiated a deal, so it's worth a look.
2020 Toyota YarisGet Your Price
2019 Chevrolet SonicGet Your Price
2019 Hyundai AccentGet Your Price
2019 Kia RioGet Your Price
2019 Nissan VersaGet Your Price
2019 Toyota CorollaGet Your Price
Quick Specs

The 2020 Toyota Yaris hatchback returns, this time with desirable Mazda bones and questionable styling.

The 2019 Chevrolet Sonic shows its age but remains a good choice for an inexpensive car with surprising technology.

The 2019 Hyundai Accent pleasantly reminds us that four-door sedans used to rule the economy-car roost—and did so for a reason.

The 2019 Kia Rio gives used cars a run for their money with its great warranty, good ride, safety tech, and spacious interior.

The 2019 Nissan Versa is the cheapest way to get new-car smell and a full warranty, but rivals deliver plenty for not much more.

The 2019 Toyota Corolla is a fun choice as a hatchback, but we'd skip the sedan in favor of its competitors.

MSRP From
N/A
$15,420
$14,995
$15,390
$12,460
$18,700
Gas Mileage
26 MPG City / 38 MPG Hwy
28 MPG City / 38 MPG Hwy
28 MPG City / 37 MPG Hwy
27 MPG City / 39 MPG Hwy
27 MPG City / 42 MPG Hwy
Engine
N/A
Turbocharged Gas I4
Regular Unleaded I-4
Regular Unleaded I-4
Regular Unleaded I-4
Regular Unleaded I-4
EPA Class
N/A
Compact Cars
Compact Cars
Compact Cars
Compact Cars
Compact Cars
Style Name
N/A
4-Door Sedan Manual LS
SE Sedan Manual
S Automatic
S Manual
L CVT (GS)
Drivetrain
N/A
Front Wheel Drive
Front Wheel Drive
Front Wheel Drive
Front Wheel Drive
Front Wheel Drive
Passenger Capacity
N/A
5
5
5
5
5
Passenger Doors
N/A
4
N/A
N/A
N/A
N/A
Body Style
N/A
Sedan
Sedan
Sedan
Sedan
Sedan
Transmission
N/A
Manual
Manual w/OD
Automatic w/OD
Manual w/OD
CVT w/OD
Detailed Spec Comparison
2020 Toyota Yaris vs. 2019 Chevrolet Sonic
2020 Toyota Yaris vs. 2019 Hyundai Accent
2020 Toyota Yaris vs. 2019 Kia Rio
2020 Toyota Yaris vs. 2019 Nissan Versa
2020 Toyota Yaris vs. 2019 Toyota Corolla