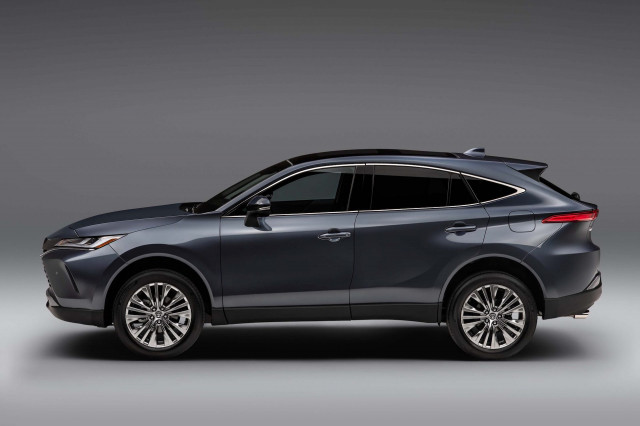 The Toyota Venza competes against a strong group of great-selling compact crossovers, the Toyota RAV4 among them.
The RAV4 shares the Venza's structure, but is more macho, better controlled, and more off-road focused.
The Subaru Forester is an excellent value with more off-road capability.
The Chevrolet Blazer shares some of the Venza's design focus, though it's sportier.
The Honda CR-V and Ford Escape have hybrid powertrains as well, but they don't come off as upscale as the Venza.
2022 Toyota VenzaGet Your Price
2022 Chevrolet BlazerGet Your Price
2022 Ford EscapeGet Your Price
2022 Honda CR-VGet Your Price
2022 Subaru ForesterGet Your Price
2022 Toyota RAV4Get Your Price
Quick Specs

An anti-SUV in look and driving feel, the 2022 Toyota Venza hybrid crossover hits its highs in efficiency and comfort.

The 2022 Chevrolet Blazer cozies up to suburbia with crossover bona fides, and ditches its former truck roots.

The 2022 Ford Escape brings hybrid excellence and middling seat and interior quality to a hotly competitive class.

A perennial bestseller, the 2022 Honda CR-V charms with its roominess, comfort, efficiency, and safety ratings.

The 2022 Subaru Forester rains value down on crossover-SUV drivers, and safety's a very close second.

The 2022 Toyota RAV4 lives up to its meat-and-potatoes hype, but the Prime serves up green-car red meat.

MSRP From
$32,890
$33,400
$26,010
$26,400
$25,195
$26,525
Gas Mileage
40 MPG City / 37 MPG Hwy
19 MPG City / 29 MPG Hwy
22 MPG City / 37 MPG Hwy
27 MPG City / 35 MPG Hwy
25 MPG City / 33 MPG Hwy
25 MPG City / 38 MPG Hwy
Engine
Gas/Electric I-4
Turbocharged Gas I4
Intercooled Turbo Premium Unleaded I-3
Intercooled Turbo Regular Unleaded I-4
Regular Unleaded H-4
Regular Unleaded I-4
EPA Class
Small SUV 4WD
Sport Utility Vehicles
Small SUV 2WD
Small SUV 2WD
Small SUV 4WD
Small SUV 2WD
Style Name
LE AWD (GS)
FWD 4-Door LT w/2LT
S FWD
LX 2WD
CVT
LE FWD (SE)
Drivetrain
All Wheel Drive
Front Wheel Drive
Front Wheel Drive
Front Wheel Drive
All Wheel Drive
Front Wheel Drive
Passenger Capacity
5
5
5
5
5
5
Passenger Doors
N/A
N/A
N/A
N/A
N/A
N/A
Body Style
Sport Utility
Sport Utility
Sport Utility
Sport Utility
Sport Utility
Sport Utility
Transmission
CVT w/OD
Automatic
Automatic w/OD
CVT w/OD
CVT w/OD
Automatic w/OD
Detailed Spec Comparison
2022 Toyota Venza vs. 2022 Chevrolet Blazer
2022 Toyota Venza vs. 2022 Ford Escape
2022 Toyota Venza vs. 2022 Honda CR-V
2022 Toyota Venza vs. 2022 Subaru Forester
2022 Toyota Venza vs. 2022 Toyota RAV4