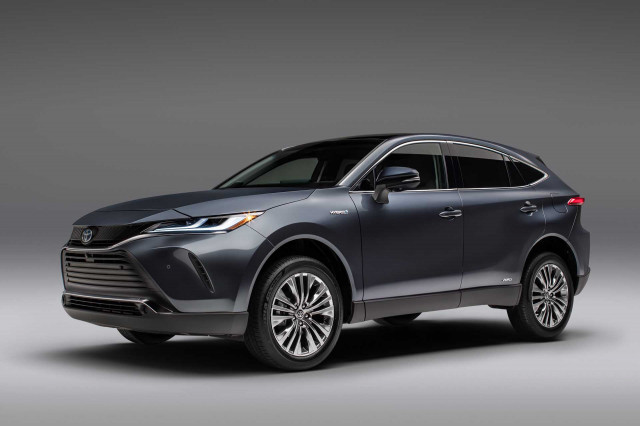 The Venza's competitors span off-roady two-row crossovers to family-size crossovers—and maybe everything in between.
The Passport follows a familiar formula; it's based on the three-row Pilot but only offers two rows.
The Chevy Blazer is a stylish alternative to the bunch and is geared more toward on-road adventures.
The Ford Edge is relatively old, but comfortable and quick in some versions.
The Outback is a two-row off-road wagon/crossover/SUV that's capable and spacious.
2021 Toyota Venza
2020 Chevrolet BlazerGet Your Price
2020 Ford EdgeGet Your Price
2020 Honda PassportGet Your Price
2020 Nissan MuranoGet Your Price
2020 Subaru OutbackGet Your Price
Quick Specs

The 2021 Toyota Venza revives an old name with a new idea that's wedged between the automaker's mega-popular RAV4 and Highlander.

The 2020 Chevrolet Blazer saddles up with crossover comfort, and leaves its truck roots behind.

The 2020 Ford Edge crossover SUV splits differences nicely, between compact and mid-size, and value and luxury.

When the Pilot's too big and the CR-V is too small, the 2020 Honda Passport two-row crossover SUV is just the ticket.

The 2020 Nissan Murano is stylish and sophisticated, but its powertrain and practicality leave something to be desired.

The 2020 Subaru Outback is more refined than ever and features the same, remarkable off-road capability.

MSRP From
N/A
$28,800
$31,100
$31,990
$31,530
$26,645
Gas Mileage
18 MPG City / 28 MPG Hwy
19 MPG City / 29 MPG Hwy
19 MPG City / 25 MPG Hwy
20 MPG City / 28 MPG Hwy
23 MPG City / 33 MPG Hwy
Engine
N/A
Gas I4
Intercooled Turbo Premium Unleaded I-4
Regular Unleaded V-6
Regular Unleaded V-6
Regular Unleaded H-4
EPA Class
N/A
Sport Utility Vehicles
Small Sport Utility Vehicles 2WD
Small Sport Utility Vehicles 2WD
Mid-Size Station Wagon
Small Sport Utility Vehicles 4WD
Style Name
N/A
FWD 4-Door L
SE FWD
Sport FWD
FWD S
CVT
Drivetrain
N/A
Front Wheel Drive
Front Wheel Drive
Front Wheel Drive
Front Wheel Drive
All Wheel
Passenger Capacity
N/A
5
5
5
5
5
Passenger Doors
N/A
N/A
N/A
N/A
N/A
N/A
Body Style
N/A
Sport Utility
Sport Utility
Sport Utility
Sport Utility
Sport Utility
Transmission
N/A
Automatic
Automatic w/OD
Automatic w/OD
CVT w/OD
CVT w/OD
Detailed Spec Comparison
2021 Toyota Venza vs. 2020 Chevrolet Blazer
2021 Toyota Venza vs. 2020 Ford Edge
2021 Toyota Venza vs. 2020 Honda Passport
2021 Toyota Venza vs. 2020 Nissan Murano
2021 Toyota Venza vs. 2020 Subaru Outback