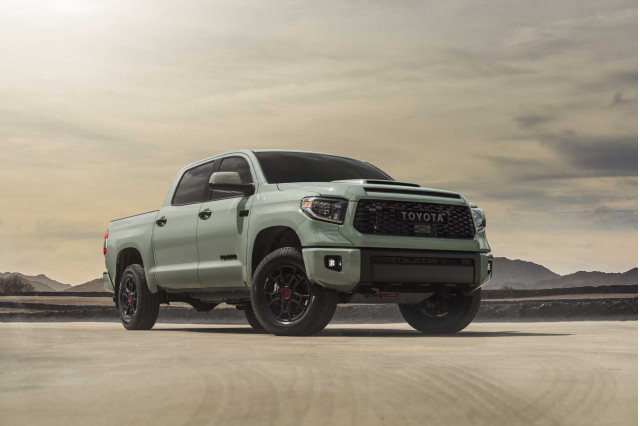 Detroit has long dominated the full-size truck market, and it's easy to see why.
Our favorite design is easily the Ram 1500 with its luxurious cabin and intriguing mild-hybrid tech, though reliability remains an issue.
Chevrolet and GMC have boldly styled trucks that are highly conventional once you peel back their untraditional styling.
They're good, but not great.
The latest Ford F-150 is available in a massive range of trims, powertrains, and body configurations, and adds a hybrid to the lineup.
If you're dead set on a Toyota, the automaker's smaller Tacoma makes a great choice with its impressive off-road ability and sterling resale value.
2021 Toyota Tundra
2021 Chevrolet Silverado 1500
2021 Ford F-150
2021 GMC Sierra 1500
2021 Toyota Tacoma
2021 Ram 1500
Quick Specs

The 2021 Toyota Tundra leans hard into its brand name and its reputation for durability.

The 2021 Chevy Silverado offers ample power, cargo volume, and towing capacity, but it lags rivals in safety ratings and interior refinement.

The 2021 Ford F-150 ushers the bestselling truck into the electrified age.

The 2021 GMC Sierra has deep beds and big tow ratings, but low crash-test scores.

The 2021 Toyota Tacoma wears its age like a badge of honor.

The 2021 Ram 1500 full-size pickup is heading in the right direction with just a couple of small detours.

MSRP From
$34,125
$29,300
$29,290
$30,100
$26,400
$32,795
Gas Mileage
13 MPG City / 17 MPG Hwy
14 MPG City / 23 MPG Hwy
14 MPG City / 26 MPG Hwy
14 MPG City / 26 MPG Hwy
17 MPG City / 24 MPG Hwy
10 MPG City / 33 MPG Hwy
Engine
Regular Unleaded V-8
Gas V6
Regular Unleaded V-6
Gas V6
Regular Unleaded I-4
Regular Unleaded V-6
EPA Class
N/A
N/A
N/A
N/A
N/A
N/A
Style Name
SR Double Cab 6.5' Bed 5.7L (Natl)
2WD Reg Cab 140" Work Truck
XL 2WD Reg Cab 6.5' Box
2WD Reg Cab 140"
SR Access Cab 6' Bed I4 AT (GS)
Express 4x2 Reg Cab 6'4" Box
Drivetrain
Four Wheel Drive
Rear Wheel Drive
Rear Wheel Drive
Rear Wheel Drive
Rear Wheel Drive
Rear Wheel Drive
Passenger Capacity
6
3
3
3
4
3
Passenger Doors
N/A
N/A
N/A
N/A
N/A
N/A
Body Style
Double Cab
Regular Cab Pickup
Regular Cab Styleside
Regular Cab Pickup
Access Cab
Regular Cab
Transmission
Automatic w/OD
Automatic
Automatic w/OD
Automatic
Automatic w/OD
Automatic w/OD
Detailed Spec Comparison
2021 Toyota Tundra vs. 2021 Chevrolet Silverado 1500
2021 Toyota Tundra vs. 2021 Ford F-150
2021 Toyota Tundra vs. 2021 GMC Sierra 1500
2021 Toyota Tundra vs. 2021 Toyota Tacoma
2021 Toyota Tundra vs. 2021 Ram 1500