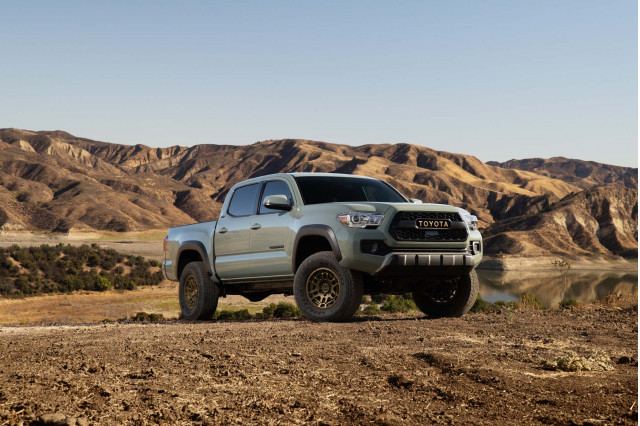 It may be up for a redesign and it may be light on safety tech, but the Chevy Colorado is a suave, well-executed choice with a killer off-road version.
The Ford Ranger wins the spec sheet race, though there's something missing in its execution.
Jeep's Gladiator drips with style and personality, at the expense of comfort and practicality.
A new Nissan Frontier is here! Finally! It's a promising choice, though Nissan traditionally doesn't offer as serious an off-road option as Toyota.
And unless you really plan to explore every weekend, the Honda Ridgeline probably does everything you need—with more comfort, more space inside, more flexibility, better fuel economy.
Just get a Ridgeline.
2022 Toyota TacomaGet Your Price
2022 Nissan FrontierGet Your Price
2021 Chevrolet Colorado
2021 Ford Ranger
2021 Honda Ridgeline
2021 Jeep Gladiator
Quick Specs

For off-road enthusiasts, the 2022 Toyota Tacoma's popularity is easy to justify, especially in off-roady TRD forms.

The redesigned 2022 Nissan Frontier is thoroughly modernized with big improvements in ride quality and technology.

The 2021 Chevy Colorado's many configurations give shoppers the kind of choice typically reserved for full-size trucks, but Chevy skimps on safety features.

The 2021 Ford Ranger ventures further off the pavement this year with oversized off-road packages for the mid-size truck.

The 2021 Honda Ridgeline is the just-right pickup most users really need.

The 2021 Jeep Gladiator, for better or worse, is a Wrangler with a bed. Nothing else will satisfy those who seek exactly that, but competitors are more comfortable and more affordable.

MSRP From
$27,150
$28,690
$25,200
$24,820
$36,490
$34,960
Gas Mileage
17 MPG City / 24 MPG Hwy
17 MPG City / 24 MPG Hwy
16 MPG City / 25 MPG Hwy
19 MPG City / 26 MPG Hwy
18 MPG City / 24 MPG Hwy
16 MPG City / 23 MPG Hwy
Engine
Regular Unleaded I-4
Regular Unleaded V-6
Gas I4
Intercooled Turbo Regular Unleaded I-4
Regular Unleaded V-6
Regular Unleaded V-6
EPA Class
N/A
N/A
N/A
N/A
N/A
N/A
Style Name
SR Access Cab 6' Bed I4 AT (GS)
King Cab 4x2 S Automatic
2WD Ext Cab 128" Work Truck
XL 2WD SuperCab Pickup Box Delete *Ltd Avail*
Sport AWD
80th Anniversary 4x4 *Ltd Avail*
Drivetrain
Rear Wheel Drive
Rear Wheel Drive
Rear Wheel Drive
Rear Wheel Drive
All Wheel Drive
Four Wheel Drive
Passenger Capacity
4
4
4
4
5
5
Passenger Doors
N/A
N/A
2
N/A
N/A
N/A
Body Style
Access Cab
King Cab
Extended Cab Pickup
SuperCab
Crew Cab
Crew Cab
Transmission
Automatic w/OD
Automatic w/OD
Automatic
Automatic w/OD
Automatic w/OD
Automatic w/OD
Detailed Spec Comparison
2022 Toyota Tacoma vs. 2022 Nissan Frontier
2022 Toyota Tacoma vs. 2021 Chevrolet Colorado
2022 Toyota Tacoma vs. 2021 Ford Ranger
2022 Toyota Tacoma vs. 2021 Honda Ridgeline
2022 Toyota Tacoma vs. 2021 Jeep Gladiator