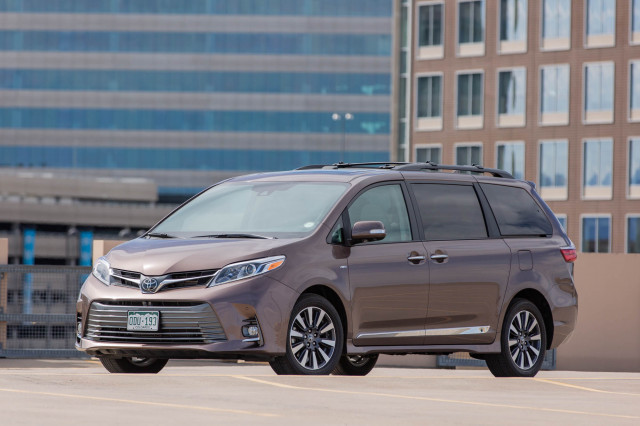 Minivans aren't as popular as they once were, but the market for these family haulers remains strong.
Honda's Odyssey performs well and its crash test scores lead the class.
The Chrysler Pacifica is stylish and packed with features and it's also the only van in the class offered as a plug-in hybrid.
Kia's Sedona offers clean styling and good value, but its list of available features isn't as long.
If you're looking for the largest van for the lowest price, shop the Dodge Grand Caravan, but it has the worst safety record of all these vehicles.
If you're set on a Toyota, the redesigned Highlander is available in a thrifty hybrid version, even if it's not as versatile inside as the Sienna.
2020 Toyota SiennaBrowse Used Listings
2020 Chrysler PacificaBrowse Used Listings
2020 Dodge Grand CaravanBrowse Used Listings
2020 Honda OdysseyBrowse Used Listings
2020 Kia SedonaBrowse Used Listings
2020 Toyota HighlanderBrowse Used Listings
Quick Specs

The 2020 Toyota Sienna balances impressive power and available all-wheel drive with unimpressive crash-test scores.

The 2020 Chrysler Pacifica is everything you could want in a large family vehicle, crossovers be damned.

The 2020 Dodge Grand Caravan may appeal to drivers who want a new van at a low price,but its sticker and its utility are overshadowed by low safety scores.

The 2020 Honda Odyssey has nearly everything we like in a family vehicle, minus the ground-up Cheetos in the back.

The 2020 Kia Sedona provides minivan versatility, but it's overshadowed by its crossover SUV stablemates.

The 2020 Toyota Highlander puts practicality above all else, but handling and styling make worthwhile cameos.

MSRP From
$31,640
$34,045
$27,530
$30,790
$27,600
$34,600
Gas Mileage
18 MPG City / 26 MPG Hwy
17 MPG City / 28 MPG Hwy
17 MPG City / 25 MPG Hwy
19 MPG City / 28 MPG Hwy
18 MPG City / 24 MPG Hwy
20 MPG City / 35 MPG Hwy
Engine
Regular Unleaded V-6
Regular Unleaded V-6
Regular Unleaded V-6
Regular Unleaded V-6
Regular Unleaded V-6
Regular Unleaded V-6
EPA Class
Minivans 2WD
Minivans 2WD
Minivans 2WD
Minivans 2WD
Minivans 2WD
Small SUV 2WD
Style Name
L FWD 7-Passenger (GS)
L FWD
SE Plus Wagon
LX Automatic
L FWD
L FWD (GS)
Drivetrain
Front Wheel Drive
Front Wheel Drive
Front Wheel Drive
Front Wheel Drive
Front Wheel Drive
Front Wheel Drive
Passenger Capacity
7
7
7
7
7
8
Passenger Doors
N/A
N/A
N/A
N/A
N/A
N/A
Body Style
Passenger Van
Passenger Van
Passenger Van
Passenger Van
Passenger Van
Sport Utility
Transmission
Automatic w/OD
Automatic w/OD
Multi-Speed Automatic w/OD
Automatic w/OD
Automatic w/OD
Automatic w/OD
Detailed Spec Comparison
2020 Toyota Sienna vs. 2020 Chrysler Pacifica
2020 Toyota Sienna vs. 2020 Dodge Grand Caravan
2020 Toyota Sienna vs. 2020 Honda Odyssey
2020 Toyota Sienna vs. 2020 Kia Sedona
2020 Toyota Sienna vs. 2020 Toyota Highlander