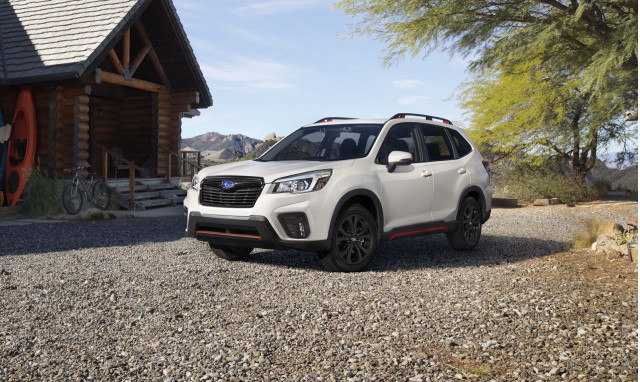 Among hyper-competitive compact crossovers, the Subaru Forester keeps pace thanks to its value and standard all-wheel drive.
The Honda CR-V and Toyota RAV4 are must-drives in the class—they're stalwarts for good reason.
The RAV4 looks better this year and is intuitive.
The Honda CR-V is spacious and easygoing too, a hybrid model is on the way.
The Mazda CX-5 is fun to drive, but its price is creeping up ever-higher.
The Ford Escape is new for 2020 and the Sport Hybrid is what we'd recommend, but it's also very car-like.
The Chevy Equinox is a popular model, but now lacks a standout feature.
2020 Subaru ForesterBrowse Used Listings
2020 Chevrolet EquinoxBrowse Used Listings
2020 Ford EscapeBrowse Used Listings
2020 Honda CR-VBrowse Used Listings
2020 Mazda CX-5Browse Used Listings
2020 Toyota RAV4Browse Used Listings
Quick Specs

The 2020 Subaru Forester is an incredible value among compact crossovers and a former Best Car To Buy winner.

The 2020 Chevy Equinox shoots right down Main Street for value and features, especially with newly standard active safety equipment.

The 2020 Ford Escape takes a more refined tack, and brings its hybrid edition back into vogue.

The 2020 Honda CR-V hits right at the heart of many buyers' needs: comfortable, spacious, quiet, and efficient.

The 2020 Mazda CX-5 trades family-ready space for fine handling and good power.

The 2020 Toyota RAV4 covers more bases this year with smartphone compatibility and tough-looking off-road trims.

MSRP From
$24,495
$23,800
$24,885
$25,150
$25,190
$25,950
Gas Mileage
26 MPG City / 33 MPG Hwy
22 MPG City / 31 MPG Hwy
23 MPG City / 37 MPG Hwy
27 MPG City / 35 MPG Hwy
22 MPG City / 31 MPG Hwy
25 MPG City / 38 MPG Hwy
Engine
Regular Unleaded H-4
Turbocharged Gas I4
Intercooled Turbo Premium Unleaded I-3
Intercooled Turbo Regular Unleaded I-4
Regular Unleaded I-4
Regular Unleaded I-4
EPA Class
Small SUV 4WD
2WD Sport Utility Vehicle
Small SUV 2WD
Small SUV 4WD
Small SUV 2WD
Small SUV 2WD
Style Name
CVT
FWD 4-Door L w/1SM
S FWD
LX AWD
Sport FWD
LE FWD (GS)
Drivetrain
All Wheel Drive
Front Wheel Drive
Front Wheel Drive
All Wheel Drive
Front Wheel Drive
Front Wheel Drive
Passenger Capacity
5
5
5
5
5
5
Passenger Doors
N/A
N/A
N/A
N/A
N/A
N/A
Body Style
Sport Utility
Sport Utility Vehicle
Sport Utility
Sport Utility
Sport Utility
Sport Utility
Transmission
CVT w/OD
Automatic
Automatic w/OD
CVT w/OD
Automatic w/OD
Automatic w/OD
Detailed Spec Comparison
2020 Subaru Forester vs. 2020 Chevrolet Equinox
2020 Subaru Forester vs. 2020 Ford Escape
2020 Subaru Forester vs. 2020 Honda CR-V
2020 Subaru Forester vs. 2020 Mazda CX-5
2020 Subaru Forester vs. 2020 Toyota RAV4