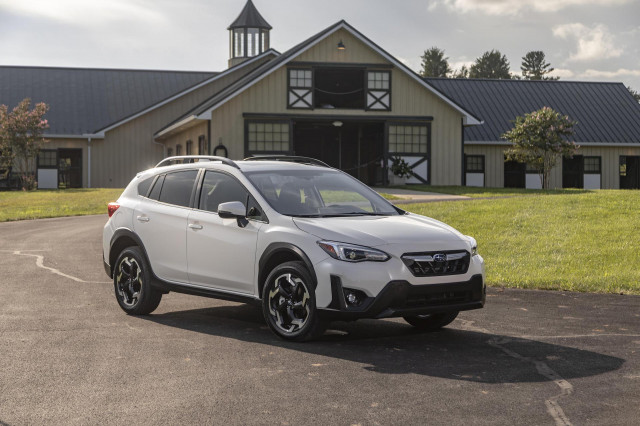 The Crosstrek competes with a wide range of small crossover utility vehicles.
The Honda HR-V is practical and spacious, but best suited for around town.
Fun-to-drive and right-sized, the Mazda CX-30 doesn't pretend to have off-road-ready hardware.
The Jeep Renegade veers in the opposite direction; it's hugely capable, but also expensive.
The Kia Seltos cuts a stylish shape with a good value but has a balky transmission, which could also be said about the Hyundai Kona.
2022 Subaru CrosstrekGet Your Price
2022 Honda HR-VGet Your Price
2022 Kia SeltosGet Your Price
2021 Hyundai Kona
2021 Jeep RenegadeGet Your Price
2021 Mazda CX-30Get Your Price
Quick Specs

The 2022 Subaru Crosstrek flexes safety and traction more than it does power.

The 2022 Honda HR-V puts a flexible cargo space to the fore, while performance takes a back seat.

The 2022 Kia Seltos pairs a superlative warranty and a low price to step to the front of Kia's small-crossover lineup.

The 2021 Hyundai Kona wears like statement jewelry, and drives like a bargain.

The 2021 Jeep Renegade is the small off-road SUV that doesn't know how to quit.

The 2021 Mazda CX-30 is great-looking, spacious, and more polished and fun-to-drive than other compact competitors, but it's a step behind in value and features.

MSRP From
$22,445
$21,870
$22,590
$20,500
$22,850
$22,050
Gas Mileage
22 MPG City / 34 MPG Hwy
26 MPG City / 34 MPG Hwy
25 MPG City / 35 MPG Hwy
25 MPG City / 33 MPG Hwy
21 MPG City / 30 MPG Hwy
22 MPG City / 33 MPG Hwy
Engine
Regular Unleaded H-4
Regular Unleaded I-4
Regular Unleaded I-4
Regular Unleaded I-4
Regular Unleaded I-4
Regular Unleaded I-4
EPA Class
Small SUV 4WD
Small Station Wagons
Small SUV 4WD
Small SUV 2WD
Small SUV 2WD
Small SUV 2WD
Style Name
Manual
LX 2WD CVT
LX IVT AWD
SE Automatic FWD
Jeepster FWD *Ltd Avail*
2.5 S FWD
Drivetrain
All Wheel Drive
Front Wheel Drive
All Wheel Drive
Front Wheel Drive
Front Wheel Drive
Front Wheel Drive
Passenger Capacity
5
5
5
5
5
5
Passenger Doors
N/A
N/A
N/A
N/A
N/A
N/A
Body Style
Sport Utility
Sport Utility
Sport Utility
Sport Utility
Sport Utility
Sport Utility
Transmission
Manual w/OD
CVT w/OD
CVT w/OD
Automatic w/OD
Automatic w/OD
Automatic w/OD
Detailed Spec Comparison
2022 Subaru Crosstrek vs. 2022 Honda HR-V
2022 Subaru Crosstrek vs. 2022 Kia Seltos
2022 Subaru Crosstrek vs. 2021 Hyundai Kona
2022 Subaru Crosstrek vs. 2021 Jeep Renegade
2022 Subaru Crosstrek vs. 2021 Mazda CX-30