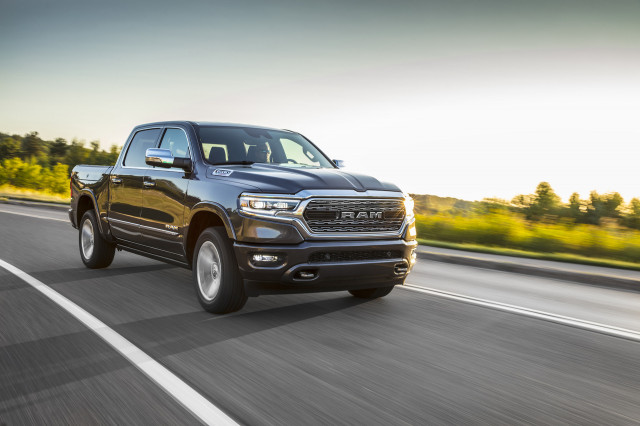 The Ram 1500 most often competes against crosstown rivals from Ford and General Motors.
The Ford F-150 is reworked this year and offers a hybrid powertrain.
The Silverado/Sierra GM twins have a smooth turbodiesel, and each gets a refreshed interior this year, with revamped safety offerings.
The Toyota Tundra has been reworked with tanker-truck style, more tech and safety features, and with the promise of a new hybrid edition.
If towing needs regularly exceed more than 10,000 pounds, a heavy-duty Ram could be a better tool for the job.
2022 Ram 1500Get Your Price
2022 Chevrolet Silverado 1500Get Your Price
2022 Ford F-150Get Your Price
2022 GMC Sierra 1500Get Your Price
2022 Nissan TitanGet Your Price
2022 Toyota TundraGet Your Price
Quick Specs

The 2022 Ram 1500 pickup truck has V-8 swagger and top-tier towing on its spec sheet, with a Raptor-iffic TRX edition to boot.

The 2022 Silverado casts a wide net with nine trims, three cabs, three bed lengths, and four engine options.

The 2022 Ford F-150 hits all its utility marks, while it ushers in the era of electrification with a swell Hybrid version and an excellent battery electric Lightning.

The 2022 GMC Sierra boasts some innovative technology and high-end models that offer luxury and capability but not value.

The 2022 Nissan Titan is likable enough, but rivals offer a fresher feel, better fuel economy, and far more configurations.

The new 2022 Toyota Tundra takes a big leap forward with a hybrid powertrain, coil-spring rear suspension, and the latest tech.

MSRP From
$36,500
$34,600
$31,520
$35,400
$38,810
$35,950
Gas Mileage
10 MPG City / 33 MPG Hwy
14 MPG City / 22 MPG Hwy
15 MPG City / 26 MPG Hwy
14 MPG City / 23 MPG Hwy
15 MPG City / 21 MPG Hwy
17 MPG City / 24 MPG Hwy
Engine
Regular Unleaded V-6
Turbocharged Gas I4
Regular Unleaded V-6
Gas I4
Premium Unleaded V-8
Twin Turbo Regular Unleaded V-6
EPA Class
N/A
N/A
N/A
N/A
N/A
N/A
Style Name
Express 4x2 Reg Cab 6'4" Box
2WD Reg Cab 126" Work Truck
XL 2WD Reg Cab 6.5' Box
2WD Reg Cab 140" Pro
4x2 King Cab S
SR Double Cab 6.5' Bed 3.5L (GS)
Drivetrain
Rear Wheel Drive
Rear Wheel Drive
Rear Wheel Drive
Rear Wheel Drive
Rear Wheel Drive
Rear Wheel Drive
Passenger Capacity
3
3
3
3
6
5
Passenger Doors
N/A
N/A
N/A
N/A
N/A
N/A
Body Style
Regular Cab
Regular Cab Pickup
Regular Cab
Regular Cab Pickup
King Cab
Double Cab
Transmission
Automatic w/OD
Automatic
Automatic w/OD
Automatic
Automatic w/OD
Automatic w/OD
Detailed Spec Comparison
2022 Ram 1500 vs. 2022 Chevrolet Silverado 1500
2022 Ram 1500 vs. 2022 Ford F-150
2022 Ram 1500 vs. 2022 GMC Sierra 1500
2022 Ram 1500 vs. 2022 Nissan Titan
2022 Ram 1500 vs. 2022 Toyota Tundra