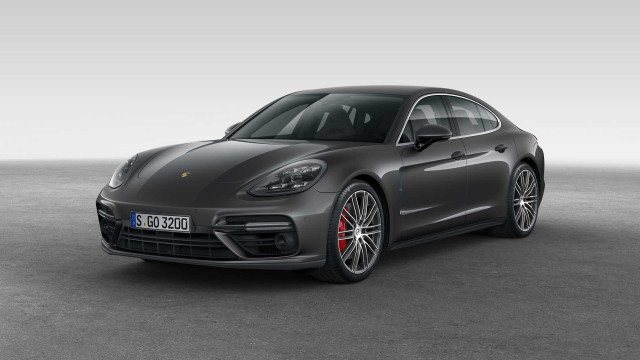 The Panamera is exemplary—but so is most of the other competition.
The question is more about what you want than what's better or worse.
Case in point is the Mercedes-Benz S-Class, long regarded as the standard-bearer for big sedans.
It has plenty of power, but delivers it in a far more muted sense.
It's more deprivation chamber than driver's car.
The BMW 7-Series is another AA-grade ride, with more feel than the big Merc but still focused on quiet luxury more than anything else.
The Maserati Quattroporte doesn't tread that softly.
It's the emotive one of this group, a barking Italian full of pizzazz.
Too bad it's one of the most outdated sedans in this class.
A better choice would be the Mercedes-Benz CLS-Class, which is the S-Class for those not yet retired.
It sells itself on the swoopy roofline and more invigorating driving dynamics. And then there's the Tesla Model S, an electric superstar that made Elon Musk a household name.
It doesn't have the gravitas of everything else on this list, but it does have a ludicrous mode that makes it faster than nearly anything else ever built.
2020 Porsche PanameraBrowse Used Listings
2020 BMW 7-SeriesBrowse Used Listings
2020 Mercedes-Benz CLS ClassBrowse Used Listings
2020 Mercedes-Benz S ClassBrowse Used Listings
2020 Maserati QuattroporteBrowse Used Listings
2020 Tesla Model SBrowse Used Listings
Quick Specs

It's expensive, but the Porsche Panamera proves that old saw about getting what you pay for.

The 2020 BMW 7-Series has a much bigger grille, but behind it is a posh, powerful, thirsty luxury sedan that's loaded with tech.

The 2020 Mercedes-Benz CLS-Class is graceful and serene with impressive performance available.

The 2020 Mercedes-Benz S-Class is the benchmark for large luxury sedans.

Growing old though it is, the Tesla Model S still looks and feels as fresh as when it first debuted eight years ago.

MSRP From
$87,200
$86,450
$69,950
$94,250
$99,490
$69,420
Gas Mileage
15 MPG City / 27 MPG Hwy
13 MPG City / 29 MPG Hwy
21 MPG City / 31 MPG Hwy
13 MPG City / 28 MPG Hwy
15 MPG City / 24 MPG Hwy
Coming Soon MPG City / Coming Soon MPG Hwy
Engine
Intercooled Turbo Premium Unleaded V-6
Intercooled Turbo Premium Unleaded I-6
Intercooled Turbo Gas/Electric I-6
Twin Turbo Premium Unleaded V-6
Twin Turbo Premium Unleaded V-6
Electric
EPA Class
Large Cars
Large Cars
Compact Cars
Large Cars
Large Cars
Large Cars
Style Name
RWD
740i Sedan
CLS 450 Coupe
S 450 Sedan
S 3.0L
Long Range Plus AWD
Drivetrain
Rear Wheel Drive
Rear Wheel Drive
Rear Wheel Drive
Rear Wheel Drive
Rear Wheel Drive
All Wheel Drive
Passenger Capacity
4
5
5
5
5
5
Passenger Doors
N/A
N/A
N/A
N/A
N/A
N/A
Body Style
Hatchback
Sedan
Sedan
Sedan
Sedan
Hatchback
Transmission
Auto-Shift Manual w/OD
Automatic w/OD
Automatic w/OD
Automatic w/OD
Automatic w/OD
Automatic
Detailed Spec Comparison
2020 Porsche Panamera vs. 2020 BMW 7-Series
2020 Porsche Panamera vs. 2020 Mercedes-Benz CLS Class
2020 Porsche Panamera vs. 2020 Mercedes-Benz S Class
2020 Porsche Panamera vs. 2020 Maserati Quattroporte
2020 Porsche Panamera vs. 2020 Tesla Model S