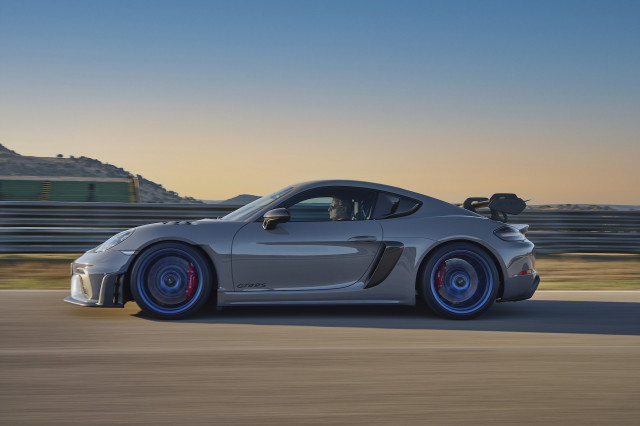 These cars don't really have direct rivals, though the Toyota Supra and BMW Z4 can come close.
Those German-Japanese twins deliver spectacular power but aren't quite as sharply honed as Porsche's models.
The Audi TT can thrill in certain combinations, though there's no droptop version.
The Chevrolet Corvette is a technological tour de force, but its brash style may not appeal to those looking for something a bit more subtle.
And don't count out the Porsche 911; it's more practical, even if the 718s can be more balanced to drive.
2022 Porsche 718
2022 Audi TTGet Your Price
2022 BMW Z4Get Your Price
2022 Chevrolet CorvetteGet Your Price
2022 Porsche 911Get Your Price
2022 Toyota SupraGet Your Price
Quick Specs

The Porsche 718 lineup serves up driving purity like few other cars.

The 2022 Audi TT sprints and corners like its better rivals, but trades advanced technology for a plushly trimmed cockpit.

The 2022 BMW Z4 doesn't wait for the perfect sunny day: it creates its own, every day.

An American exotic with the looks and performance to prove it, the 2022 Chevrolet Corvette comes at a bargain.

The 2022 Porsche 911 brims with technology and luxury, and bristles with pavement-conquering confidence.

The 2022 Toyota Supra is powerful and agile with either of its turbocharged engines.

MSRP From
$60,500
$50,500
$49,900
$60,900
$101,200
$43,540
Gas Mileage
17 MPG City / 26 MPG Hwy
20 MPG City / 31 MPG Hwy
22 MPG City / 32 MPG Hwy
16 MPG City / 24 MPG Hwy
15 MPG City / 24 MPG Hwy
22 MPG City / 32 MPG Hwy
Engine
Intercooled Turbo Premium Unleaded H-4
Intercooled Turbo Premium Unleaded I-4
Intercooled Turbo Premium Unleaded I-4
Gas V8
Twin Turbo Premium Unleaded H-6
Intercooled Turbo Premium Unleaded I-4
EPA Class
Two Seaters
Subcompact Cars
Two Seaters
Two Seater
Minicompact Cars
Two Seaters
Style Name
Coupe
45 TFSI quattro
sDrive30i Roadster
2-Door Stingray Coupe w/1LT
Carrera Coupe
2.0 Automatic (GS)
Drivetrain
Rear Wheel Drive
All Wheel Drive
Rear Wheel Drive
Rear Wheel Drive
Rear Wheel Drive
Rear Wheel Drive
Passenger Capacity
2
4
2
2
4
2
Passenger Doors
N/A
N/A
N/A
N/A
N/A
N/A
Body Style
Coupe
quattro Coupe
Roadster
Coupe
Coupe
Coupe
Transmission
Manual w/OD
Auto-Shift Manual w/OD
Automatic w/OD
Automatic
Auto-Shift Manual w/OD
Automatic w/OD
Detailed Spec Comparison
2022 Porsche 718 vs. 2022 Audi TT
2022 Porsche 718 vs. 2022 BMW Z4
2022 Porsche 718 vs. 2022 Chevrolet Corvette
2022 Porsche 718 vs. 2022 Porsche 911
2022 Porsche 718 vs. 2022 Toyota Supra