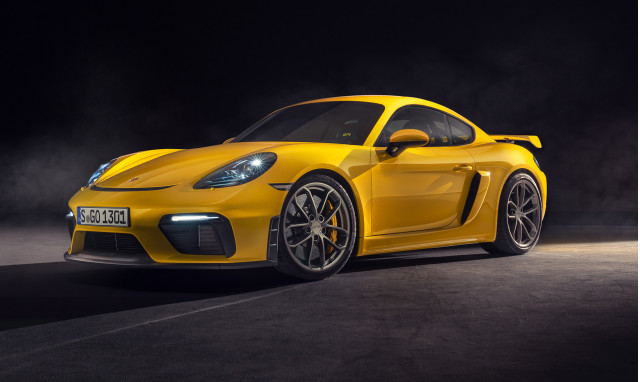 Not many 718 buyers shop the competition, at least not the competition sold by different manufacturers.
The 911 is a lot more expensive than the 718, but it's also a lot more powerful.
We only wish we had to make that decision as it's an enviable one.
This year's new Corvette sees its engine mounted midships, something long predicted by enthusiasts.
Handling is extraordinary, and the car has looks to kill as well.
Toyota and BMW worked together on the Supra and Z4.
While sales haven't met expectations, there's no denying that the sporty cars are fun to drive and make good rivals to the 718 lineup.
Don't write off the aged Nissan 370Z.
It's an absolute bargain and is still a hoot to drive.
2020 Porsche 718Browse Used Listings
2020 BMW Z4Browse Used Listings
2020 Chevrolet CorvetteBrowse Used Listings
2020 Nissan 370ZBrowse Used Listings
2020 Porsche 911Browse Used Listings
2020 Toyota SupraBrowse Used Listings
Quick Specs

In Porsche-speak, GTS translates to "Goldilocks." That's not true, but the 718 makes a lot of sense in well-balanced GTS trim.

The 2020 BMW Z4 keeps alive the Sunday drive.

The switch to a mid-engine design makes the 2020 Chevrolet Corvette faster in a straight line and around a track. Mission accomplished.

The 2020 Nissan 370Z is an old-school sports car that handles and accelerates well but feels like the dated design that it is.

The 2020 Porsche 911 improves upon the sports car icon's incredible performance while adding needed safety and connectivity features.

With the 2020 Supra, Toyota doesn't disappoint. The new Supra has agile moves, ready inline-6 power, and loads of racetrack or autocross fun.

MSRP From
$59,600
$49,700
$58,900
$30,090
$97,400
$49,990
Gas Mileage
16 MPG City / 26 MPG Hwy
24 MPG City / 32 MPG Hwy
15 MPG City / 27 MPG Hwy
17 MPG City / 26 MPG Hwy
17 MPG City / 24 MPG Hwy
24 MPG City / 31 MPG Hwy
Engine
Intercooled Turbo Premium Unleaded H-4
Intercooled Turbo Premium Unleaded I-4
Gas V8
Premium Unleaded V-6
Twin Turbo Premium Unleaded H-6
Intercooled Turbo Premium Unleaded I-6
EPA Class
Two Seaters
Two Seaters
Two Seater
Two Seaters
Minicompact Cars
Two Seaters
Style Name
Coupe
sDrive30i Roadster
2-Door Stingray Coupe w/1LT
Manual
Carrera Coupe
3.0 Automatic (GS)
Drivetrain
Rear Wheel Drive
Rear Wheel Drive
Rear Wheel Drive
Rear Wheel Drive
Rear Wheel Drive
Rear Wheel Drive
Passenger Capacity
2
2
2
2
4
2
Passenger Doors
N/A
N/A
N/A
N/A
N/A
N/A
Body Style
Coupe
Roadster
Coupe
Coupe
Coupe
Coupe
Transmission
Manual w/OD
Automatic w/OD
Automatic
Manual w/OD
Auto-Shift Manual w/OD
Automatic w/OD
Detailed Spec Comparison
2020 Porsche 718 vs. 2020 BMW Z4
2020 Porsche 718 vs. 2020 Chevrolet Corvette
2020 Porsche 718 vs. 2020 Nissan 370Z
2020 Porsche 718 vs. 2020 Porsche 911
2020 Porsche 718 vs. 2020 Toyota Supra