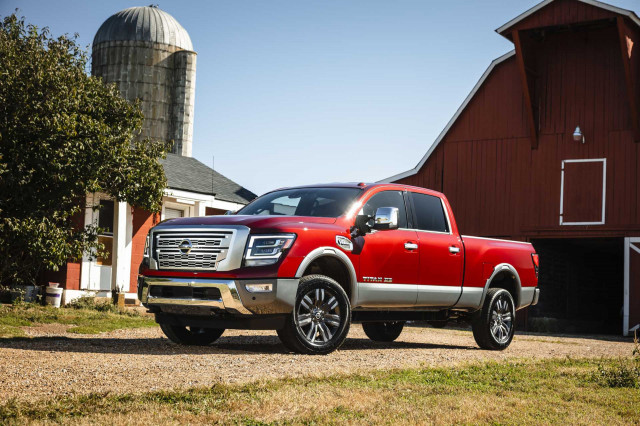 Among domestic competitors, the Nissan Titan is still mostly outgunned.
The Ford F-150 offers more powertrain configurations and better top trims, including the F-150 Raptor that still has no equal.
The Ram 1500 is more handsome and more luxurious, including the return of a solid turbodiesel engine The GMC Sierra and related Chevrolet Silverado have dour interiors, but good options that keep it competitive among rivals.
The Toyota Tundra is the other full-size pickup of the bunch with perceived reliability, although it is very aged and inefficient.
2020 Nissan TitanBrowse Used Listings
2020 Chevrolet Silverado 1500Browse Used Listings
2020 Ford F-150Browse Used Listings
2020 GMC Sierra 1500Browse Used Listings
2020 Toyota TundraBrowse Used Listings
2020 Ram 1500Browse Used Listings
Quick Specs

The 2020 Nissan Titan full-size pickup still aims for the margins among pickup buyers, and its value falls down in top trims.

The 2020 Chevrolet Silverado is a strong, solid truck with the largest bed in the class, but it's not as well done as the new Ram 1500.

The 2020 Ford F-150 is a best-selling vehicle for good reason: it's comfortable, quiet, and capable. Millions of owners aren't wrong.

The 2020 GMC Sierra 1500 draws from a broad palette to paint a handsome, conservatively styled truck.

The 2020 Toyota Tundra trades on its durable reputation rather than its appealing design.

The 2020 Ram 1500 has its truck priorities straight, even when it's cloaked in upscale trims.

MSRP From
$36,190
$28,500
$28,745
$29,600
$33,575
$32,145
Gas Mileage
15 MPG City / 22 MPG Hwy
14 MPG City / 24 MPG Hwy
15 MPG City / 26 MPG Hwy
15 MPG City / 23 MPG Hwy
13 MPG City / 18 MPG Hwy
15 MPG City / 26 MPG Hwy
Engine
Premium Unleaded V-8
Gas V6
Regular Unleaded V-6
Gas V6
Regular Unleaded V-8
Regular Unleaded V-6
EPA Class
N/A
N/A
N/A
N/A
N/A
N/A
Style Name
4x2 King Cab S
2WD Reg Cab 140" Work Truck
XL 2WD Reg Cab 6.5' Box
2WD Reg Cab 140"
SR Double Cab 6.5' Bed 5.7L (GS)
Express 4x2 Reg Cab 6'4" Box
Drivetrain
Rear Wheel Drive
Rear Wheel Drive
Rear Wheel Drive
Rear Wheel Drive
Rear Wheel Drive
Rear Wheel Drive
Passenger Capacity
6
3
3
3
6
3
Passenger Doors
N/A
N/A
N/A
N/A
N/A
N/A
Body Style
King Cab
Regular Cab Pickup
Regular Cab Styleside
Regular Cab Pickup
Double Cab
Regular Cab
Transmission
Automatic w/OD
Automatic
Automatic w/OD
Automatic
Automatic w/OD
Automatic w/OD
Detailed Spec Comparison
2020 Nissan Titan vs. 2020 Chevrolet Silverado 1500
2020 Nissan Titan vs. 2020 Ford F-150
2020 Nissan Titan vs. 2020 GMC Sierra 1500
2020 Nissan Titan vs. 2020 Toyota Tundra
2020 Nissan Titan vs. 2020 Ram 1500