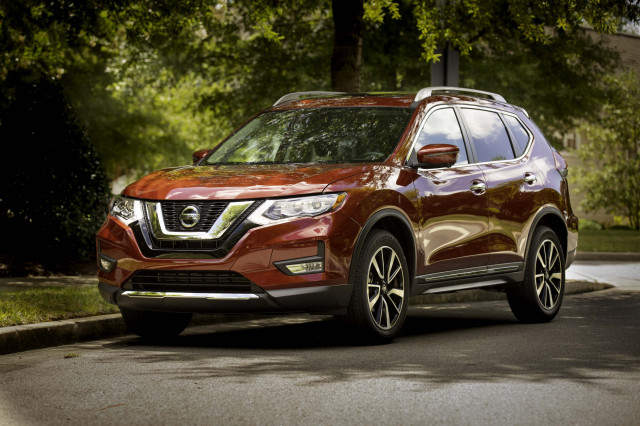 The Nissan Rogue leads most of its contemporaries in available safety gear, although the competition is stiff everywhere else.
The Toyota RAV4 is a popular pick and offers a hybrid option just like the Rogue.
The CR-V is similarly popular, and we're smitten with its interior space and turbocharged power.
The Mazda CX-5 is the driver's pick in the class—it's actually fun—but its interior is relatively cramped.
The Chevy Equinox offers a trio of turbocharged engines, but the turbodiesel is a spendy option.
The 2019 Subaru Forester is new this year, although its looks haven't much changed.
2019 Nissan RogueBrowse Used Listings
2019 Chevrolet EquinoxBrowse Used Listings
2019 Honda CR-VBrowse Used Listings
2019 Mazda CX-5Browse Used Listings
2019 Subaru ForesterBrowse Used Listings
2019 Toyota RAV4Browse Used Listings
Quick Specs

The 2019 Nissan Rogue capitalizes on space and value among small family crossovers.

There's a lot to like about the 2019 Chevrolet Equinox, even if the best configuration requires a careful hand on the order sheet.

The 2019 Honda CR-V rewards owners with fantastic utility and great safety scores.

The 2019 Mazda CX-5 sates solo drivers with good handling and tasteful lines, but bigger families will want to move up in size.

The 2019 Subaru Forester is a well thought-out crossover SUV with exceptional space, a great ride, and standard AWD without a fuel-economy penalty.

With a dollop of refinement, the 2019 Toyota RAV4 would be a solid home run.

MSRP From
$25,020
$23,800
$24,450
$24,350
$24,295
$25,650
Gas Mileage
25 MPG City / 35 MPG Hwy
22 MPG City / 39 MPG Hwy
25 MPG City / 34 MPG Hwy
22 MPG City / 31 MPG Hwy
26 MPG City / 33 MPG Hwy
25 MPG City / 38 MPG Hwy
Engine
Regular Unleaded I-4
Turbocharged Gas I4
Regular Unleaded I-4
Regular Unleaded I-4
Regular Unleaded H-4
Regular Unleaded I-4
EPA Class
Small SUV 2WD
2WD Sport Utility Vehicle
Small SUV 2WD
Small SUV 2WD
Small SUV 4WD
Small SUV 2WD
Style Name
FWD S
FWD 4-Door L w/1SM
LX 2WD
Sport FWD
2.5i
LE FWD (GS)
Drivetrain
Front Wheel Drive
Front Wheel Drive
Front Wheel Drive
Front Wheel Drive
All Wheel Drive
Front Wheel Drive
Passenger Capacity
5
5
5
5
5
5
Passenger Doors
N/A
N/A
N/A
N/A
N/A
N/A
Body Style
Sport Utility
Sport Utility Vehicle
Sport Utility
Sport Utility
Sport Utility
Sport Utility
Transmission
CVT w/OD
Automatic
CVT w/OD
Automatic w/OD
CVT w/OD
Automatic w/OD
Detailed Spec Comparison
2019 Nissan Rogue vs. 2019 Chevrolet Equinox
2019 Nissan Rogue vs. 2019 Honda CR-V
2019 Nissan Rogue vs. 2019 Mazda CX-5
2019 Nissan Rogue vs. 2019 Subaru Forester
2019 Nissan Rogue vs. 2019 Toyota RAV4