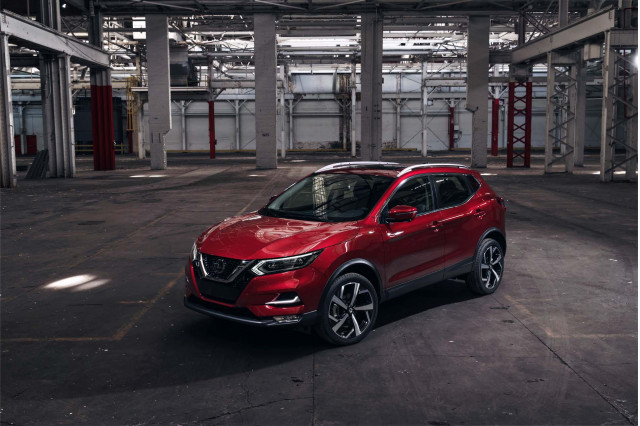 The Nissan Rogue Sport squares off well against the Hyundai Tucson and Kia Sportage.
Those two have a dressier feel, but they can be more expensive—especially in turbocharged Sportage guise.
The Subaru Crosstrek sits passengers lower to the ground and yet is more capable on slippery terrain thanks to generous ground clearance and standard all-wheel drive.
The Mazda CX-3 is sporty, at least for a small crossover SUV, and has a classy feel inside for the money.
Value-oriented buyers might look at the Chevy Trax, but it's light on safety gear.
2020 Nissan Rogue SportBrowse Used Listings
2020 Chevrolet TraxBrowse Used Listings
2020 Hyundai TucsonBrowse Used Listings
2020 Kia SportageBrowse Used Listings
2020 Mazda CX-3Browse Used Listings
2020 Subaru CrosstrekBrowse Used Listings
Quick Specs

The 2020 Nissan Rogue Sport is a good value, but it's light on performance.

The 2020 Chevy Trax crossover has a low price for a tall ride height–and not much else.

What the 2020 Hyundai Tucson lacks in distinctiveness, it makes up for in value, safety, and features.

The 2020 Kia Sportage is refreshed, stylish, and competitive as ever, though its fuel economy is poor.

The 2020 Mazda CX-3 is stylish but impractical for a crossover SUV.

The 2020 Subaru Crosstrek puts safety first, with capability a close second.

MSRP From
$23,430
$21,300
$23,550
$23,990
$20,640
$22,145
Gas Mileage
24 MPG City / 32 MPG Hwy
24 MPG City / 31 MPG Hwy
21 MPG City / 28 MPG Hwy
19 MPG City / 30 MPG Hwy
27 MPG City / 34 MPG Hwy
22 MPG City / 33 MPG Hwy
Engine
Regular Unleaded I-4
Turbocharged Gas 4-Cyl
Regular Unleaded I-4
Regular Unleaded I-4
Regular Unleaded I-4
Regular Unleaded H-4
EPA Class
Small Station Wagons
Small Sport Utility Vehicle
Small SUV 2WD
Small SUV 2WD
Compact Cars
Small SUV 4WD
Style Name
FWD S
FWD 4-Door LS
SE FWD
LX FWD
Sport FWD
Manual
Drivetrain
Front Wheel Drive
Front Wheel Drive
Front Wheel Drive
Front Wheel Drive
Front Wheel Drive
All Wheel Drive
Passenger Capacity
5
5
5
5
5
5
Passenger Doors
N/A
N/A
N/A
N/A
N/A
N/A
Body Style
Sport Utility
Sport Utility Vehicle
Sport Utility
Sport Utility
Sport Utility
Sport Utility
Transmission
CVT w/OD
Automatic
Automatic w/OD
Automatic w/OD
Automatic w/OD
Manual w/OD
Detailed Spec Comparison
2020 Nissan Rogue Sport vs. 2020 Chevrolet Trax
2020 Nissan Rogue Sport vs. 2020 Hyundai Tucson
2020 Nissan Rogue Sport vs. 2020 Kia Sportage
2020 Nissan Rogue Sport vs. 2020 Mazda CX-3
2020 Nissan Rogue Sport vs. 2020 Subaru Crosstrek