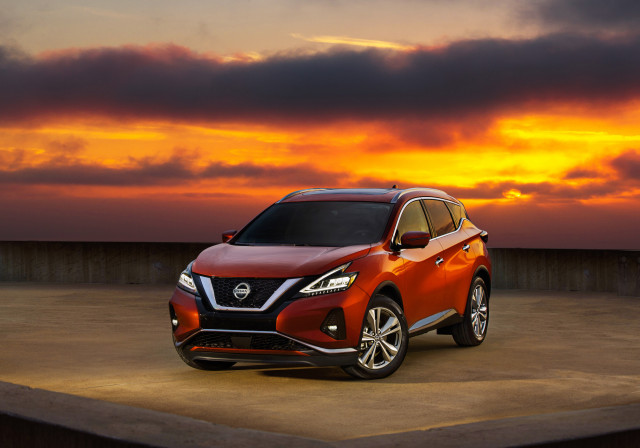 The Ford Edge and Honda Passport are both in-betweeners, bridging the gap between compact and mid-size like the Murano.
While the Ford offers great luxury options and a sporty ST model, the Passport takes a more rugged approach with an adventure-oriented setup.
Hyundai's Santa Fe offers style, great features, and a just-right size for less than the Murano in most forms.
Jeep's Grand Cherokee is expensive and long in the tooth, but there's a reason Americans buy them by the thousands each year.
Mazda's stylish CX-9 has great interior quality and room for seven, but its infotainment system is among our least favorite.
2020 Nissan MuranoBrowse Used Listings
2020 Ford EdgeBrowse Used Listings
2020 Honda PassportBrowse Used Listings
2020 Hyundai Santa FeBrowse Used Listings
2020 Jeep Grand CherokeeBrowse Used Listings
2019 Mazda CX-9Browse Used Listings
Quick Specs

The 2020 Nissan Murano is stylish and sophisticated, but its powertrain and practicality leave something to be desired.

The 2020 Ford Edge crossover SUV splits differences nicely, between compact and mid-size, and value and luxury.

When the Pilot's too big and the CR-V is too small, the 2020 Honda Passport two-row crossover SUV is just the ticket.

The 2020 Hyundai Santa Fe is a sure bet for safety, space, and swiftness.

The 2020 Jeep Grand Cherokee impresses with style and performance, but lags behind in safety and fuel economy.

The 2019 Mazda CX-9 delivers heavily on style, but it's just adequate in other respects.

MSRP From
$31,730
$31,100
$31,990
$26,275
$32,150
$32,280
Gas Mileage
20 MPG City / 28 MPG Hwy
19 MPG City / 29 MPG Hwy
19 MPG City / 25 MPG Hwy
20 MPG City / 29 MPG Hwy
11 MPG City / 26 MPG Hwy
20 MPG City / 28 MPG Hwy
Engine
Regular Unleaded V-6
Intercooled Turbo Premium Unleaded I-4
Regular Unleaded V-6
Regular Unleaded I-4
Regular Unleaded V-6
Intercooled Turbo Regular Unleaded I-4
EPA Class
Midsize Station Wagons
Small SUV 2WD
Small SUV 2WD
Small SUV 2WD
Standard SUV 2WD
Small SUV 2WD
Style Name
FWD S
SE FWD
Sport FWD
SE 2.4L Automatic FWD
Altitude 4x2
Sport FWD
Drivetrain
Front Wheel Drive
Front Wheel Drive
Front Wheel Drive
Front Wheel Drive
Rear Wheel Drive
Front Wheel Drive
Passenger Capacity
5
5
5
5
5
7
Passenger Doors
N/A
N/A
N/A
N/A
N/A
N/A
Body Style
Sport Utility
Sport Utility
Sport Utility
Sport Utility
Sport Utility
Sport Utility
Transmission
CVT w/OD
Automatic w/OD
Automatic w/OD
Automatic w/OD
Automatic w/OD
Automatic w/OD
Detailed Spec Comparison
2020 Nissan Murano vs. 2020 Ford Edge
2020 Nissan Murano vs. 2020 Honda Passport
2020 Nissan Murano vs. 2020 Hyundai Santa Fe
2020 Nissan Murano vs. 2020 Jeep Grand Cherokee
2020 Nissan Murano vs. 2019 Mazda CX-9