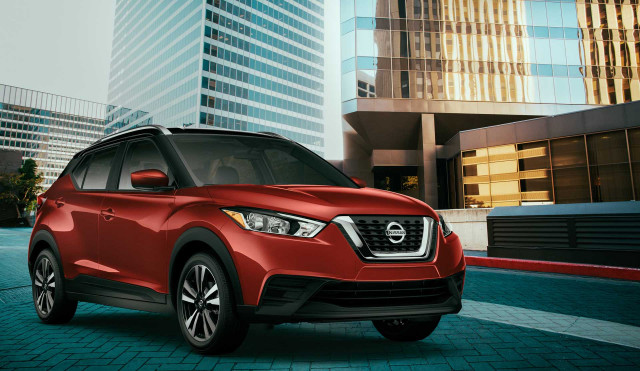 Among small, inexpensive hatchbacks/crossovers, the Kicks has surprisingly stiff competition.
The Hyundai Venue is similarly front-wheel-drive only but its interior is a half-step ahead of the Nissan.
Same goes for the Soul, which is a practical hatchback wrapped in a fun-looking box.
The Ford Ecosport has available all-wheel drive, but it's more expensive and far behind the pack.
The Crosstrek is among the most expensive, but offers standard all-wheel drive and a better interior.
The CX-3 is aged, but good looking and fits well into big cities.
2020 Nissan KicksBrowse Used Listings
2020 Ford EcosportBrowse Used Listings
2020 Hyundai VenueBrowse Used Listings
2020 Kia SoulBrowse Used Listings
2020 Mazda CX-3Browse Used Listings
2020 Subaru CrosstrekBrowse Used Listings
Quick Specs

The 2020 Nissan Kicks is a quirky and cute crossover that's inexpensive, but some of the details just feel cheap.

The 2020 Ford Ecosport is not particularly good value, not particularly efficient, and not particularly good.

The 2020 Hyundai Venue is a subcompact crossover with big ideas.

The 2020 Kia Soul compact hatchback is proof of life among small, inexpensive cars.

The 2020 Mazda CX-3 is stylish but impractical for a crossover SUV.

The 2020 Subaru Crosstrek puts safety first, with capability a close second.

MSRP From
$19,070
$19,995
$17,350
$17,490
$20,640
$22,145
Gas Mileage
31 MPG City / 36 MPG Hwy
23 MPG City / 29 MPG Hwy
27 MPG City / 35 MPG Hwy
25 MPG City / 35 MPG Hwy
27 MPG City / 34 MPG Hwy
22 MPG City / 33 MPG Hwy
Engine
Regular Unleaded I-4
Intercooled Turbo Regular Unleaded I-3
Regular Unleaded I-4
Regular Unleaded I-4
Regular Unleaded I-4
Regular Unleaded H-4
EPA Class
Midsize Cars
Small SUV 2WD
Midsize Cars
Small Station Wagons
Compact Cars
Small SUV 4WD
Style Name
S FWD
S FWD
SE Manual
LX Manual
Sport FWD
Manual
Drivetrain
Front Wheel Drive
Front Wheel Drive
Front Wheel Drive
Front Wheel Drive
Front Wheel Drive
All Wheel Drive
Passenger Capacity
5
5
5
5
5
5
Passenger Doors
N/A
N/A
N/A
N/A
N/A
N/A
Body Style
Sport Utility
Sport Utility
Sport Utility
Hatchback
Sport Utility
Sport Utility
Transmission
CVT w/OD
Automatic w/OD
Manual w/OD
Manual w/OD
Automatic w/OD
Manual w/OD
Detailed Spec Comparison
2020 Nissan Kicks vs. 2020 Ford Ecosport
2020 Nissan Kicks vs. 2020 Hyundai Venue
2020 Nissan Kicks vs. 2020 Kia Soul
2020 Nissan Kicks vs. 2020 Mazda CX-3
2020 Nissan Kicks vs. 2020 Subaru Crosstrek