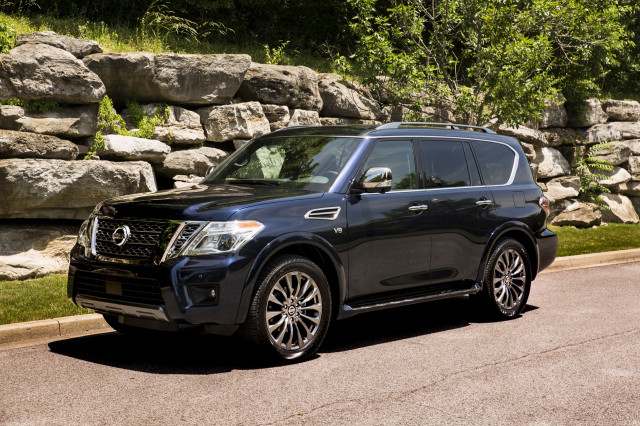 Among full-size SUVs, the Ford Expedition offers the best balance between features and driving refinement, though it's awfully expensive.
The General Motors twins—Chevy Tahoe and GMC Yukon—are nearly the same truck in most configurations.
They're good choices just beginning to show their age, though active safety tech is an expensive option.
Toyota's Sequoia boasts a sterling reputation for durability and a serious off-road trim level, but its design is so dated that it's hard to recommend.
And unless you tow, wouldn't the Chrysler Pacifica handle your family just fine?
2020 Nissan ArmadaBrowse Used Listings
2020 Chevrolet TahoeBrowse Used Listings
2020 Chrysler PacificaBrowse Used Listings
2020 Ford ExpeditionBrowse Used Listings
2020 GMC YukonBrowse Used Listings
2020 Toyota SequoiaBrowse Used Listings
Quick Specs

The 2020 Nissan Armada is an old-school SUV with more charms than its brutish proportions might suggest.

In its last year before a redesign, the 2020 Chevrolet Tahoe offers old-school SUV chops with a heaping helping of additional options and features.

The 2020 Chrysler Pacifica is everything you could want in a large family vehicle, crossovers be damned.

The 2020 Ford Expedition sets a benchmark for full-size SUVs, with rugged ability and sophisticated sensibilities.

The 2020 GMC Yukon is a business-casual blue-collar SUV with truck-like capability, but many crossovers do it better, and cheaper.

A new TRD Pro package this year adds some excitement to the 2020 Toyota Sequoia but doesn't disguise this design's age.

MSRP From
$47,500
$49,000
$34,045
$52,810
$50,600
$49,980
Gas Mileage
13 MPG City / 19 MPG Hwy
15 MPG City / 22 MPG Hwy
17 MPG City / 28 MPG Hwy
17 MPG City / 23 MPG Hwy
14 MPG City / 23 MPG Hwy
13 MPG City / 17 MPG Hwy
Engine
Regular Unleaded V-8
Gas/Ethanol V8
Regular Unleaded V-6
Twin Turbo Premium Unleaded V-6
Gas V8
Regular Unleaded V-8
EPA Class
N/A
N/A
Minivans 2WD
N/A
N/A
N/A
Style Name
4x2 SV
2WD 4-Door LS
L FWD
XLT 4x2
2WD 4-Door SLE
SR5 RWD (GS)
Drivetrain
Rear Wheel Drive
Rear Wheel Drive
Front Wheel Drive
Rear Wheel Drive
Rear Wheel Drive
Rear Wheel Drive
Passenger Capacity
8
8
7
8
8
8
Passenger Doors
N/A
N/A
N/A
N/A
N/A
N/A
Body Style
Sport Utility
Sport Utility Vehicle
Passenger Van
Sport Utility
Sport Utility Vehicle
Sport Utility
Transmission
Automatic w/OD
Automatic
Automatic w/OD
Automatic w/OD
Automatic
Automatic w/OD
Detailed Spec Comparison
2020 Nissan Armada vs. 2020 Chevrolet Tahoe
2020 Nissan Armada vs. 2020 Chrysler Pacifica
2020 Nissan Armada vs. 2020 Ford Expedition
2020 Nissan Armada vs. 2020 GMC Yukon
2020 Nissan Armada vs. 2020 Toyota Sequoia