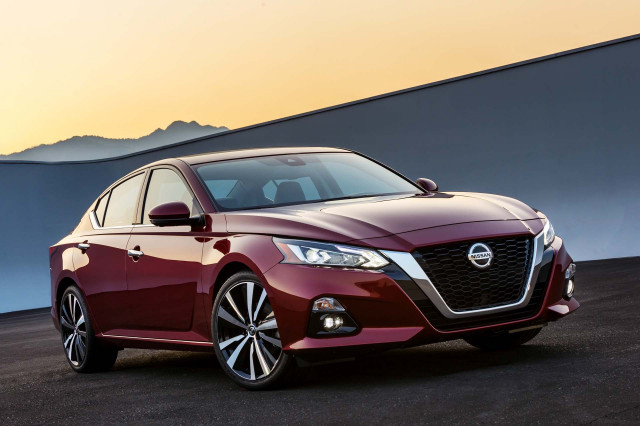 The 2019 Honda Accord is still the standard for the class and was our Best Car to Buy 2018.
The Toyota Camry isn't far behind and sticks to its guns on powertrains—for now.
The Hyundai Sonata is a good value in the class that's known for value, and a new version is on its way.
The Subaru Legacy is the only other mid-sizer with all-wheel drive—it's standard on the Legacy—but its design is aged and could use a new version soon.
The Chevy Malibu is compelling but not very exciting; its hybrid version is very fuel efficient.
2019 Nissan AltimaBrowse Used Listings
2019 Chevrolet MalibuBrowse Used Listings
2019 Hyundai SonataBrowse Used Listings
2019 Subaru LegacyBrowse Used Listings
2019 Toyota CamryBrowse Used Listings
Quick Specs

The 2019 Nissan Altima is a sharper sedan now, made better with great active safety features and a newly available turbo-4.

The 2019 Chevrolet Malibu is a likeable sedan, but it requires some compromises when it comes to essential safety tech.

The 2019 Hyundai Sonata aims squarely for value-minded shoppers who want a long warranty, and hits a bullseye.

The 2019 Subaru Legacy is no thrill machine, but this under-the-radar mid-size sedan is hard to beat for its comfort, safety, and value.

The 2019 Toyota Camry discards its plain vanilla personality in favor of vanilla bean.

MSRP From
$24,000
$22,090
$22,650
$22,545
$24,095
Gas Mileage
25 MPG City / 39 MPG Hwy
22 MPG City / 43 MPG Hwy
23 MPG City / 46 MPG Hwy
20 MPG City / 34 MPG Hwy
22 MPG City / 53 MPG Hwy
Engine
Regular Unleaded I-4
Turbocharged Gas I4
Regular Unleaded I-4
Regular Unleaded H-4
Regular Unleaded I-4
EPA Class
Midsize Cars
Midsize Cars
Large Cars
Midsize Cars
Midsize Cars
Style Name
2.5 S Sedan
4-Door Sedan L w/1VL
SE 2.4L
2.5i
L Automatic (SE)
Drivetrain
Front Wheel Drive
Front Wheel Drive
Front Wheel Drive
All Wheel Drive
Front Wheel Drive
Passenger Capacity
5
5
5
5
5
Passenger Doors
N/A
4
N/A
N/A
N/A
Body Style
Sedan
Sedan
Sedan
Sedan
Sedan
Transmission
CVT w/OD
Automatic
Automatic w/OD
CVT w/OD
Automatic w/OD
Detailed Spec Comparison
2019 Nissan Altima vs. 2019 Chevrolet Malibu
2019 Nissan Altima vs. 2019 Hyundai Sonata
2019 Nissan Altima vs. 2019 Subaru Legacy
2019 Nissan Altima vs. 2019 Toyota Camry