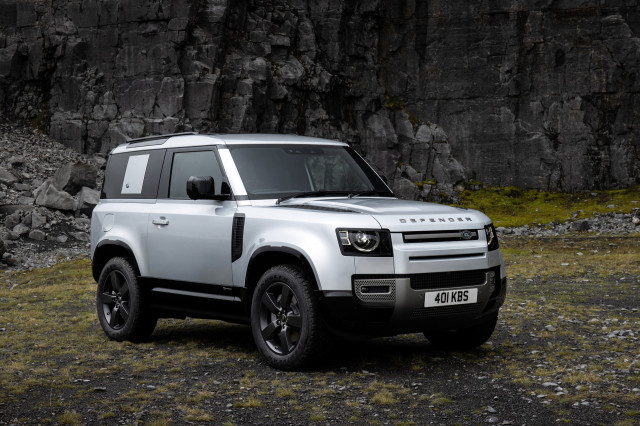 The Land Rover Defender has a wide range of current and forthcoming competition, from hardcore to luxury off-roaders.
Both the Jeep Wrangler and Grand Cherokee serve the Defender's mission and price point.
The Defender most closely matches the capability of the Wrangler, but the Grand Cherokee is closer for interior comfort.
The upcoming Ford Bronco will compete in the same way the Wrangler does.
The Toyota 4Runner is an older body-on-frame vehicle that's less civilized but more affordable.
At the other end of the spectrum is the Mercedes-Benz G-Class, which wraps Wrangler-like capability in luxury.
2021 Land Rover Defender
2021 Ford Bronco
2021 Jeep Grand Cherokee
2021 Jeep Wrangler
2021 Toyota 4Runner
2020 Mercedes-Benz G ClassBrowse Used Listings
Quick Specs

An off-roader with controlled on-road manners, the 2021 Land Rover Defender is a roomier, more civilized alternative to a Jeep Wrangler.

The 2021 Ford Bronco SUV transforms the burden of the past into a modern marvel.

The 2021 Jeep Grand Cherokee L performs on road and off, has lots of space, and competes with luxury brands in its top models.

The 2021 Jeep Wrangler SUV is an iconic off-roader that endures because it's capable and cool.

The 2021 Toyota 4Runner is a hugely capable and cool throwback SUV with a modern price attached.

The 2020 Mercedes-Benz G-Class may not look different than its predecessor, but its new suspension and interior bring it into the 21st century. Finally.

MSRP From
$46,100
$28,500
$33,885
$29,370
$36,765
$130,900
Gas Mileage
17 MPG City / 22 MPG Hwy
16 MPG City / 22 MPG Hwy
11 MPG City / 26 MPG Hwy
13 MPG City / 25 MPG Hwy
16 MPG City / 19 MPG Hwy
13 MPG City / 17 MPG Hwy
Engine
Intercooled Turbo Premium Unleaded I-4
Intercooled Turbo Regular Unleaded I-4
Regular Unleaded V-6
Intercooled Turbo Premium Unleaded I-4
Regular Unleaded V-6
Twin Turbo Premium Unleaded V-8
EPA Class
N/A
N/A
Standard SUV 2WD
N/A
N/A
N/A
Style Name
90 AWD
Base 2 Door 4x4
Laredo X 4x2
80th Anniversary 4x4 *Ltd Avail*
SR5 2WD (Natl)
G 550 4MATIC SUV
Drivetrain
Four Wheel Drive
Four Wheel Drive
Rear Wheel Drive
Four Wheel Drive
Rear Wheel Drive
All Wheel Drive
Passenger Capacity
5
4
5
4
5
5
Passenger Doors
N/A
N/A
N/A
N/A
N/A
N/A
Body Style
90
Sport Utility
Sport Utility
Sport Utility
Sport Utility
Sport Utility
Transmission
Automatic w/OD
Manual w/OD
Automatic w/OD
Automatic w/OD
Automatic w/OD
Automatic w/OD
Detailed Spec Comparison
2021 Land Rover Defender vs. 2021 Ford Bronco
2021 Land Rover Defender vs. 2021 Jeep Grand Cherokee
2021 Land Rover Defender vs. 2021 Jeep Wrangler
2021 Land Rover Defender vs. 2021 Toyota 4Runner
2021 Land Rover Defender vs. 2020 Mercedes-Benz G Class