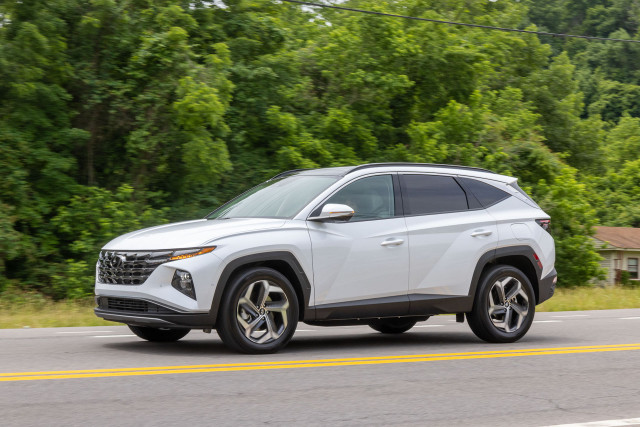 The new Hyundai Tucson throws a 100-mph fastball into the safe, comfortably styled den of compact crossover SUVs.
It's plotted out carefully to tackle the Toyota RAV4, which also comes in hybrid and plug-in hybrid editions.
The RAV4 Hybrid's sleeker, more sensual clone is the Toyota Venza, and it's a well-executed though somewhat pricey challenger here.
The Ford Escape also comes in plug-in trim, but it wears a softer shape and an equally dull interior.
The Acura RDX has something to fear in the new Tucson; the RDX's cutting-edge looks no longer look so avant-garde.
A new Nissan Rogue promises better looks and handling, too.
2023 Hyundai Tucson
2022 Acura RDXGet Your Price
2022 Ford EscapeGet Your Price
2022 Nissan RogueGet Your Price
2022 Toyota RAV4Get Your Price
2022 Toyota VenzaGet Your Price
Quick Specs

The 2023 Hyundai Tucson leans into its extreme-sports exterior and hybrid drivetrains, but the interior's in need of an upgrade.

The 2022 Acura RDX sports scads of space and strong turbo-4 power to please wagon fans and sport-sedan drivers equally well.

The 2022 Ford Escape brings hybrid excellence and middling seat and interior quality to a hotly competitive class.

The well-executed, well-tuned 2022 Nissan Rogue betters itself in gas mileage, but barely moves the needle on fun.

The 2022 Toyota RAV4 lives up to its meat-and-potatoes hype, but the Prime serves up green-car red meat.

An anti-SUV in look and driving feel, the 2022 Toyota Venza hybrid crossover hits its highs in efficiency and comfort.

MSRP From
Coming Soon
$40,600
$27,185
$27,150
$26,975
$33,240
Gas Mileage
Coming Soon MPG City / Coming Soon MPG Hwy
21 MPG City / 28 MPG Hwy
22 MPG City / 37 MPG Hwy
28 MPG City / 37 MPG Hwy
25 MPG City / 38 MPG Hwy
40 MPG City / 37 MPG Hwy
Engine
N/A
Intercooled Turbo Premium Unleaded I-4
Intercooled Turbo Premium Unleaded I-3
Intercooled Turbo Regular Unleaded I-3
Regular Unleaded I-4
Gas/Electric I-4
EPA Class
N/A
Small SUV 2WD
Small SUV 2WD
Small SUV 2WD
Small SUV 2WD
Small SUV 4WD
Style Name
N/A
FWD
S FWD
FWD S
LE FWD (GS)
LE AWD (GS)
Drivetrain
N/A
Front Wheel Drive
Front Wheel Drive
Front Wheel Drive
Front Wheel Drive
All Wheel Drive
Passenger Capacity
N/A
5
5
5
5
5
Passenger Doors
N/A
N/A
N/A
N/A
N/A
N/A
Body Style
N/A
Sport Utility
Sport Utility
Sport Utility
Sport Utility
Sport Utility
Transmission
N/A
Automatic w/OD
Automatic w/OD
CVT w/OD
Automatic w/OD
CVT w/OD
Detailed Spec Comparison
2023 Hyundai Tucson vs. 2022 Acura RDX
2023 Hyundai Tucson vs. 2022 Ford Escape
2023 Hyundai Tucson vs. 2022 Nissan Rogue
2023 Hyundai Tucson vs. 2022 Toyota RAV4
2023 Hyundai Tucson vs. 2022 Toyota Venza